[et_pb_dcsbcm_divi_breadcrumbs_module hide_homebreadcrumb="off" homebreadcrumbtext="Home" separator="sep-raquo" hide_currentbreadcrumb="off" homebreadcrumborientation="left" _builder_version="3.8″ fontsbreadcrumbs_font="Lato||||||||" fontsbreadcrumbs_text_color="#000000″ fontsbreadcrumbs_font_size="15px" fontsbreadcrumbs_line_height="16px" fontsseperator_font="||||||||" fontsbreadcrumblinks_font="||||||||" fontsbreadcrumblinks_text_color="#2567cf" custom_margin="25px|||" custom_margin_phone="30px|||" custom_margin_last_edited="off|desktop" custom_css_main_element="font-family: Helvetica Regular;" global_module="3641″ saved_tabs="all"][/et_pb_dcsbcm_divi_breadcrumbs_module]
NASCAR Picks: Foxwoods Resort 301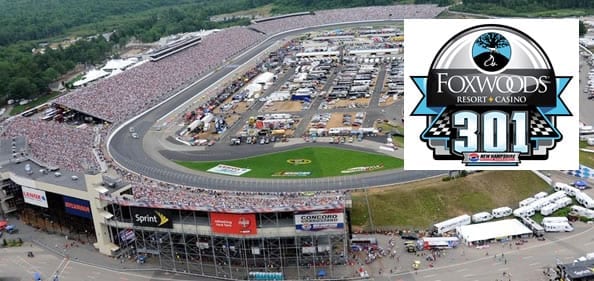 Race: Foxwoods Resort Casino 301
Date: Sunday July 22, 2018
Track: New Hampshire Motor Speedway
Time: 2pm ET
TV: NBCSN
by Virginia Vroom, NASCAR Handicapper, Predictem.com
Bet your Foxwoods Resort Casino 301 picks at a sportsbook that offers the best NASCAR prop bets.
Martin Truex Jr. defended his championship at Kentucky in grand fashion on Saturday night, leading nearly half the race and winning all stages. There really was no one better. Other drivers could get in front because of pit strategy, but it most certainly wasn't long before Truex managed to overcome and sweep right back to the front of the pack. Obviously, Truex Jr. had more going on this weekend than previously. Although he's been a strong force, this car was simply astounding. He exclaimed that he just had the speed and power that he really hasn't had previously to dominate to this degree.
Kurt Busch was the only driver who really had any sort of challenge for him. Busch led 51 laps total, much less than Truex's 174. Nearly half the race was dominated by Truex. If it wasn't, it was short-lived for anyone else to be out front. Ryan Blaney, Brad Keselowski, Kyle Busch, and Kevin Harvick rounded out the top 5 spots. The Fords seemed to have something going on there in the top 5s along with those Toyotas. Chevy still didn't provide much of a dominating presence, but the manufacturer is getting there. One of the sadder points of the night was Kyle Larson, who managed to run in the top 5 for most of the night but suffered from some sort of track bar difficulty, shuffling him back in the top 10. It was an impressive run, nonetheless, as he charged to the front after starting from the back after missing driver introductions.
This weekend, the drivers are heading to New Hampshire. The "Magic Mile" is an asphalt and granite oval. This track is just over one mile with variable banking from 2-7 degree banking in the turns and virtually no banking on the straights at just 1 degree. Previously, the track utilized the PJ1 compound to provide better traction and what NASCAR thought would ultimately be better racing. The drivers seemed to be a fan. Overall, we see struggles at this track much like many of the short tracks, where tires can make or break the drivers due to the short runs. If the compound is used again, more grooves will most certainly be available.
When it comes to picking a winner here, I'm really having a hard time going against Truex Jr. The issue is that every time I do this, it seems to backfire. Whatever. I'm doing it anyway. Truex has led the most laps here over the last four races. With the run that he's on, even though he doesn't have a win here, I think this is the weekend that he can do it. If there's ever a time to get an elusive win, it's coming off multiple wins and a very successful season thus far. I anticipate him being the driver to watch and the driver to catch. Other notables will most certainly be Kyle Busch and Kevin Harvick. Those guys have had great success at this track as well, trailing Truex with most laps led. The difference is that these guys have figured out something to produce a win here. That being said, Busch is the defending winner of the Fall race, so that will give you something to think about when throwing your outright winner on the table. Let's take a look at all of your potential winners heading into New Hampshire this weekend:
My Pick to Win: Martin Truex Jr.
Middle of the Road Pick: Clint Bowyer
Dark Horse Prediction: Daniel Suarez
Bowyer has never won at New Hampshire, but he finished 7th in his last two races here. Being that he's performing even better this year, I'd expect Bowyer to be competitive for a win at this point. He's got a good partnership with SHR now and has definitely found his groove. Daniel Suarez is a driver with only 2 starts here, but they were definitely solid ones at that. He finished in the top 10 both times and had only been improving. If you noticed his performance last week, you could see that he's making strides. His pit crew didn't disappoint. If they can manage to give him a car for the long haul, he might just have something for them. Overall, Suarez should see a very solid finish if he can only work off what he did last weekend. If nothing else, Suarez is undoubtedly looking for a solid finish just to gain some valuable points. We're moving into the peak of the season and on the downhill slide towards the Chase. These guys are going to be sweating bullets in the next few weeks looking for stage points and wins to gain that spot.
Here are your current top 16 after last week's race:
1. Kyle Busch
2. Kevin Harvick
3. Martin Truex Jr.
4. Joey Logano
5. Brad Keselowski
6. Clint Bowyer
7. Kurt Busch
8. Kyle Larson
9. Denny Hamlin
10. Ryan Blaney
11. Aric Almirola
12. Jimmie Johnson
13. Erik Jones
14. Chase Elliott
15. Alex Bowman
16. Ricky Stenhouse Jr.
Daniel Suarez is sitting outside the top 16 in 20th position. He's got quite a bit of work to do if he thinks that he's going to crack the top 16, but this is an excellent opportunity to give it his all. New Hampshire is a track that drives much like a short track but still has its own eclectic nature being that it's just over one mile. A lot of young drivers have success because it can mirror a track that isn't necessarily NASCAR grade. That being said, it's still a great race and provides an enormous amount of racing entertainment for both drivers and fans alike. Stay tuned for a great Sunday afternoon of racing at New Hampshire Motor Speedway!
For additional views on this week's race visit our NASCAR Posting Forum.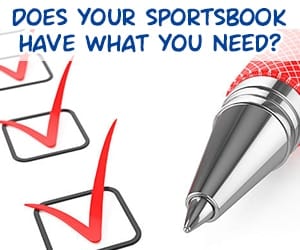 <div class="widget105"><!-- [et_pb_line_break_holder] --><h4 class="parlays">Best Parlays</h4><!-- [et_pb_line_break_holder] --><!-- [et_pb_line_break_holder] --><table id="parlay"><!-- [et_pb_line_break_holder] --> <tr><!-- [et_pb_line_break_holder] --> <th><span class="team"></span></th><!-- [et_pb_line_break_holder] --> <th>2 Team Parlay</th><!-- [et_pb_line_break_holder] --> <th>3 Team Parlay</th><!-- [et_pb_line_break_holder] --> <th>4 Team Parlay</th><!-- [et_pb_line_break_holder] --> </tr><!-- [et_pb_line_break_holder] --> <tr><!-- [et_pb_line_break_holder] --> <td><a href="https://affiliates.sportbet.com/tracking/Affiliate.aspx?idBook=2&mediaTypeID=220&AffUrlID=80&LandingPageID=55"><img src="https://www.predictem.com/wp-content/uploads/2018/06/sportbet-sm.png"></a></td><!-- [et_pb_line_break_holder] --> <td>2.74 to 1</td><!-- [et_pb_line_break_holder] --> <td>6.24 to 1</td><!-- [et_pb_line_break_holder] --> <td>13 to 1</td><!-- [et_pb_line_break_holder] --> </tr><!-- [et_pb_line_break_holder] --> <tr><!-- [et_pb_line_break_holder] --> <td><a href="https://record.bettingpartners.com/_5vfuDOH_H2wWPf2JTsWUjGNd7ZgqdRLk/1/"><img src="https://www.predictem.com/wp-content/uploads/2018/06/bovada_sm.png"></a></td><!-- [et_pb_line_break_holder] --> <td>2.64 to 1</td><!-- [et_pb_line_break_holder] --> <td>6 to 1</td><!-- [et_pb_line_break_holder] --> <td>12.3 to 1</td><!-- [et_pb_line_break_holder] --> </tr><!-- [et_pb_line_break_holder] --> <tr><!-- [et_pb_line_break_holder] --> <td><a href="https://record.webpartners.co/_jGZUKO3JWgwmunhzcKAZ62Nd7ZgqdRLk/1/"><img src="https://www.predictem.com/wp-content/uploads/2018/06/mybookie-sm.png"></a></td><!-- [et_pb_line_break_holder] --> <td>2.64 to 1</td><!-- [et_pb_line_break_holder] --> <td>6 to 1</td><!-- [et_pb_line_break_holder] --> <td>12 to 1</td><!-- [et_pb_line_break_holder] --> </tr><!-- [et_pb_line_break_holder] --></table><!-- [et_pb_line_break_holder] --><div class="widget-footer"><a href="https://www.predictem.com/best-sportsbooks/parlays-odds/">See all Sportsbook Parlays</a></div><!-- [et_pb_line_break_holder] --></div><!-- [et_pb_line_break_holder] --><!-- [et_pb_line_break_holder] --><!-- [et_pb_line_break_holder] --><style><!-- [et_pb_line_break_holder] --> #parlay {border-collapse: collapse;<!-- [et_pb_line_break_holder] --> width: 100%; border: 0px;<!-- [et_pb_line_break_holder] --> font-size: 14px!important;}<!-- [et_pb_line_break_holder] --> #parlay td, #parlay th {<!-- [et_pb_line_break_holder] --> border: 0px;<!-- [et_pb_line_break_holder] --> padding: 8px;<!-- [et_pb_line_break_holder] --> text-align: left;}<!-- [et_pb_line_break_holder] --> #parlay th {<!-- [et_pb_line_break_holder] --> padding-top: 5px;<!-- [et_pb_line_break_holder] --> padding-bottom: 5px;<!-- [et_pb_line_break_holder] --> font-weight: bold;<!-- [et_pb_line_break_holder] --> line-height: 14px;<!-- [et_pb_line_break_holder] --> text-align: center;<!-- [et_pb_line_break_holder] --> color: #000;}<!-- [et_pb_line_break_holder] --> #parlay tr {border-bottom: 1px solid #edeef0;}<!-- [et_pb_line_break_holder] --> .team {font-size: 16px;}<!-- [et_pb_line_break_holder] --></style>
<a class="twitter-timeline" data-width="300" data-height="500" data-link-color="#008156" href="https://twitter.com/PredictemPicks?ref_src=twsrc%5Etfw">Tweets by PredictemPicks</a> <script async src="https://platform.twitter.com/widgets.js" charset="utf-8"></script>