South Point 400 Betting Odds & Picks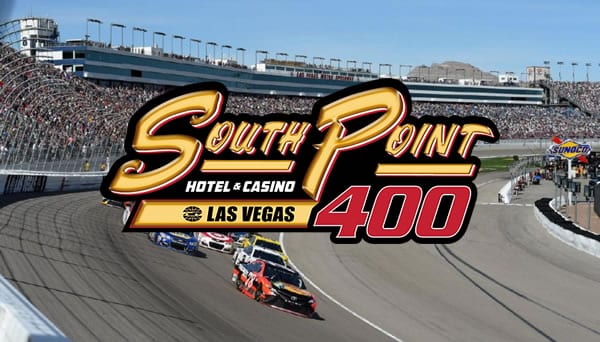 Race: South Point 400
Date: Sunday, September 27, 2020
Track: Las Vegas Motor Speedway
Time: 7 pm ET
Channel: NBCSN
What Did We Learn From Last Weekend?
Well, Bristol turned into the Kevin Harvick show. Harvick held off a toddler-esque Kyle Busch to take his ninth win of the season, which just so happens to be his career-best. I mean, I think nine wins is close to anyone's career-best if we're honest here. Harvick managed to pass Busch late in the race with help from Penske driver Joey Logano. I'm not sure that Logano meant to help Harvick, but being a lap car, he stayed in Busch's way, which propelled Harvick ahead when it mattered most. He didn't sweep the stages, which probably makes very little difference to him as he is vastly ahead in the points compared to everyone else anyway. He did manage to take the lead early in the race, but he was bested by Brad Keselowski after Stenhouse was clipped by Jimmie Johnson and hit the inside wall hard, causing a caution. Brad couldn't hang on, though, and Chase Elliott took the stage one win.
Kyle Busch managed to win stage two, but it was more or less based on luck. Martin Truex Jr. and Denny Hamlin made contact and had damage after tire issues. Matt DiBenedetto also suffered from tire problems during this stage. William Byron, who was fighting to stay in the playoffs, was damaged when Joey Gase stopped in front of him. Needless to say, Byron was eliminated from the playoff and obviously not a happy camper. Brad Keselowski also suffered during the race with mechanical failures. He ended up heading to the garage because he couldn't maintain the minimum speed. With less than 100 laps to go, there were only ten cars on the lead lap. Austin Dillon caused a wreck as Harvick was trying to get on pit road. Dillon was pinched and had nowhere to go and ended up in the back of the 53 car, who subsequently nailed the 77 car. In the closing laps, it was clear that the race was between Busch and Harvick. Harvick simply was the class of the field, though. Busch was mired in traffic and couldn't manage to get to Harvick's bumper and pass. Passing was the most difficult move of the night here at Bristol. Even if you could catch another car, you were unlikely to be able to pass. The high line was working for momentum, but traffic held up passing. Busch should feel privileged. While he was crying about a 2nd place finish, Cole Custer, Matt DiBenedetto, William Byron, and Ryan Blaney saw their playoff hopes vanish, as they were eliminated from championship contention after Bristol.
Where Are We Headed This Weekend?
All in all, Bristol was an *ahem* interesting race. I was pretty appalled by Kyle Busch's lack of sportsmanship, although I shouldn't be surprised. You'd think after this many years, I'd get used to it, but his comments were pretty disparaging. He even remarked that he would be knocked out of contention in the next round. How does that make his entire team feel? What a sissy. He also remarked, "He's nobody's friend for a reason" regarding Joey Logano. Dude, you can't get mad at other drivers because they didn't cut you slack! I'm getting a little tired of Busch's attitude that everyone's supposed to make sure they're not in Busch's way. Last time I checked, Kyle, Kevin Harvick made it around the track just fine, all the way to the checkered flag in fact, without whining about lap cars. This weekend, Busch will have a little more room to pass other drivers as the teams head to Las Vegas Motor Speedway. This 1.5-mile asphalt tri-oval has 12-20 degrees of progressive banking through the turns and lends itself to some very fast lap times. Track position is literally everything here. This is a race where a driver needs to have his car dialed in, and he can just roll through the turns and pull away from the field. The good thing about Vegas is that because it's an intermediate track, the drivers often have opportunities throughout the race to make their cars better without losing a tremendous amount of time. They can also recover from mistakes early in the race and make their way through the field throughout the day with solid pit stops and good tire strategy.
Odds and Value Picks
This weekend, it's going to be a race for the books. With Las Vegas starting the next round of the playoffs, drivers obviously want to win so they don't have to worry about the following two races quite as much. That said, the following two races are not the ones that you want to have to win to advance. After Las Vegas, drivers are facing Talladega, followed by the road course at Charlotte. Neither one of those races is very predictable. Vegas is going to be as good as it gets. For Joey Logano, this is going to be his weekend to wake up his team and get back to victory lane. Logano did not have a good Bristol race, but Penske has the equipment, and Logano has the skill on these types of tracks to get a win when it is most needed. Logano won the last two spring races at Vegas and seems to come on strong when he needs to most. He's going to have some very tough competition from both Kevin Harvick and Martin Truex Jr. Harvick can win anything. Let's be honest here. There's not really a race that I wouldn't say he's going to potentially win, but we just can't do that every single weekend. With two wins in his last eight starts, Harvick is a beast at Vegas too. He's got some seriously good stage placings as well. Keep that in mind. Truex is another driver to keep your eyes on. He's got two wins in his last six starts. He hasn't been the most consistent this year, though, so I'm hesitant to say that he can best either Logano or Harvick. Let's take a look at your potential winners heading into Vegas.
Winner: Joey Logano (+700). Bet this week's NASCAR picks for FREE by taking advantage of a 100% real cash bonus offer on your first deposit of $100 to $300 at MyBookie Sportsbook!
Mid-Range Pick: Ryan Blaney (+1000)
Dark Horse: Tyler Reddick (+5000)
Although Reddick finished 18th in his first Cup start here, he won the 2019 Xfinity race. He's got some talent here, and he's coming off a top 5 finish from Bristol. Reddick is always a little bit of a crapshoot, but if any crapshoot is going to put some bills in your pocket, Reddick is your man. Ryan Blaney is also a driver to watch. He may not have a win here yet, but he's had several top 10 finishes or better in all of his starts. With Penske running great at this track and the other intermediate tracks, Blaney is someone to definitely give some credence too at this place. He may have fallen out of the championship battle, but that doesn't mean he doesn't want to win. Let's take a look at who still is in contention as the drivers head to Vegas.
NASCAR Standings
Kevin Harvick (+350)
Denny Hamlin (+650)
Brad Keselowski (+750)
Joey Logano (+700)
Chase Elliott (+700)
Martin Truex Jr. (+550)
Alex Bowman (+2800)
Austin Dillon (+5000)
Aric Almirola (+2500)
Kyle Busch (+800)
Clint Bowyer (+5000)
Kurt Busch (+2800)
Kurt just barely made the cut, so he's going to have to push hard to get either a race win or rack up some seriously good finishes and stage wins. Clint Bowyer and Kyle Busch are only 4 points above the cut line, so they've got some hard racing to do as well. Kevin Harvick is 19 points ahead of Denny Hamlin and 32 points ahead of Brad Keselowski. Harvick is really going to have to suffer catastrophic damage if anyone is going to catch him. I don't see Vegas being that spot for him. Stay tuned for what should be a race of risks as these drivers try to get the win in the next stage of the playoff rounds here at Las Vegas Motor Speedway! Want MORE FREE BETS? Receive a 100% bonus on your first deposit of $100 to $500 at BetNow Sportsbook!