Xfinity 500 Race Analysis & Picks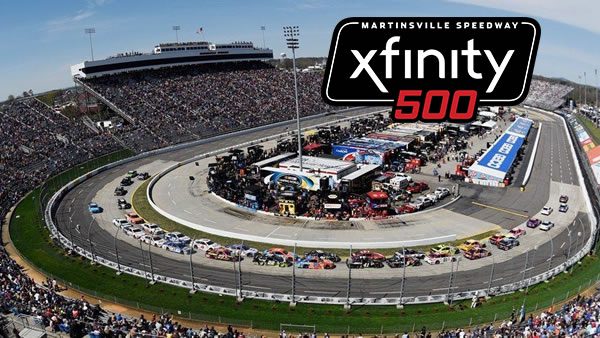 Race:
Xfinity 500
Date: Sunday, October 31, 2021
Track: Martinsville Speedway
Time: 2 pm ET
Channel: NBC
What Did We Learn From Last Weekend?
I guess I should've just gone with my gut and picked Kyle Larson since I said he could win every race for the rest of the year. He's making my premonitions truth. I went against my better judgment and chose Kyle Busch, who had nothing short of a chaotically bad day resulting in yelling and spewing profanities at Bubba Wallace. I mean, Wallace tends to need to be yelled at, but so does Kyle Busch in his defense. That'd be an interesting out-of-the-car dispute, although I'm certain Busch would get his butt kicked. Either way, it might just put him back in his place. NASCAR should let boys be boys sometimes, but we all know how that goes these days. Neither one of them factored into Kyle Larson's fantastic day. He was yet again the crème of the crop. He's the only driver apart from Dale Earnhardt Sr. to win three races in a row twice in the same season. To be in the custody of Sr. is amazing. That's really saying something. Kyle Larson is in an elite class of drivers. This is just the beginning for him. He's going to break a lot of records before his career is over, and he couldn't be sitting on a better team to achieve every one of his goals.
What we saw at Kansas was some good racing. I really don't like NASCAR messing with the track surfaces. We saw it at Texas, and while the ultimate goal is to create more grooves for racing, I really think it does the opposite in specific scenarios. This weekend, we saw some great racing with cars three and even four-wide in some instances. There was no resin on the track, and the guys drove everywhere. They were up, and they were down. There really was some great racing that was going on throughout the entire day.
Where Are We Headed This Weekend?
This weekend, the drivers are heading to their final opportunity to secure their spot in the championship race. Martinsville is going to be a heck of a race. This track is a 0.526-mile asphalt and concrete oval with 12 degrees of banking in the turns and none on the straights. It's known as the "paperclip" because of its configuration and has extremely short straights at just 800 feet long. You can imagine the chaos that can create with the drivers and gaggles of cars heading into the turns. With so much at stake, this should definitely be interesting. Let's be honest. It's been a minute since the points have been this close the race before the championship trophy is hoisted. This track is going to give everyone a run for their money. An interesting observation before the race last weekend was when the announcers were discussing the non-chase drivers. Some of the drivers at Texas were frustrated with them because they were "in the way". The interesting part is that the announcers stuck up for them, stating that a lot of them were driving for their jobs, and boy are they right. It's a little frustrating as a spectator to sit back and watch the races every week with some of the "chase" drivers assuming they are entitled to a field of no disruptions or chaos. They believe that they are the only ones that matter when, in fact, there are a multitude of other teams and drivers that are here to race every single week as well. There are 40 spots each week, and it doesn't matter what a driver is in the front or back of that pack. They all deserve the same amount of respect and opportunity. That will be a hard bargain, though, as short tracks tend to bring out some of the hottest tempers across the board in these drivers.
Odds and Value Picks
When it comes to picking a winner at this place, there are a handful of drivers that are exceptionally good at the short tracks and this one, in particular. I'd like to say it's going to be just that easy, but with literally everything on the line for a lot of these guys, they're going to do anything and everything to get to victory lane. This is the last hurrah, if you will, before the last race of the 2021 season. When it comes down to it, there's going to be a few of the chase drivers that will be at the helm. Most notably, Martin Truex Jr. is going to be the one to watch. He's great here. Love him or hate him, he's got Martinsville figured out. In fact, he's got three wins in his last four starts. The caveat to that is the last race here last year where he finished uncharacteristically in 22nd place. That being said, he hasn't had another finish outside the top 10 since 2017. Truex is currently 3 points below the cutoff. If anyone can pull it off here with a win, Truex is your man. A solid finish and staying out of trouble should secure his spot, but who wants to risk it with points when you can just win? Let's take a look at your potential winners heading into Sunday's race:
Winner: Martin Truex Jr. +400 Bet your NASCAR picks FREE for the rest of the season by taking advantage of a 100% REAL CASH bonus offer of $100 to $300 at MyBookie Sportsbook! (Must use bonus code PREDICT100 when registering for an account)
Mid-Range Pick: Kurt Busch +3000
Dark Horse: Matt DiBenedetto +8000
DiBenedetto is one of those drivers still looking to secure a ride for 2022. Quite frankly, I don't understand why. I've seen a few teams turn their noses up when he speaks about wanting to openly talk about his faith. If that's what is keeping him from certain owners, then he needs to keep searching. Don't sell out. DiBenedetto is a great driver. He's got a win under his belt and has had some very good finishes this year…much better than some of the other drivers getting much more air time. His worst finish in his 3 starts with Wood Brothers Racing is 12th. The other two finish were not top 10s. This guy is good here. With nothing much to lose and everything to gain, I think DiBenedetto is going to put in a little more effort to get a strong finish on Sunday. I hope that he has another great weekend because he absolutely deserves to be noticed and get a ride for the 2022 season. Kurt Busch is another driver to keep your eyes on. He's been solid all year and only fell out of contention a few weeks ago. Recently, Busch has been very good at this track. His worst finish was actually April's race, where he ended up 21st. Before that, he had three consecutive top 10 finishes. Busch is looking for a bit of fun and a good end to his season as he hopefully secures his spot next year with a new organization. Kurt is undeniably a wheelman who knows his way around a short track. He will have a lot of challenges amongst the playoff drivers, though. Truex is going to race hard. I really believe that. Kurt's brother, Kyle, is also going to race hard to ensure that he gets into the final round. Let's take a look at your current top 8 drivers.
NASCAR Standings
Kyle Larson
Chase Elliott
Denny Hamlin
Kyle Busch
Ryan Blaney
Martin Truex Jr.
Brad Keselowski
Joey Logano
Logano is really the only driver that has to win pretty much to get into the final round. The other drivers are all so close and can point their way in if they're smart. That's going to be critical this weekend. None of them can afford to have a bad pit stop or get involved in a wreck here. The only saving grace is that it is possible to make up track position at Martinsville, unlike many other tracks. Shoot, we saw Jeff Gordon come from 3 laps down to win the race. Anything is possible here. Stay tuned to see these guys race as hard as they have all year long to get one of the coveted final spots as they close out the Round of Eight at Martinsville Speedway! Did you know that you can bet on NASCAR races LIVE-in-progress? Check out this AWESOME feature at a sportsbook that has been in business for 20+ years, allows credit cards for deposits, offers a generous 50% bonus, rebates on ALL your bets; win, lose or draw AND pays out FAST! —> Bovada Sportsbook!