Brooklyn Nets at Milwaukee Bucks Game 6 Pick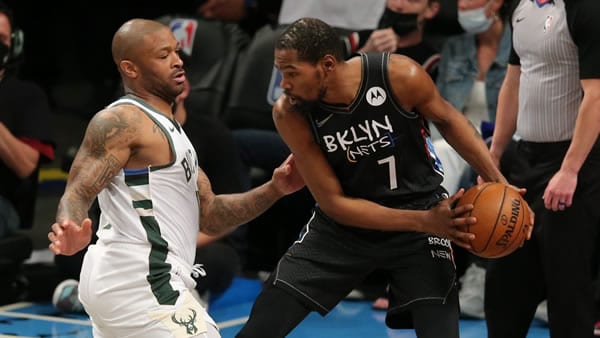 Brooklyn Nets (48-24 SU, 38-34 ATS) at Milwaukee Bucks (46-26, 32-40), 6/17/21
When: 8:30 pm ET Thursday, June 17
Where: Fiserv Center
TV: ESPN
Point spread: Brook +5.5/Mil -5.5
Total: 220
The Brooklyn Nets, coming off a huge come-from-behind victory Tuesday night, shoot to finish off the Bucks when the teams meet for Game 6 of this best-of-seven Eastern Conference semifinals series Thursday night in Milwaukee. Brooklyn, playing shorthanded, trailed most of the way Tuesday, then rallied behind a huge effort from Kevin Durant for the win. Can the Nets move on to their first conference finals in 20 years? Can the Bucks get this series back to even? Here's our homework for this Game 6 with our free NBA playoffs pick.
NBA Playoffs Betting Odds
The NBA playoffs betting market opened Milwaukee at -3.5 for this Game 6, with an over/under of right around 220.5. Early betting action then bumped the Bucks a bucket to -5.5.
For those looking to bypass the point spread and just bet who wins the game outright, the best Game 6 money line we could find on Milwaukee was the -210 offered at BetOnline, with Brooklyn getting +185 at Intertops.
Bigger-picture, the NBA futures market now chalks Brooklyn as a -220 favorite to win this series, with the Bucks getting +180 to take the last two games.
Nets-Bucks NBA Betting Preview
Brooklyn leads this series three games to two after rallying to take Game 5 Tuesday night 114-108. The Nets trailed the Bucks 29-15 after one quarter, 59-43 at the half, and 71-54 midway through the third, then outscored Milwaukee from there 60-37 for the outright win as home dogs of 1.5 points.
Both teams shot 49 percent from the floor Tuesday night, and both rebounds and turnovers were just about even, too. Ultimately, the difference was Kevin Durant for Brooklyn and some key missed free throws by the Bucks.
Nets G James Harden was listed as questionable for Tuesday night with a bad hamstring but instead played 45 minutes, although he also shot just 1/10 from the floor. But he did some other things, and his presence probably helped. Harden is listed as probable for Thursday night, but we can't help but be leery of his health, considering how fickle hamstrings can be.
With Tuesday's win/cover, Brooklyn is now 7-3 SU, 8-2 ATS this playoff season.
With Tuesday's loss, Milwaukee is now 6-3 SU, 4-5 ATS this postseason.
The Nets are down one of their Big 3 for sure with G Kyrie Irving (27 ppg this season) out with that bad knee. During the regular season, Brooklyn played 36-18 SU, 28-26 ATS with Irving, 12-6 SU, 10-8 without him.
The Nets played two games better than the Bucks in the regular-season standings, 48-24 to 46-26, but Milwaukee took the season series from Brooklyn two games to one. So these teams have split eight meetings SU this season, with the Nets going 5-3 ATS.
Nets-Bucks NBA Playoffs Betting Trends
Brooklyn played 20-16 SU, 19-17 ATS on the road this season.
Milwaukee played 26-10 SU, 17-19 ATS at home this season.
Brooklyn played 17-20 both SU and ATS against teams that made the playoffs this season.
Milwaukee played 21-16 SU, 15-22 ATS against teams that made the playoffs this season.
Totals Report
Overs played 40-32 in Nets games this season, which averaged 233 points.
Overs played 41-30 in Bucks games this season, which averaged 234 points.
Unders are 4-0-1 in this series, as the games are averaging 205 total points against an average O/U of 233.
Free NBA Playoffs Pick
Milwaukee actually out-played Brooklyn for most of the game Tuesday night, then let things slip away. The Bucks also held big leads the previous two games of this series and held on for victories. And while Durant can be Superman at times, Milwaukee did a decent job defending him earlier this series. Finally, we can't help but believe tho.se injuries will eventually catch up to the Nets. We're betting the Bucks, minus the points, for our free NBA playoffs pick for Thursday. Another thought… When two teams get this deep into the playoffs, sometimes it's best to watch for a while before jumping in with a bet. Lots of modern sportsbooks offer live wagering, however, there's one that is head and shoulders above the rest! Bovada Sportsbook! Why you ask? For starters, they can get credit cards to work for depositing. Second, they offer a generous 50% signup bonus where you can get up to $250 free added to your wagering account before you even place your first bet. Third, they offer rebates on ALL your bets; win, lose or draw! Fast payouts and again, their live wagering platform is incredible! It's well laid out, processes fast and they have TONS of offerings! Click here to start betting at a better shop!