[et_pb_dcsbcm_divi_breadcrumbs_module hide_homebreadcrumb="off" homebreadcrumbtext="Home" separator="sep-raquo" hide_currentbreadcrumb="off" homebreadcrumborientation="left" _builder_version="3.8″ fontsbreadcrumbs_font="Lato||||||||" fontsbreadcrumbs_text_color="#000000″ fontsbreadcrumbs_font_size="15px" fontsbreadcrumbs_line_height="16px" fontsseperator_font="||||||||" fontsbreadcrumblinks_font="||||||||" fontsbreadcrumblinks_text_color="#2567cf" custom_margin="25px|||" custom_margin_phone="30px|||" custom_margin_last_edited="off|desktop" custom_css_main_element="font-family: Helvetica Regular;" disabled="on" global_module="3641″ saved_tabs="all"][/et_pb_dcsbcm_divi_breadcrumbs_module]
Golden State Warriors vs. Boston Celtics Pick 1/26/19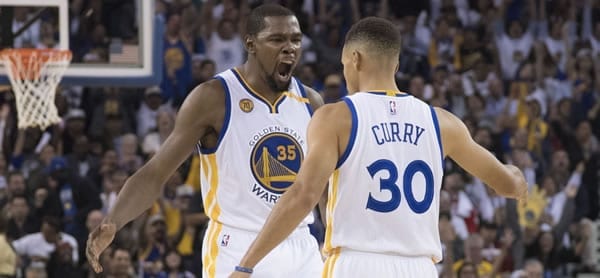 Golden State Warriors (34-14, 21-26-1 ATS) vs. Boston Celtics (30-18, 25-23 ATS)
When: Saturday, January 26th, 2018 – 8:30 pm ET
Where: TD Garden – Boston, MA
TV: ABC
Point Spread: GSW -2.5/BOS +2.5
Total: 230
Last Night in the NBA
And on the 7th day, God said, "Let's give Harden some f***ing help." I'm calling my financial guy and telling him to put all of my accounts on ice until we can get to the bottom of this conspiracy. Kenneth Faried? Are you serious? This guy was two weeks away from having to get a job at a Trader Joe's, and now I'm getting NBA notifications about how he led the Rockets to victory. I know a fix when I see one.
Elsewhere in the Association, Jokic comes back from suspension for the Nugs, Wonderboy Luka continued his fantastic play, Lou Will got a 30-point triple-double off of the bench, and Theo Pinson was the leading scorer for a team that won an NBA game in 2019. That's a finable offense if you ask me.
As we look to get back on track, let's surge ahead to one of the most hotly anticipated games of the season. The frisky Celtics are hosting the unstoppable Warriors in a Saturday night showdown. Once the favorite for the NBA Finals match-up, it'll be interesting to see how the cards fall in this game to predict things going forward. The Warriors are currently laying 2.5-points to the home team with the total set to an even-keel 230 points. Steph. Kyrie. Let's get it on.
Now We're All in Big, Big Trouble
When the DeMarcus Cousins thing was just words on a website, it didn't seem so bad. Plus, a 270-pound man, who was never known for being in the best shape anyway, coming off of an Achilles tear was an interesting gamble. But because they're the Silicon Valley Warriors, their gamble has, of course, paid off, and we've now officially wrapped up the 2018-19 season. While Boogie hasn't looked so spry on the defensive end, his immediate offensive impact on the pick-and-roll/pop and as a secondary playmaker and second-chance opportunist seamlessly fills in the cracks of his new team. Someday, someone will upend the Warriors. But it is not this day.
This day, however, the Celtics will fight. As the owners of a top-3 defense, Boston is going to do everything in its power to slow down Golden State's juggernaut. In theory, they have the personnel. Kyrie has long been a thorn in Steph's side; Jaylen Brown has the length and speed to stick with Klay; Tatum and Hayward can tag team Durant and try to keep him on the ropes; Marcus Morris v. Draymond Green could be $94.99 on Pay-Per-View; and there may not be a better one-on-one center-stopper than Al Horford in the NBA.
However, I think Golden State likes their chances. They've been clicking along with the league's best offense, and Cousins' presence really has already paid dividends. With an able body down low, there's an extra half-step available for Klay and Steph, and that's all they need. Indecision is the cousin of doubt. If the Celtics don't trust their defensive scheme, things are going to get worse before they get better.
Kyrie's Big Day
Sometimes, guys just like to play certain teams. LeBron usually marches into Boston like he owns the place, Joel Embiid lives – in his own words – "rent-free" in Andre Drummond's head, and the battle between the New York Knicks and their fed-up fan base has long been documented. Even before he hit the championship-winning shot against them, Kyrie has always felt a bit of a rivalry between himself and the Warriors. Steph, deservedly, receives a ton of accolades and admiration, and I think Kyrie just wants his fair share of the pie. It's never good to let a guy get too comfortable, and that's precisely what the Dubs have allowed. Not good, Bob.
The Celtics are going to need every drop of angst that Kyrie Irving can muster, to take down the champs. Despite some flashes of team camaraderie here and there, this is still not a cohesive basketball team. The Warriors move on a string as one on both ends of the floor, and to beat them in a game in which they are trying to win demands perfection.
Boston can, in a vacuum, provide the right type of play. Hard-nosed defenders in Smart, Brown, Horford, and Morris and elite shot-making in Kyrie, Tatum, and Hayward is a recipe for success. Unfortunately, they haven't been able to put all of the pieces together yet this season. While the Dubs' defense isn't anything to write home about, Draymond is always lurking, and Iggy, Livingston, and Klay all hold their own just fine. The C's can win, but they need to have that Avengers Assemble moment that they've been desperately searching for. No time like the present.
Best Bet
The scary thing about Kyrie Irving is that he always shows up for big games and big spots. The C's have already collected the pelts of the Sixers, Raptors, Thunder, Bucks, and Pacers, and their point guard is a big game hunter extraordinaire. More importantly, the Celtics home-court advantage is as strong as they come, and their fans have all day to get rowdy and ready for the big game. The city is all juiced up on another Super Bowl cocktail, and they're looking to add to their trophy case. Unfortunately, the Warriors have 5 All-Stars, and the Celtics only have one. I think we have all of the makings of an all-time classic, but I like the Warriors to squeak one out in one of their most important games of the regular season. I'm sorry, Kyrie – I still love your shoes.
Final Score Prediction: Golden State Warriors 113 – Boston Celtics 110