[et_pb_dcsbcm_divi_breadcrumbs_module hide_homebreadcrumb="off" homebreadcrumbtext="Home" separator="sep-raquo" hide_currentbreadcrumb="off" homebreadcrumborientation="left" _builder_version="3.8″ fontsbreadcrumbs_font="Lato||||||||" fontsbreadcrumbs_text_color="#000000″ fontsbreadcrumbs_font_size="15px" fontsbreadcrumbs_line_height="16px" fontsseperator_font="||||||||" fontsbreadcrumblinks_font="||||||||" fontsbreadcrumblinks_text_color="#2567cf" custom_margin="25px|||" custom_margin_phone="30px|||" custom_margin_last_edited="off|desktop" custom_css_main_element="font-family: Helvetica Regular;" disabled="on" global_module="3641″ saved_tabs="all"][/et_pb_dcsbcm_divi_breadcrumbs_module]
Golden State Warriors vs. Oklahoma City Thunder Pick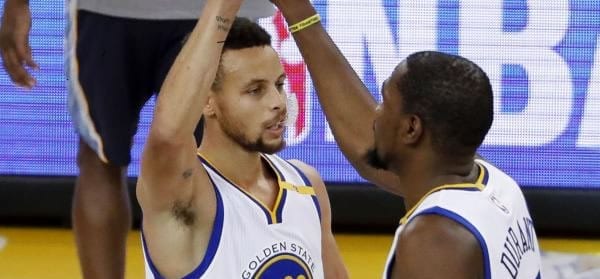 Golden State Warriors (46-21, 27-39-1 ATS) vs. Oklahoma City Thunder (42-27, 36-33 ATS)
When: Saturday, March 16th, 2019 – 8:30 pm ET
Where: Chesapeake Energy Arena – Oklahoma City, OK
TV: ABC
Point Spread: GS -1 / OKC +1 (Intertops)
Total: 228.5
Last Night in the NBA
I told you to take the Miami Heat first-half spread, right? That's totally what I meant. All of my analysis was about the Heat's stellar first-half, in which they led by 20 points going into the break. To my knowledge, that's when the game ended. Milwaukee just packed it in and went home, right? Oh well. I guess we'll never know.
Several other games featured two halves though, and some of them were actually quite good! Jimmy Butler is apparently getting his playoff reps in early, Julius Randle played like he was in a contract year (oh wait – he is!), and LeBron James decides to sit out against the Pistons, and we can only assume that he just wanted to watch Zion versus UNC like everyone else. I can't even blame him. Zion forever.
Tonight, we get to sit down with maybe the best NBA rivalry of the decade as the Golden State Warriors head into OKC to take on Russ and the Thunder. With Kevin Durant's ankle still bugging him, we're sadly left without a delicious line to salivate over. Alas, we'll have to do what is becoming all-too-common these days; let's break this thing down a little and then pick a winner and a score, shall we? We shall.
No Cupcake for You
You're probably not quite as big of an NBA nerd as myself, but I have to say that I'll never forget where I was or what I was doing when Stephen Curry sunk the 38-footer in OT to down the Thunder in a 2016 regular season game. I was at a bar with my future wife's friends, and no one was paying attention but me. I nearly fainted when Steph sunk it to the choir of Mike Breen's "Bang! Bang!" and not one person around me joined in on my jubilation. Simpler times in the NBA, I'm afraid.
But Kevin "Cupcake" Durant is potentially on the shelf for about versus his former team, and maybe GSW can capture some of that magic back (they didn't quite get there two nights ago – Boogie playing well spoiled the fun). However, the league's best offense does drop 14 points per 100 possessions with KD off of the floor, and some of the late game rustiness by the Splash Brothers came through in their narrow victory over Houston. Steph operates best as the shit-talking, mouthguard-chewing, bomb-dropping alpha male scorer, and I hope that he can find some of that tonight.
If not, the Warriors are going to need to find another way to get the job done. Draymond and Boogie are a daunting frontcourt, but Aquaman awaits for the OKC Thunder, and he's brought some of his fish pals. Paul George's borderline MVP-level play is going to need to be dealt with by a combination of Warrior's, and I fear that Klay is a step too slow and Iggy is a year too old. OKC makes its bones on the defensive end, but the Warriors middling defense could tear its ugly head against a team with bona fide superstars. Yes – that is a direct shot at Chris Paul. Get over it.
Who else wants $60 of FREE member picks & predictions?
(NO commitments. NO Credit Card. NO Salesman.)
OK-lahoma
For a while, there were a lot of NBA "experts" (myself included) that were beginning to lay the groundwork of OKC being the second best team in the Western Conference. It wasn't even that hot of a take; Westbrook has transferred 10% of his offensive motor and channeled it back into his defense, and Paul George was building a legitimate MVP case. But now Houston is healthy, Denver refuses to die, and if you ask anyone from Portland, the Trail Blazers are the most underrated team in the NBA (they're appropriately rated – too easy to gameplan against). I'm a Russell Westbrook defender through and through, but I'm worried that the same thing that has plagued them for years is going to come back to bite them again this year: Russ' overbearing desire to perform. Dial it in, Russell. You can do it.
But sometimes, his egomaniacal drive and self-perpetuating motor works to his advantage. We think of Westbrook as a meme and Steph as a jump shooting diety, but the two have nearly split their lifetime series down the middle. Steph's precision and agility are in stark contrast to Westbrook's explosiveness and raw manic power, and the resulting contests have been some of the best in recent memory.
To take down the Warriors, the Thunder should start by praying that Durant doesn't play. Since he left OKC in the dust, KD has averaged 32 points, and 8 rebounds on 54/49/95 shooting splits against his former team. #RevengeGame is very in his wheelhouse. If he is out, OKC is still going to need to be able to turn defense into offense. You can hope to slow down the Dubs, but you can't stop the best shooting backcourt ever for long, and PG and Russ are going to need to be superstars. And if that doesn't work, OKC at least has the rangy athletes and the propensity to create turnovers (best in the NBA) to create havoc and throw the Warriors off their game. Fingers crossed.
Best Bet
The OKC-GSW rivalry was the best part of the NBA a few years ago, and I'm glad that Paul George has seamlessly assumed the Durant role this season. The Dubs are more fun when they have a true foil to their greatness, and Houston has always felt more like a gimmick than an actual threat. OKC owns the 4th-ranked defense in the NBA, and it's a system that you can rely on profoundly. With likely no Durant available, we're banking on the Warriors turning back the clock again and proving to the world that they'll be fine when KD flees for the Big Apple. I love this game to be competitive and to be entertaining, and I don't see a big spread coming our way. I'm going to side with my heart over my other heart: Stephen Curry ftw. When in doubt, go with the three-time champ and two-time MVP. I still love you, Russ!
Final Score Prediction: Golden State 116 – Oklahoma City 114