NBA Futures: NY Knicks Outlook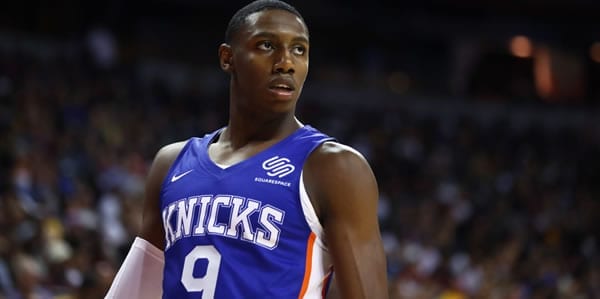 NBA Betting — Whatever Happened to the New York Knicks?
New players on board, but it's the same old story.
If I was sitting in a classroom, and the teacher asked, "Who here thought that the New York Knicks might be vastly improved this season?" I would have raised my hand.
Very sheepishly.
It didn't even take ten games for things to get extremely toxic around the Knicks (now 2000-1 to win the NBA title at VietBet), who were behind perceived have-nots like Charlotte, Cleveland, and Chicago last we looked. Could it possibly be any solace that their 2-9 record is the same as that of the Golden State Warriors?
Meet the Press
As they lost the eighth of their first ten games, a 108-87 defeat at the hands of the Cleveland Cavaliers, team president Steve Mills and general manager Scott Perry took the rather extraordinary step of holding a news conference in which they made an apology to Knicks fans (and, we presume, everyone else within earshot) for the lousy way they were playing.
Mills: "We think the team is not performing to the level that we anticipated, or we expected to perform at, and that's something that we think we collectively have to do a better job of delivering the product on the floor."
If you think that such a thing is a slap in the face to coach David Fizdale, you'd be thinking in the right direction. And maybe that slap is well-deserved. It depends on the way you look at it. Rumor has it that the front office is crafting an argument that they have furnished Fizdale a balanced roster, and he hasn't done enough with it and that Fizdale is echoing what others throughout the league have said, which is that the executives had not made provisions for having viable options at the guard position. If just one thing or the other is true, then it is going to become a matter of which story owner James Dolan is going to believe. And Mills and Perry are closer to his ear. Reports are that they are more than willing to cut bait with Fizdale, whose NBA reputation has essentially been built riding the coattails of the "Big Three" as an assistant in Miami.
The Rook
Yes, I'm a little hard on Fizdale, but the reality is that it really wasn't management's fault that Kyrie Irving and Kawhi Leonard and Kevin Durant were not signing with them, and they tried to make the best of a bad situation by bringing in a lot of veterans to add texture. They may have been blessed by some good fortune with first-round draft pick RJ Barrett, who opened up at +600 to win the Rookie of the Year award at VietBet and is currently among the NBA leaders in minutes played. There is no doubt that he is someone the Knicks can take into the future with them. But he is going to have to develop some parts of his game. Yes, he is athletic, and he has solid averages of 15.5 points, 5.8 rebounds, and 3.6 assists. But he's shot just 41.8% from two-point range, and 44.8% at the free-throw line. That's curious since he was at least passable as a 66.5% shooter from the charity stripe at Duke. To hit below 60% is completely unacceptable, and there is no question that he has to be better if he wants to be a standout in the NBA. Maybe he can learn from the example of Karl Malone, who shot 48% from the line as a rookie, and, through a lot of hard work, eventually raised that to just below 80%. By the way, here's Barrett on Fizdale: "Great coach, everybody loves him. I love him personally. Great guy to be around." Yeah, but for how much longer?
The point guard situation - otherwise known as "Ouch"
The Knicks have three different point guards who have been first-round draft picks. The problem is, none of them have been an ideal fit. Fizdale seemed to have his own specific issues with Frank Ntilikina and didn't use him until he absolutely had to when Dennis Smith left the team after a death in the family. Well, Smith was away for eleven days, and Elfrid Payton had a hamstring injury, so Ntilikina has gotten an opportunity to put a hold on the job. And maybe this is the way Fizdale is best advised going in because at least he can play some defense. But what the Knicks - and Fizdale - have to do is promote some more ball movement. They are 29th in the league in assists, and the numbers have demonstrated that they have had far too much isolation and far too little pick-and-roll execution. It remains to be seen whether Ntilikina will be a big help in that area, or whether he is going to wind up shooting well enough (he's 38% overall). From a shooting perspective, Smith has been a disaster, making just one of 14 shots from the field in 40 minutes played. It is altogether possible that the team could make a deal for someone who is more of an on-floor leader, and they have some trading capital in the way of veteran role players. As it looks right now, Smith's lack of results is making the Kristaps Porzingis trade a catastrophe for the Knicks. Sure, they still have a couple of first-round draft picks to come, but they designed the deal with the Mavericks to free up a lot of cap space, and they never had a chance to draw the superstars they wanted.
The KP Disaster
And speaking of Porzingis, he's expressed that he is still trying to settle in with the Dallas lineup, and in particular, his co-star Luka Doncic (+1500 to win the MVP at VietBet). There are no excuses in that; he's had pretty solid averages of around 18 points and eight rebounds. But remember that he did not play at all last season, the victim of a torn ACL, so he is just getting accustomed to being on the floor, to begin with. Porzingis could have been a cornerstone of rebuilding the Knicks to the point where they could have been relevant again, but a number of things went horribly wrong. KP contributed to some of this himself when he started to act like a prima donna in his second season with the club. Then, even though they were doing it to accommodate him, as he was cramping Porzingis' style, the youngster took exception to the way the team rid themselves of Carmelo Anthony. That got him thinking that he didn't necessarily want to be part of the future of a team whose management acted this way. He skipped the customary exit interview with Phil Jackson (who was in charge of basketball operations), who felt that Porzingis' brother, who also acted as his agent, was a rank amateur. And even after Jackson was let go, his right-hand guy, Mills, was elevated to team president. So none of this was going to add up for the 7-3 power forward. He is more comfortable in Dallas, where he feels the organization (headed by Mark Cuban) treated Dirk Nowitzki with a lot of dignity in the years leading up to his retirement. And of course, as a big man with a nice outside shooting touch, he is considered something of an "heir apparent" to Nowitzki. These two teams met last Friday in Dallas, and it got a lot of hype from the New York media. Porzingis had a big game, with 28 points and nine rebounds, and Doncic tallied 38. But the Knicks, unbelievably, won on the road. After a 21-point loss to Cleveland, Mills and Perry had their press conference, which brought the discussion back around to the roots of the problem. And of course, that invariably gets us back to Porzingis.
Epilogue
The Knicks lost 120-102 to the non-contending Chicago Bulls (95-1 to win the East at VietBet) on Tuesday. The good news was that Mills, Perry, and Fizdale walked into the United Center and the locker room together, like buddies from the old neighborhood. The bad news was everything else, including a 22-0 run by the Bulls in the fourth quarter. On Thursday, Porzingis visits Madison Square Garden with the Mavs for a rematch. And it will undoubtedly receive all the pomp and circumstance as might be appropriate for the occasion. In a payback situation, we wonder how much pain the Mavericks (+6000 to win the NBA title) will inflict on this Knicks squad, especially as New York's big shot-blocker, Mitchell Robinson, has yet to come out of concussion protocol to impede the guy he was supposed to be lining up alongside last season. And we wonder how Porzingis might be greeted. Chances are Knicks fans would rather see him be the one who sticks around after the game, while Mills, Perry, and Fizdale take the next flight out of town. Remember that you can get more value for your dollar at VietBet, as well with reduced juice on games in NBA. And if you want to stay in the action even after the games tip-off, real-time wagering comes through Sports Betting Ultra……. Open your account using a major credit card or person-to-person transfers. You can also use cryptocurrencies like Bitcoin, which NEVER incurs a transaction fee. …….. Enjoy TWO live casinos as well, including the brand-new Lucky Live Dealer Casino, where you'll find some games you may have never experienced before!
Sign up for an account through this site and use the bonus code of PREDICTEM, and it will be good for a 50% Welcome Bonus up to a $1,000 Deposit!