OKC Thunder vs. LA Lakers Pick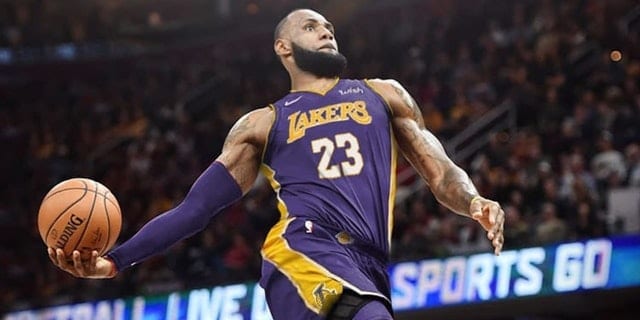 OKC Thunder (23-13, 20-16 ATS) vs. LA Lakers (21-16, 17-20 ATS)
When: Wednesday, January 2nd, 2019 – 10:30 pm ET
Where: STAPLES Center – Los Angeles, CA
TV: ESPN
By: Kyle Cash, NBA Basketball Handicapper, Predictem.com
Point Spread: OKC -5.5/LAL +5.5
Total: 230
Last Night in the NBA
I was never more sure of anything in the world than I was that Donovan Mitchell's heave was going in and the Jazz were going to sneak away with a disgusting backdoor cover. But miraculously, we survived, and that's another notch on the bedpost for ol' Kyle Cash. Nine out of ten is good, yes?
Elsewhere in the NBA, my son Joel returned and promptly showed everyone who was boss, the Knicks looked surprisingly feisty versus the Nuggets, and Jusuf Nurkic reminded everyone that his nickname is the "Bosnian Beast."
The New Year started off a bit slow, but we're back into the swing of things with a solid 9-game slate on Wednesday night. With the cold, wet weather creeping in, I'm much more likely to tuck into bed early and catch some Z's, but I'll make an exception tonight as Russell Westbrook heads home to play against the Los Angeles Lakers. A California native, Westbrook's squad comes into the game as a 5.5-point favorite over LeBron's kids with almost all bookies setting the total at a high 230 points. Let the games begin.
Paul George John Ringo SuperStarr
NBA free agency is truly Christmas in July for hoops nerds like me, and Paul George announcing his decision to resign with Oklahoma City at midnight on July 1st at a party thrown by Westbrook was insane. It was like watching a dog walk on its hind legs, but if there was $200 million and a possible Lakers tampering scandal involved. Now, PG-13 gets to take on his scorned lover for the first time since that fateful night, and he's doing so amidst one of the best stretches of basketball of his entire career. According to Basketball-Reference's MVP tracker, he's still in the hunt for the award and is presently considered even more valuable to his team than one LeBron James. Still think you're the greatest player of all time, LeBron? The 2011 Dallas Mavericks send their regards.
 The Thunders' offense is nothing to write home about, but they've ramped up their defense to 11 and currently sit as the top-ranked team in the NBA in Defensive Rating. Their emphasis on stopping the long ball (5th in opponent's 3-point percentage) and protecting the paint (5th in opponent's restricted area field goal percentage) has paid dividends tremendously, and it's made up for their sorry offense. Westbrook is still struggling to generate points for himself, and the burden has fallen onto the capable shoulders of Paul George to get them some buckets. The Lakers grade out as a solid defensive unit, but I'm not particularly bullish on the prospects of Slenderman Brandon Ingram hampering PG too much. With LeBron, the Lakers are a slightly above-average threat. But without him, they've surrendered 116 points per game – a bottom 4 mark in the league. Russ is back in town, and if he has his way, he'll be sending the Lakers home sad.
Save Us, LeBron
My favorite point of nearly every NBA season is when LeBron looks around at his team and decides, "Nah, this ain't it." He's the George R.R. Martin of the NBA – no one is safe, and at any point, a guillotine could come swinging down and lop off somebody's head. I'll never forget when, while at the Philadelphia Eagles' 2018 Super Bowl Parade, a guy behind me said, "Wow! Cavaliers just traded for Jordan Clarkson and Rodney Hood! Golden State better watch out! LeBron's going to win another ring!" Narrator: he didn't. Keep that same energy, LeBron apologists. Mike, Magic, Bill, Tim, Kobe and I will be over here counting our rings and laughing at you.
Without their King, the Lakers have looked like a bunch of court jesters, and it's looking like Brandon Ingram is going to have a long, prosperous career in New Orleans. Between Josh Hart becoming a real asset, Lonzo's up-and-mostly down season, and LeBron's blatant tampering regarding the status of Anthony Davis, the writing is on the wall for the Lakers young core.
To keep pace with the Thunder, LA is going to need more of the Lonzo we saw on Thursday (a near triple-double) and less of the one we got on Saturday (1-6 from 3 – 32% on the season). Unfortunately, Lonzo is not an elite athlete by NBA standards, and with Westbrook's newfound love for playing defense, the eldest Ball bro may struggle to do things such as dribble, pass and shoot. An up-tempo game should mean more opportunities for scoring in bunches, but the Lakers are still a young team, and with pace comes more mistakes. Against the league's best defense, they'll need to take care of the ball if they want to have a shot at winning – or, more importantly, covering.
Best Bet
In case you haven't caught on to the tone of this article, I'm a bit dubious about the Lakers' chances tonight. OKC may have played a soft schedule to date, but they've won 14 of their 23 games by double digits, and what more can you ask for? They took their lame schedule and destroyed the opponents in front of them, and Lonzo, Kuzma and Ingram represent another weak opponent. This Lakers core is the same one that barely scraped together 35 wins last season, and the Thunder are a legitimate threat to the Western Conference crown. Tragedy + Time = Comedy, and tonight, Russell Westbrook + National TV Game + Hometown hero – LeBron James = Lakers travesty.
Final Score Prediction: OKC Thunder 126 – LA Lakers 113