[et_pb_dcsbcm_divi_breadcrumbs_module hide_homebreadcrumb="off" homebreadcrumbtext="Home" separator="sep-raquo" hide_currentbreadcrumb="off" homebreadcrumborientation="left" _builder_version="3.8″ fontsbreadcrumbs_font="Lato||||||||" fontsbreadcrumbs_text_color="#000000″ fontsbreadcrumbs_font_size="15px" fontsbreadcrumbs_line_height="16px" fontsseperator_font="||||||||" fontsbreadcrumblinks_font="||||||||" fontsbreadcrumblinks_text_color="#2567cf" custom_margin="25px|||" custom_margin_phone="30px|||" custom_margin_last_edited="off|desktop" custom_css_main_element="font-family: Helvetica Regular;" disabled="on" global_module="3641″ saved_tabs="all"][/et_pb_dcsbcm_divi_breadcrumbs_module]
Pick: New Orleans Pelicans vs. Golden State Warriors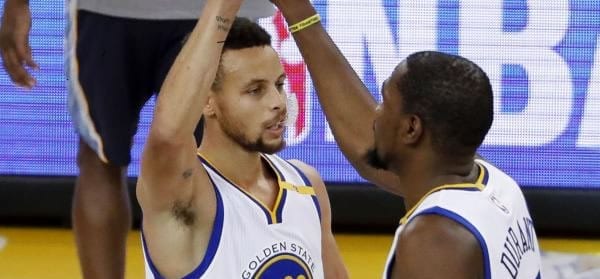 New Orleans Pelicans (21-23, 20-24 ATS) vs. Golden State Warriors (30-14, 18-25 ATS)
When: Wednesday, January 16th, 2019 – 10:30 pm ET
Where: ORACLE Arena – Oakland, CA
TV: ESPN
By: Kyle Cash, NBA Basketball Handicapper, Predictem.com
Point Spread: NOP +6/GSW -6
Total: 240
Last Night in the NBA
With the benefit of hindsight…I have some regrets. Admittedly, I made my decision to back the Nuggets before I knew that the Warriors' Big 3 was going to score 130 points on 100% shooting. If I had known that, I may have just rolled with the champs. Note to self: don't bet against Steph. Won't happen again.
Honestly, the league didn't earn an "elsewhere in the NBA" for last night's games. Margin of victories of 42, 34, 16, 38, 31, and then whatever the Bulls-Lakers ends up at? Are you serious? Go home, NBA – you're drunk. That level of apathy about losing is dangerous, and it's the reason that non-NBA fans like to point out that there's no parity and teams don't play defense. Nights like this make it hard to argue.
A soft Wednesday night schedule has me thinking that it may be a good time to catch up on TV shows with the wife, but we at least have two compelling games to look forward to. After Toronto flicks away the chemistry disaster that is the Boston Celtics, the Dubs will host the Brow for what is sure to be another defensive travesty. The Warriors are currently favored by 6 points over the Pelicans with the total set to an Earth-shattering 240 points. If at first you lose money on the Warriors – call your bookie and double down on them instead.
Offense or Bust
After doling out a standard-for-him 46 points and 14 rebounds on Monday, the Brow faces a much tougher opponent tonight. While a bad game for AD is a great game for 98% of the rest of the league, he can't be anything less than excellent if the Pelicans want any chance of winning. As I've illustrated before, we're now at Schedule D-Day for all of the teams with playoff hopes, and the Pelicans can't afford to slip any further in the ratings. The supporting cast for AD is as strong as ever. Jrue, Julius, Nikola, Elfrid, E'Twaun – all of these guys are average to slightly-above, and the Brow is out of excuses. The best player in the world wins 50 games a season, every season, no matter what. Time for AD to join that discussion.
In order to do so, New Orleans is going to have to figure out a way to play some semblance of defense. Their 3rd ranked offense can cover up a lot of their blemishes on the other end, but the Warriors are a different beast. Against a team that just made an NBA record 10 3-pointers in one quarter, I think that the Pelicans' 24th-best 3-point defense might be an issue in this one.
One silver lining? My god – do the Pelicans know how to score. Anthony Davis is essentially unguardable, Jrue Holiday and Julius Randle are wrecking balls at their respective positions, and Niko and E'Twaun can let it fly with the best of them. If the Pelicans can really, really turn this thing into a shootout – I mean, why not, right? Fill it up and stay within 6 points; how hard can that be?
If At First You Don't Succeed…
You don't need to be a rocket scientist to have the opinion that the Warriors are, like, really freaking good. Anyone with one working eye, a modicum of interest in sports and hasn't been in a coma for the last five years knows this. But at some point this season, I am going to sit down and really do a deep dive on the success of this team. The national conversation about where this team ranks in the pantheon of all-time great squads has died down a little bit as they've hit their predictable rough patches, but it's hard to understate it. While I am an on-the-record LeBron detractor, I can at least appreciate that he is one of the most complete basketball players of all time, and most definitely one of the greatest athletes in modern sports history. I think that people lose the thread about that with the Warriors a little bit, and I would encourage you all to reconsider your stance on them. Appreciate them while they're here – celebrate them when they finally get beaten.
It's business as usual for the Warriors when it comes to taking down the Pelicans. While Anthony Davis is always a worrisome entity, I suspect that Draymond and KD won't be losing any sleep over him tonight. Steph hits somewhere between 2 and 14 3s per game, and Klay's hot hand has finally returned to him, safe and sound.
While their league-leading offense will carry them to more victories than not, the secret sauce of the Dubs has always been their ability to defend. Draymond, Durant, Looney, Klay – these guys are excellent at their respective positions, and Steph's ability to roam and interrupt passing lanes is his most important defensive skill. The Pelicans play fast and loose, and if they do against the Warriors, they might find themselves out of it before it even begins.
Best Bet
I mean, what the hell do you think I'm going to say? They just beat the NBA's best home team in their own thin-altitude, pot-laced arena by 31 points. They scored 51 points – in one quarter! Steph basically played left-handed – and still dropped 8 3-pointers! AD is only three weeks older than me, and for that reason, I will always feel a bit of a kindred spirit with him. We're basically living the same lives, after all. But I absolutely cannot, under any circumstances, pick against this juggernaut two nights in a row. I'm pretty sure that you're not even allowed to bet against a team the night after they win by 31 points on the road. It's unconstitutional and un-American. And no, this is not some elaborate posturing that I'm doing where I drone on and on about how dominant the Warriors are before slipping in a nice little "Take the points" at the end (the thought crossed my mind, though). Keep it simple, stupid. Dubs cover easy.
Final Score Prediction: Golden State 131 – New Orleans 115