[et_pb_dcsbcm_divi_breadcrumbs_module hide_homebreadcrumb="off" homebreadcrumbtext="Home" separator="sep-raquo" hide_currentbreadcrumb="off" homebreadcrumborientation="left" _builder_version="3.8″ fontsbreadcrumbs_font="Lato||||||||" fontsbreadcrumbs_text_color="#000000″ fontsbreadcrumbs_font_size="15px" fontsbreadcrumbs_line_height="16px" fontsseperator_font="||||||||" fontsbreadcrumblinks_font="||||||||" fontsbreadcrumblinks_text_color="#2567cf" custom_margin="25px|||" custom_margin_phone="30px|||" custom_margin_last_edited="off|desktop" custom_css_main_element="font-family: Helvetica Regular;" disabled="on" global_module="3641″ saved_tabs="all"][/et_pb_dcsbcm_divi_breadcrumbs_module]
Toronto Raptors vs. Boston Celtics Pick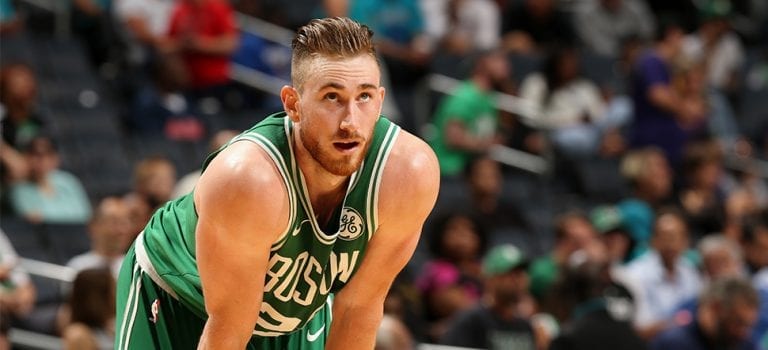 Toronto Raptors (12-3, 7-7-1 ATS) vs. Boston Celtics (8-6, 5-9 ATS)
When: Friday, November 16th, 2018 – 7:00 pm ET
Where: TD Garden – Boston, MA
TV: ESPN
By: Kyle Cash, NBA Basketball Handicapper, Predictem.com
Point Spread: TOR +1.5/BOS -1.5
Total: 215
Last Night in the NBA
The line for the Spurs/Clippers fluctuated all day, but the consensus closing line was Clippers by 6.5, and the Spurs were able to hold on to send us home happy. Between the Warriors apathetic performance, my lousy DFS team and a hoagie-induced nap at 11 pm, I'm happy to put another lackluster slate of TNT games behind me and look ahead to tomorrow.
To make up for Thursday night's snooze-fest, the Schedule Gods have rewarded us with an 8-game slate that features six games with a point spread less than six. As much as I am enjoying the Dwight Howard era in Chocolate City and am curious about the Jimmy Butler regime in Philadelphia, it's better to hone in on the game of the night: Celtics v. Raptors. Boston, despite all of their struggles, opens as a 1.5-point favorite in TD Garden with a total set to a modest 215 points. C Us Break down this game.
Raptors' Re-Serge-ance
I'm sorry for that. Don't be fooled by my subheading: the Raptors are arguably the most complete team in the NBA. Toronto currently has 5 guys averaging 10 points per game or more, with 3 others averaging at least 9. As far as I can tell, the record for number of double digit scoring averages on one team for a full season is 6, and I think the Raptors are going to sniff that by the year's end. With the league's best record, the 5th best scoring differential and no LeBron James in their way, it's hard to deny that Toronto is the favorite to represent the Eastern Conference in the NBA Finals.
However, the Boston Celtics might have something to say about that. In their last meeting, the Raptors gave Boston their just desserts in a 113-102 game that was not quite as close as the final box score might indicate. Last season, Boston was a top-10 home team, and the second best home team ATS in the NBA. In order for Toronto to keep their momentum going, they'll need to hit Boston's defense where it hurts: right at Kyrie Irving. Kyle Lowry is – as they say in the business – a "bulldog;" he'll bite your head off without blinking. Kawhi Leonard is the superduperstar of the Raptors' roster, but every Lone Ranger needs his Tonto, and Lowry has to be that guy. Kyle Lowry has the ability to get into the teeth of the defense and either finish, get fouled, or find open guys, and his league-leading 10.7 assists per contest are going to go a long way to break down Boston's walls. If Kawhi is the orbiting Sun, Lowry is the Earth, and their bruiser squad of bigs are the rest of the Milky Way Galaxy.
Celtic Pride
Pride comes before the fall, and a career low in minutes played for Marcus Smart comes before the trade to a lottery team. Marcus Smart signed his free-agent contract for $13 million per year and saw the dollar signs in his eyes; Danny Ainge looked at the contract and saw his Marcus Smart/Marcus Morris/1st round pick trade materialize before his very eyes. Who they are going to target? I couldn't tell you. But Elton Brand just pulled a Howie Roseman and landed another superstar, and it's time for Ainge to counter.
Before their roster gets retooled, Boston still has to take on the East's best team for the second time this season. It's no secret that the Celtics have struggled to generate offense so far; they are still ranked 24th in Offensive Rating and Points per game. They currently have a worse offense than the Knicks, who have less professional basketball players on their roster than the Duke Blue Devils. Against Toronto, this ain't "Whose Is It Anyway?": the points aren't made up, and they do matter.
In their first meeting, the Raptors outpaced the Celtics by 12 despite Boston attempting more shots and making more 3-pointers. The basketball food pyramid shouldn't be this hard to figure out: superstar -> stars -> starters -> role players -> bench -> towel-waving guys. It's a tried and true formula, and NBA teams have been cutting and pasting players into these roles every year since the invention of the game. Why is it, then, that Boston has five guys that think they are stars? Who told Marcus Smart – a career 29% shooter – it was a good idea to hoist three 3-pointers per game? How come Terry Rozier keeps trying to squeeze 36 minutes' worth of shot attempts into 23? When is Brad Stevens going to realize that Gordon Hayward isn't in a place, physically, to be a closer for a contender? The difference between these two teams is stark: one is a completed puzzle, and the other has a bunch of square pegs and a couple of round holes. Good luck tonight, Boston.
Four Factors of Winning
Since we're all about finding the edge here at Predictem.com, let's take the time each day to dive into the stats that lead to winning basketball games. According to a theory posited by Dean Oliver, a win in basketball can be narrowed down to four factors: shooting, turnovers, rebounding and free throws. Each day, I will take a look at the areas that each team excels at or is susceptible to, and we will see if we can find a specific reason why Team A will beat Team B.
At a glance, it's easy to see the disparity between these teams and identify why one has had more early season success than the other: the Raptors make shots, and the Celtics do not. Toronto and Boston have similar aptitudes at stopping opposing units, as they both rank inside the top-6 in Opponent's Effective Field Goal Percentage. But Toronto is 3rd in making shots, and Boston is stuck down in the slums with Chicago and Orlando.
Boston is also a team that has decided to punt on offensive rebounds in favor of getting back to stop opponent's transition scoring. The Celtics do not have the Tristan Thompson-type of rebound-hunter, so do not expect too many second chance points for Boston in this one. Instead, we should be able to anticipate a fairly smooth, watchable game, as both teams are adept at defending without fouling, and they both jack a lot of 3s while avoiding the free throw line like the plague.
The three pointer is the ultimate catch-all for gambling purposes. It's the highest variance shot, so it's dangerous to bet totals. Narrative-wise, this game should have a playoff atmosphere, so I would lean towards the under. Boston's defense has struggled enough as is, and they are near the top in every defensive category. I wouldn't be caught dead betting on them to score points.
NBA Pick
I've had a rough go of it lately, and I can already tell that no matter which side I choose in this one, I'm going to regret it as soon as the game starts. It's fun to have two top-25 guys square off against each other, and Kyrie has excelled while Kawhi has swooned in their last couple of respective games. I'm not a huge believer in a coach's influence, but this feels like a game that is going to be won on the margins, and no coach in the NBA is better at securing those small victories than Brad Stevens. Nick Nurse has done a fine job in jettisoning the Raptors out of the prehistoric NBA era, but Boston is arguably the most hostile environment we have in the NBA, and I'm worried that Stevens might metaphorically pull Nurse's pants down in this one. Toronto, to me, does not seem like a 66-win team, so they are bound to come back to Earth eventually. Statistically, the only change that Boston has to make is to make more shots, and I think that tonight might be the night that they officially put the league back on notice. The Celtics medicine burns going down, but just plug your nose and take it – it's good for you and for your wallet.
Final Score Prediction: Boston Celtics 106 – Toronto Raptors 101
<h4 class="widgettitle">NFL Picks</h4><!-- [et_pb_line_break_holder] -->
First Fidelity's call-in sportsbook had built its client base through word of mouth and professional service starting in the early 90s. Many of their players were established, wealthy, older gentleman. Word would spread at the golf course about how easy it was getting paid big amounts. First Fidelity's then marketing manager told me they didn't need to market and their phone-in middle aged client base was growing faster than ever. I asked, then why advertise online? He said their "customers are loyal but people eventually retire and even pass away. People die." It was honest and forward thinking. 15 years later Youwager still has many silver-haired VIPs but is considered cool by the younger connected generation. Maybe Buick needs to hire Youwager's team.