Toronto Raptors vs. Golden State Warriors Game 1 Pick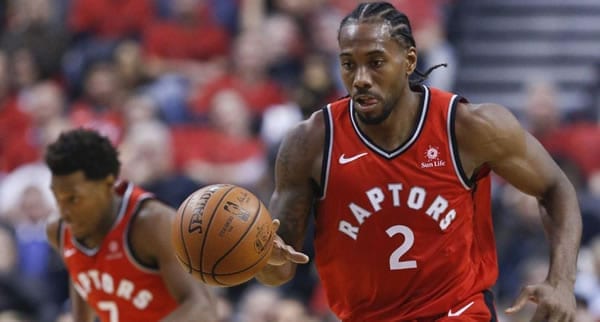 NBA Finals Betting — Game 1: Will Golden State Be Road Warriors?
Opener's on enemy ground, as Durant watches
You had to be impressed by the way the Toronto Raptors were able to rebound from being in a very rough spot and take four straight to beat the Milwaukee Bucks in six games. This takes them into the NBA Finals for the first time. And if pending free agent Kawhi Leonard doesn't stick around beyond this summer, it may be their best chance for a while.
Their opponents, the Golden State Warriors, are pursuing their third consecutive championship. But there's a lot of "back story" surrounding their bid.
Whether they are going to be at full strength or not is a question that we don't quite know the answer to. But it's going to be fascinating to find out what they're capable of if they aren't.
Read Keith Franks' Take: NBA Finals Game 1
What some people might not be aware of is that the Raptors actually have the home court advantage in the series, by virtue of having a better record than the Warriors. Golden State, however, is the favorite to take home the title, as we'll illustrate at the bottom.
The opening game tips off at 9:05 PM ET on Thursday at the Scotiabank Arena in Toronto. You can watch it on ABC.
The Numbers
In the NBA Finals betting odds posted on this game, the Raptors are favored ever-so-slightly in Game 1:
Toronto Raptors -1 (-105)
Golden State Warriors +1 (-105)
Over 213.5 points (-105)
Under 213.5 points (-105)
Raptors to win outright -112
Warriors to win outright +102
All of those numbers are reflective of reduced juice, the best deal you can get anywhere in the online sportsbook industry. It's available at BetAnySports.
The Walking Wounded
Much of the talk surrounding Game 1 involves the status of two members of the Warriors. One of them is Kevin Durant, who went down late in the series against Houston with a calf strain that was a little worse than originally expected. Durant sat out the entire Portland series, and now he's rested for at least three weeks. Interestingly the Golden State brass has been tight-lipped about his status, but he's not expected to be available for the opener. His eventual presence would be significant, since he is the highest per-game scorer in these playoffs (34.2 ppg). Still, the Dubs have won all the games where they've been without him.
There has also been some mystery surrounding DeMarcus Cousins, who went out very early in the playoffs with a torn quadriceps. He's a genuine wild card, because the Warriors had him for only 30 games in the regular season. He's officially listed as questionable for the first game, although head coach Steve Kerr has said that he hoped Cousins would return "at some point" during the series.
Cousins is, of course, an All-Star from his time in Sacramento, and the Warriors have, at times, looked awesome with him in the lineup. He averaged 16.3 points and 8.2 rebounds for them, and supplies an inside offensive presence.
That's why it surprises some people to hear that G-State was actually 4.2 points per 100 possessions better with him off the floor. But when you think about it, you'd have to ask whether Cousins was a great fit with this culture. After all, when he was with the Kings, he led the team in just about every category. In other words, he really needed the ball to be effective. It doesn't quite work that way with the Warriors.
If Cousins played, his minutes would likely be limited. My guess is that he could be effective as a situational player, and he'd be able to add depth to a team that has gotten only 21% of its points from the bench in the post-season. We don't see him pushing Kevon Looney out of the way, inasmuch as Looney has an effective field goal percentage of 72.5% in the playoffs.
The Little Brother Speaks
Seth Curry was among the Portland Trail Blazers who were victimzed in the West finals. The Duke product was actually a higher-percentage shooter from three-point range (45%) than his brother Steph (43.7%) this season.
But according to a few members of the Warriors, he threw up an air ball when evaluating the team without Durant in the lineup.
"I think they are harder to guard" Seth said. "They move around faster when he's not out there. They're definitely not a better team, but they're harder to guard."
Durant reacted with anger, as did Draymond Green and Andre Iguodala. But the fact of the matter is that Steph's little brother may be right. They aren't necessarily a better team without Durant, but when it comes to KD (and Cousins also, for that matter), there is a tremendous potential for them to be "ball-stoppers," and this team clearly thrives when it is moving the basketball around.
As BetAnySports customers may be aware, no team distributes as well as Golden State. Two-thirds of their baskets have come by way of an assist. They have more "secondary" assists than anyone (think hockey). And ponder this for a moment - there have been 17 games in these playoffs where a team had 30 assists. The Warriors have produced eight of those games. Teams that can spread the ball - and the scoring - around are usually more difficult to play defense against.
The Green Effect
Regardless of how much time Looney, Cousins or Andrew Bogut plays in the pivot, the Warriors are still most effective when they are operating with Draymond Green. He may be the most essential player they have, since on defense he can guard any position, and on offense he has the ability to make size work against the opponent by working the high pick-and-roll and passing out of the post to a wide-open shooter. Or he can shoot from the outside himself.
Green has averaged over eight assists per game and has four triple-doubles in the playoffs (no one's had more than that since 1984). The Warriors have outscored their opponents by a quarter of a point per minute when he is on the floor. And he might be able to intimidate Drake if the rapper acts up at courtside. That's a lot to offer in one package.
Sweeping the Glass
Toronto, plainly speaking, has not been a real good rebounding team in these playoffs. And they weren't beasts on the boards in the regular season either. The Raptors have an offensive rebound percentage of 22.4% in this post-season, which is 15th out of the 16 playoff teams. They were 18th in the NBA during the regular campaign on the defensive boards.
So even though they are not known for this kind of thing, it is an area Golden State might be able to exploit. They have, in fact, realized a nice spike in earning second chances, with an excellent 30.4% offensive rebounding rate. The Raptors played great defense much of the time in their three playoff series. But in order to finish a "stop," you have to sweep the glass. And they don't want to be giving the W's extra opportunities.
Head-to-Head
The Raptors won both meetings between these teams this season.
However…….
Neither DeMarcus Cousins nor Andrew Bogut played in either game. Marc Gasol missed both, since he hadn't been traded to the Raptors yet. Steph Curry and Draymond Green missed one of the games, and Kawhi Leonard missed the other.
So I'd be hesitant to use any of this as a barometer.
What we WILL mention, though, is that Kevin Durant scored 51 points in one of the encounters, where Golden State came back from 18 points down to force overtime. And that Curry and Klay Thompson combined to hit just five of 22 three-point attempts. And that Kyle Lowry had an assist-turnover ratio of 24-3, which is sizzling, to say the least.
Early Offense - Showing Rust or Extremely Robust?
Golden State hasn't taken the floor since the 20th, so while they've been practicing, obviously, they might be expected to have some early rust and/or uneasiness, since that's just the nature of the beast.
We would, however, caution NBA Finals bettors on a couple of counts; for one thing, the Warriors have outscored their opponents by 19.7 points per 100 possessions in the first quarter of playoff action - essentially racking all that up in the first two series.
And when Golden State had this much of a break before the NBA Finals two seasons ago, they came out of the gate in Game 1 and shot 50% from the field, scoring 35 points in the first quarter against Cleveland.
Toronto is listed at even money to win the first quarter, but I'd be wary about backing them.
Trending
Home teams with at least four days of rest going into a playoff series are on a 104-60 pointspread run. That's 63.4%, and that's pretty damn good.
But somehow we wonder whether Toronto's "Game 1 curse" is going to continue to follow them. They are now 4-14 ATS when playing the opening game of a playoff series.
We can tell you that Golden State has won six of its eight playoff games on the road, so this is nothing that is going to faze them. The Raptors excelled on defense in the last four games against Milwaukee, but this is their biggest challenge by far. The Warriors have scored at least 100 points in 26 straight contests, and as we alluded to, they move the ball around like nobody else.
And the way this team played Game 4 against Portland, like it was life-and-death, was one of the most impressive things I've seen in a long time.
I don't care if they don't have Durant or Cousins here. If you want to lay a point or a price to the two-time defending champs, do so at your own risk. I won't be following you down that path.
Despite Toronto's home court edge, the Warriors are -265 favorites, with the Raptors at +245. That series is inclusive of reduced juice at BetAnySports. And you'll also be glad to know you don't have to lay the usual -110 in NBA Finals betting. There's no better deal in the sportsbook industry than this. And if you want to stay in the action even after the opening whistle, real-time wagering comes through Live Betting Ultra. …….. Open your account using a major credit card or person-to-person transfers (like Western Union or MoneyGram). You can also use virtual currencies such as Bitcoin, which NEVER incurs a transaction fee. …….. Enjoy TWO live casinos as well, including the brand-new Lucky Live Dealer Casino, which will blow you away.
Take note - when you sign up for an account, mention PREDICTEM and you'll get a 50% Welcome Bonus up to a $1,000 Deposit!