[et_pb_dcsbcm_divi_breadcrumbs_module hide_homebreadcrumb="off" homebreadcrumbtext="Home" separator="sep-raquo" hide_currentbreadcrumb="off" homebreadcrumborientation="left" _builder_version="3.8″ fontsbreadcrumbs_font="Lato||||||||" fontsbreadcrumbs_text_color="#000000″ fontsbreadcrumbs_font_size="15px" fontsbreadcrumbs_line_height="16px" fontsseperator_font="||||||||" fontsbreadcrumblinks_font="||||||||" fontsbreadcrumblinks_text_color="#2567cf" custom_margin="25px|||" custom_margin_phone="30px|||" custom_margin_last_edited="off|desktop" custom_css_main_element="font-family: Helvetica Regular;" global_module="3641″ saved_tabs="all"][/et_pb_dcsbcm_divi_breadcrumbs_module]
Pick: Baltimore Ravens vs. Tennessee Titans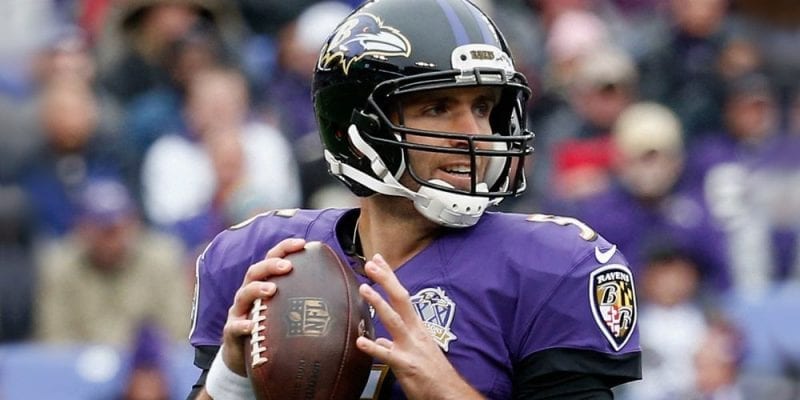 Baltimore Ravens (3-2 SU, 3-2 ATS) vs. Tennessee Titans (3-2 SU, 3-2 ATS)
When: October 14, 2018, 4:25 PM EST
Where: Nissan Stadium, Nashville, Tennessee
TV: CBS
By: Rick Wise
Point Spread: BAL -2.5/TEN +2.5 (Opened at 2.5)
Over/Under: 42
Power Ratings: Ravens -2.5
Takeaways From Week 5
Joe Flacco laid his first egg of the season Sunday in a 12-9 overtime loss to the Cleveland Browns. He finished 29-of­-56 for 298 yards, no touchdowns and 1 interception. He'd been solid to this point of the season, but his shaky side made an untimely appearance in a division battle that saw the Ravens drop to 3-2 and fall one game behind the Cincinnati Bengals for the top spot in the AFC North.
Even aside from Flacco's struggles, offensive coordinator Marty Mornhinweg's playcalling was iffy at best. Baltimore threw the ball 57 times and ran it 25 times, despite it being apparent early on that Flacco wasn't at his best and the ground game was meeting with much more success. Alex Collins and Javorius Allen combined for 93 yards on 20 attempts yet the run was abandoned when it mattered most. Flacco may have stunk it up, but so did Mornhinweg. Particularly after calling back to back brilliant games against the Steelers and Broncos.
Would you buy a car without knowing the Price? Don't Bet your PARLAYS that way! Get 2.75 to 1
Meanwhile, the Titans offense also did an about face in a 13-12 loss to the Buffalo Bills on Sunday. They managed just 221 total yards and you're just not gonna win very many games with so little offense, even if you happen to hold your opponent to 223 yards, which Tennessee did. And they lost anyway. Marcus Mariota, who threw for 344 yards and 2 touchdowns last week against the Eagles, took a giant step or two backwards, finishing 14-of-26 for 129 yards, 0 touchdowns and 1 interception. The offense in general, though, never really found its footing. Between the dropped passes and three total turnovers, nobody on that side of the ball stepped up to bail out a struggling Mariota.
Although It came by way of a loss, Tennessee played its stingiest defense of the season. They gave rookie quarterback Josh Allen fits to the tune of 10-of-19 for 82 yards and 1 interception and took Buffalo's pass catchers out of the game. Running back LeSean McCoy led all receivers with 2 catches for 23 yards.
The Historicals
These two have squared off against each other quite a bit, as they've played 22 times and the series is tied 11-11. Their first two meetings actually date all the way back to the mid 90's when the Tennessee Titans were the Houston Oilers. And neither team has dominated the other. Their last six meetings dating back to 2006 are split right down the middle at three a piece.
Injury Concerns
Questionable for Sunday's game on the Ravens' side are DT Michael Pierce (foot), LB Tim Williams (hamstring), and CB Anthony Averett. For the Titans, LB Wesley Woodward (Shoulder), T Dennis Kelly (illness), and OT Taylor Lewan (foot) are listed as questionable for Sunday. S Kenny Vaccaro (elbow) has been ruled out for Sunday.
When the Ravens Have the Ball
This offense can only go as far as Joe Flacco can take it. That was proven Sunday when nobody could answer the bell and come to the aid of their drowning quarterback. Mornhinweg has also proven that he's likely to stick with the passing game even if Flacco doesn't have his best stuff. The Titans bring the NFL's 4th stingiest pass defense, allowing just 210 yards per game but rank 26th in rushing yards allowed at 123.2, so it might behoove the Ravens to flip the script a little on offense.
When the Titans Have the Ball
Marcus Mariota may be the key to this offense together but there are other options. Derrick Henry and Dion Lewis provide a nice change of pace at running back that should be able to step in and lift things if Mariota has a bad game like he did against the Bills. It probably wouldn't be against this Ravens defense, though, as they're the league's 4th-ranked unit against the run, conceding just 88.4 yards a game. Thing is, Baltimore's pass defense also ranks 4th in the league at 215.4 passing yards per game. So it'll be pick your poison, which means Mariota will likely have to shoulder the load again.
Betting Trends
Baltimore is 8-4 SU in its last 12 games
Baltimore is 4-2 ATS in its last 6 games on the road
Baltimore is 5-12 SU in its last 17 games on the road
The total has gone UNDER in 4 of Baltimore's last 6 games on the road
Baltimore is 2-5-1 ATS in its last 8 games when playing Tennessee
The total has gone UNDER in 8 of Baltimore's last 11 games when playing Tennessee
Baltimore is 16-7-1 ATS in its last 24 games when playing on the road against Tennessee
Baltimore is 1-3-1 ATS in its last 5 games when playing on the road against Tennessee
Tennessee is 7-3 ATS in its last 10 games
Tennessee is 5-0 ATS in its last 5 games at home
Tennessee is 8-1 SU in its last 9 games at home
The total has gone OVER in 6 of Tennessee's last 9 games at home
The total has gone UNDER in 8 of Tennessee's last 11 games when playing Baltimore
Tennessee is 3-7-1 ATS in its last 11 games when playing at home against Baltimore
Weather Report
Cooler fall weather is just around the corner, but this game will still be on the warmer side of things for mid October, with temperatures of 65 degrees and cloudy skies expected. There's also a 50 percent chance of rain with 64 percent humidity and 8 mph winds expected.
Rick Wise's Pick
One of these two is about to lose their second consecutive game and when you have two quarterbacks struggling with consistency issues as well as two teams with similarly average running games, all you can really bank on is defense. And the Ravens are significantly better on that side of the ball. This smells like a Baltimore cover with a point total under 42.
<aside><!-- [et_pb_line_break_holder] --><div class="widget105"><!-- [et_pb_line_break_holder] --><h4 class="cash">Best Sportsbook Bonuses</h4><!-- [et_pb_line_break_holder] --><div class="widgetlist"><!-- [et_pb_line_break_holder] --><div class="col1"><!-- [et_pb_line_break_holder] --> <a href="https://www.predictem.com/out/IntertopsB"><img src="https://www.predictem.com/wp-content/uploads/2018/04/intertops.png" width="" alt="Bovada" /></a><!-- [et_pb_line_break_holder] --></div><!-- [et_pb_line_break_holder] --><div class="col2"><!-- [et_pb_line_break_holder] --><span class="list"><b>50% Cash</b></span><br><!-- [et_pb_line_break_holder] --><span class="list">4x Rollover</span><!-- [et_pb_line_break_holder] --> </div><!-- [et_pb_line_break_holder] --> <div class="col3"><!-- [et_pb_line_break_holder] --><a href="https://www.predictem.com/betting-sites/intertops/"><button class="btn-widget">Review</button></a><!-- [et_pb_line_break_holder] --></div><!-- [et_pb_line_break_holder] --></div><!-- [et_pb_line_break_holder] --><div class="widgetlist"><!-- [et_pb_line_break_holder] --><div class="col1"><!-- [et_pb_line_break_holder] --> <a href="https://www.predictem.com/out/BovadaB"><img src="https://www.predictem.com/wp-content/uploads/2018/04/bovada.png" width="" alt="Intertops" /></a><!-- [et_pb_line_break_holder] --></div><!-- [et_pb_line_break_holder] --><div class="col2"><!-- [et_pb_line_break_holder] --><span class="list"><b>50% Cash</b></span><br><!-- [et_pb_line_break_holder] --><span class="list">10x Rollover</span><!-- [et_pb_line_break_holder] --> </div><!-- [et_pb_line_break_holder] --><div class="col3"><!-- [et_pb_line_break_holder] --><a href="https://www.predictem.com/betting-sites/bovada/"><button class="btn-widget">Review</button></a><!-- [et_pb_line_break_holder] --></div><!-- [et_pb_line_break_holder] --></div><!-- [et_pb_line_break_holder] --><div class="widgetlist"><!-- [et_pb_line_break_holder] --><div class="col1"><!-- [et_pb_line_break_holder] --> <a href="https://www.predictem.com/out/GtbetsB"><img src="https://www.predictem.com/wp-content/uploads/2018/05/gt-bets.png" width="" alt="GtBets" /></a><!-- [et_pb_line_break_holder] --></div><!-- [et_pb_line_break_holder] --><div class="col2"><!-- [et_pb_line_break_holder] --><span class="list"><b>100% Cash</b></span><br><!-- [et_pb_line_break_holder] --><span class="list">20x Rollover</span><!-- [et_pb_line_break_holder] --> </div><!-- [et_pb_line_break_holder] --> <div class="col3"><!-- [et_pb_line_break_holder] --> <a href="https://www.predictem.com/betting-sites/gtbets/"><button class="btn-widget">Review</button></a><!-- [et_pb_line_break_holder] --></div><!-- [et_pb_line_break_holder] --></div><!-- [et_pb_line_break_holder] --><div class="widget-footer"><a href="https://www.predictem.com/best-sportsbooks/bonuses/">See all sportsbook bonuses</a></div><!-- [et_pb_line_break_holder] --> </div></aside>
<h4 class="widgettitle">NFL Picks</h4><!-- [et_pb_line_break_holder] -->
<div style="width:340px; margin: 0 auto;"><!-- [et_pb_line_break_holder] --> <a class="twitter-timeline" data-width="340" data-height="500" data-link-color="#008156" href="https://twitter.com/PredictemPicks?ref_src=twsrc%5Etfw">Tweets by PredictemPicks</a> <script async src="https://platform.twitter.com/widgets.js" charset="utf-8"></script><!-- [et_pb_line_break_holder] --></div>