Bucs vs. Packers Picks: Prop Bets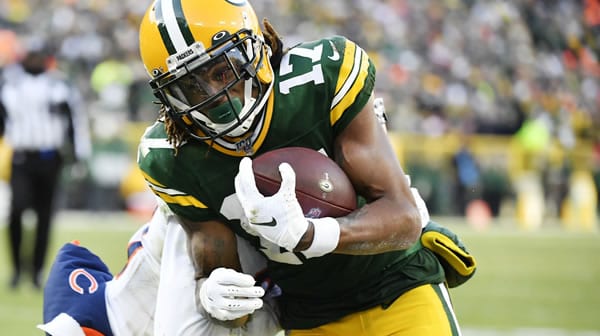 When you're searching for prop bets in a big game, it's important to know the teams and their trends. We've now got 17 games of data on both the Packers and the Buccaneers, so there aren't likely to be a ton of surprises. As such, you might have to pay some juice for some of the best bets on the board.
But if you're willing to do the work, there are a few options out that you might be able to exploit. In my opinion, these are some of the best bets to give you as much of an edge over the house as possible.
No Turnovers (+900, Bovada)
We'll start with a bold call that will really pay off if it hits: neither team turns the ball over during the contest. It's a significant risk, but it might be one worth taking because neither Tom Brady nor Aaron Rodgers is known for making mistakes with the football. The two legendary quarterbacks have thrown a combined two interceptions since November 29, and both teams rank in the top 10 as far as ball security, as they combine to lose 0.7 fumbles per game.
Given how infrequently these teams turn the ball over, there's a lot of value here in this longshot. There's certainly much more value than taking either the Bucs (-125) or the Packers (+100) to cough it up first, and there's actually a real chance it can happen. Be aware that this is very much like betting on the scoreless draw in soccer, but like the scoreless draw, this can happen, and the payout is great when it does.
Over 1.5 Touchdowns 1st Quarter (+135, Bovada)
Looking at the numbers, this doesn't seem to be the greatest bet. After all, these teams have combined to average 10.5 points in the first quarter, making this a tough one to nail. But both teams have scored at least one touchdown in the first quarter in three of their past five contests, and both know that they're going to have to put up points in order to win this contest.
Plus, three of the past five NFC Championship Games have seen at least two touchdowns scored, and both Aaron Rodgers and Bruce Arians are likely to want to put up points early to erase some bad memories. In Rodgers' past two trips to the NFC title game, the Packers have been outscored 17-0 in the first quarter, and Arians found his Cardinals down 17-0 to Carolina when he was coaching Arizona in 2015. All three games end-ed up blowout losses, which should have both teams well aware of how important a fast start is.
Buccaneers Over 23.5 Points (-125, Bovada)
Tampa Bay hasn't been held under 24 points since November 8, and even though snow might be in the forecast for this game, the Bucs still have Tom Brady. Brady is still quite familiar with how to score in cold weather in the playoffs, as he's put up some big games in Foxboro when he was with the Patriots. The snow of Lam-beau isn't likely to bother this Bucs team, and I can't see the Packers slowing this offense down.
However, there is a bit of a trap here. The shootout between two good offenses rarely materializes in the NFC title game, as the game usually devolves into a defensive struggle, or one team gets buried in its mistakes and can't turn the game around. Out of the past 21 NFC title games, only two — Eagles-Cardinals in 2008 and Vikings-Saints in 2009 — saw both teams top 24 points, and both of those games were played in domed stadiums. Bet this one with caution; I'd only take it if you think Tampa Bay can win the game outright.
Packers -0.5 First Quarter (+115, Bovada)
Most people remember that Tampa Bay routed Green Bay 38-10 when the teams met at Raymond James Stadium earlier this year. What they likely don't remember is that Green Bay actually started that game up 10-0 after 15 minutes, before the Buccaneers took over the contest and turned the game on its head. Green Bay's the one playing at home and likely to get off to a quick start, and the Packers have already shown that they can blitz the Buccaneers quickly. Getting plus money on something that you've already seen happen once is usually worth the gamble.
Second Quarter: Most Points (+158, Bovada)
These two offenses both rank in the top five when it comes to scoring in quarter No. 2, and odds are that one team (Tampa Bay, if I read this game correctly) will be in catch-up mode in the second 15 minutes to avoid falling too far behind so that they can rescue the game at halftime. Given the way these teams operate, points can happen at any time, and with these teams' history of doing most of their scoring in the second quarter, getting plus money for this outcome is a good bet to play.
Mike Evans Under 62.5 Receiving Yards (-115, BetAnySports)
Mike Evans can be one of the most frustrating receivers in the game because the talent is always there for a big game, yet he's about as inconsistent as it gets. In one game, he'll put up 181 yards (which he did against the Lions), and then he'll come up with 3 yards in a game a few weeks later (last week against the Saints).
In the first meeting, Evans had just one catch for 10 yards, and seeing as how defending him was one of the few things the Packers did right in that game, don't expect them to change up their game plan. Green Bay will likely put Jaire Alexander on Evans all game, and he might never touch the ball. Evans might have a chance if the Bucs had a young quarterback who needed his top target, but Tom Brady won't force what isn't there. He's perfectly happy to take what the Packers are willing to give him, and that likely means Evans doesn't come close to his total.
Aaron Rodgers Under 25.5 Completions (-115, BetAnySports)
I know, I know, Green Bay has to pass because nobody runs on the Buccaneers, who had the No. 1 run defense in the league by a wide margin. But Green Bay's running game did a little better than people think when the teams met in Tampa, as the Packers gained 4.5 yards per carry by trusting Jamaal Williams and A.J. Dillon to carry the ball. The Packers just couldn't keep running after Rodgers threw two back-breaking interceptions and swung the momentum to the Buccaneers.
Plus, Rodgers and lots of completions really don't go together in cold weather. If he has a big game, he's likely to do it with quality over quantity for his completed passes. Over the past ten games, Rodgers has thrown for 25 completions or less eight times. The two exceptions were at Detroit and Indianapolis, both of whom play indoors. This isn't a new phenomenon, either, as Rodgers failed to top 25 completions in 10 of his final 12 regular-season games. The two exceptions? Indoor teams Detroit and Minnesota.
Tom Brady Under 288.5 Passing Yards (-115, BetAnySports)
Yes, Tom Brady is hot right now. He's thrown for close to 400 yards in four of his past five games. So this bet sounds crazy…until you remember three of those games were against Atlanta and Detroit, neither of whom can defend the pass at all. Against New Orleans, Brady came back to earth, tossing for 199 yards.
Again, Brady will not force what is not there, and Green Bay's pass defense is stronger than its run defense. Brady is likely to nickel and dime the Packers down the field and feed them a steady diet of Ronald Jones on the ground. Tampa Bay won easily against Green Bay the first time, but a check of the numbers reveals that was Brady's least productive game as a Buccaneer, as he threw for just 166 yards. If he's got to throw a lot in this game, something has gone wrong.
STOP LOSING TODAY! START WINNING WITH DOC'S TEAM OF PROFESSIONALS! GET A FREE NO STRINGS ATTACHED $60 FOR THIS WEEKEND'S GAMES!