Buffalo Bills vs. Cleveland Browns Pick 11/10/19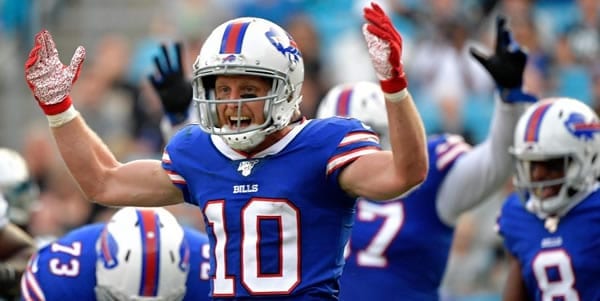 Buffalo Bills (6-2 SU, 5-3 ATS) vs. Cleveland Browns (2-6 SU, 2-6 ATS)
NFL Week 10
Date/Time: Sunday, November 10, 2019 at 1PM EST
Where: FirstEnergy Stadium, Cleveland, Ohio
TV: CBS
Point Spread: BUF +3/CLE -3 (Find the best sportsbooks)
Over/Under Total: 40.5
The Buffalo Bills take on the Cleveland Browns on Sunday in a big AFC battle from FirstEnergy Stadium. With Buffalo at 6-2 and Cleveland at 2-6, these teams have opposite records than what people thought they'd have as they entered the second half of the season. On Sunday, the Bills bounced back from a loss by beating the Redskins in their third straight home game, 24-9. Now facing their first of two straight road games, they take on a Cleveland team that is desperate. After losing their fourth in a row in a 24-19 loss to the Broncos, will the Browns start a big run? If not, a season that held so much promise would be on the precipice of collapse.
Buffalo: Smoke and Mirrors?
It is nit-picky to over-analyze it when a team where people didn't expect much do well. At 6-2, it's hard to really call out the Bills. They're a resourceful offense, bolstered by a defense that has congealed and started to thrive. Still, their 6-2 record is made up of wins over the Jets, Giants, Bengals, Titans, Dolphins, and Redskins—six teams who are all under .500. Against the two above-.500 clubs, they faced in New England and Philadelphia, they scored a combined 23 points in losing both games, with what they do well manifesting on a much smaller scale. Their W-L record might be a little puffed-up, but Cleveland is in no room to judge sitting at 2-6.
Can Cleveland Bounce Back?
Of course they can. But the urgency had to set in before now, and what good did it do? At the end of the day, making a bunch of changes and trying to suddenly turn around a long-suffering franchise doesn't always take hold immediately. It's unclear why it's such a massive surprise that Cleveland kind of stinks. Since when haven't they? Still, a 2-6 record by the halfway point is a stunning lack of success.
There seems to be a disconnect with the Browns, something that is misfiring with the team. The result doesn't add up with all the parts they have. Mistakes are a big problem, and that would feed right into Buffalo's hands. Mayfield has been very off, with 7 TDs and 12 picks on the season. Nick Chubb is one of the best in the league and might even be better if the Browns weren't playing from behind so often. Of course, Jarvis Landry and Odell Beckham, Jr. will produce and get better, but considering the weaponry and what was supposed to be a good line, for them to be averaging 19 points a game says a lot. While they are at home and Buffalo hasn't faced the toughest offenses in the league this season, they're still trying to get well against a Bills' defense that has averaged just over 16 points a game in '19.
More Picks: Arizona at Tampa Bay Spread Prediction >>>
The Dichotomy of the Offenses
It can almost be misleading when you look at the respective offenses. With Cleveland, you have the top pick of a few years ago behind center with a big-name offense of young studs. Then you look at Buffalo, and they have a QB who is uncelebrated in Josh Allen. Their top two aerial threats are the understated John Brown and Cole Beasley. Their top back is elderly Frank Gore with unassuming Devin Singletary backing him up. It has a really dull vibe. They don't really air it out, and they're frankly kind of boring. But they've still been more productive than Cleveland's offense and have undermined the overall team effort a whole lot less.
The Value in Quiet Competence
If one figures being at home is worth three points, the oddsmakers are in effect saying these teams are equal with the press time point spread of Cleveland minus three points. And sure, Buffalo might not be as good as their 6-2 record suggests, and maybe it's just a matter of time before the Cleveland engine turns over. Again, the unassuming offense just makes it hard for people to buy into Buffalo. The team has no real stars.
There is still something to be said for a team that can run the ball a little bit and play some defense. They can always compete. And when you pit a confident team that is chastened and doesn't make mistakes, it can be tough on teams like Cleveland—a group not lacking in talent, but struggling when it comes to execution. In addition, these teams like Buffalo are often undervalued, as the spread this week indicates on some level.
Will Cleveland Offense Shine?
The Buffalo defense follows suit with the rest of the team. There are no stars. There aren't a lot of splash plays. They don't even get after the quarterback all that well, nor do they get a lot of turnovers. They can be exploited in spots on the ground, and that makes this a possibly good day for Nick Chubb to put up another big stat-line. But that Buffalo secondary, led by Micah Hyde, Jordan Poyer, Levi Wallace, and Tre'Davious White has been super-stout and we'll see how they fare against Mayfield this week.
Take the Road Dog
At the end of the day, I like getting points on the more-reliable side of the equation. It can definitely be said that Cleveland has the higher ceiling. But Buffalo is 3-0 on the road this season thus far, and I like the way their understated solidness plays against Cleveland. I see a close game coming down to the end, in which case, having some points might be the wise move. I'm taking Buffalo and the points.
Loot's Pick to Cover the Point Spread: I'm betting on the Buffalo Bills plus 3 points.