Chargers vs. Bengals Pick – Week 1 Odds & Predictions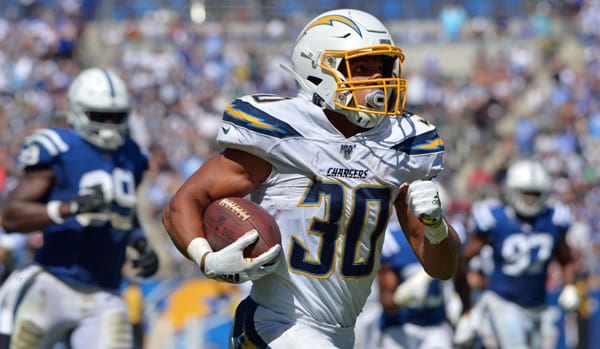 Los Angeles Chargers (0-0 SU, 0-0 ATS) vs. Cincinnati Bengals (0-0 SU, 0-0 ATS)
Week 1 NFL
Date/Time: Sunday, September 13, 2020 at 4:05PM EDT
Where: Paul Brown Stadium, Cincinnati, Ohio
TV: CBS
Point Spread: LAC -3.5/CIN +3.5 (BetOnline)
Over/Under Total: 43
The Los Angeles Chargers come into Paul Brown Stadium for a week one AFC showdown with the Cincinnati Bengals. The Chargers crashed to earth last season when a 12-4 year led to a 5-11 one and many changes. For the first time in 15 years, Philip Rivers will not be behind center. The Bengals also hope to turn the page after a prolonged funk, including a 2-14 season in 2019. It did line them up for the first pick, as they are hoping QB Joe Burrow can be one of their saviors to right a wayward ship. Who is going to be able to hit the ground running in week one?
New Look Chargers?
In effect, not a ton has really changed outside the QB spot. They are without a key part of their offense with Rivers and Melvin Gordon gone, but mostly everything is still in place—both for good and bad. The added a few pieces on defense, while their high draft pick was spent on a QB who is not starting. When a long-tenured QB leaves, it's just going to be different. That's especially true as starter Tyrod Taylor has about as little in common with Rivers as any quarterback in the league. Now 31, Taylor has started just three games since 2017. Unlike Rivers, he takes pretty good care of the ball and is very useful with his legs, as he was one of the more-impressive running quarterbacks during his time in Buffalo. Playing for some pretty bad teams with the Bills and Browns, he still managed to forge a winning record as a starter.
Taylor, however, will not be able to spray the ball around like Rivers. With Austin Ekeler taking over as the full-time back, along with WR Keenan Allen and TE Hunter Henry, they are a little strapped for firepower, especially with Mike Williams out for week one. Combined with the more subdued approach of Taylor, this might not be one of the more-electric Chargers' offenses we have seen in recent years. Some youngsters could develop, like Justin Jackson, Joshua Kelley, or someone else. Otherwise, they're not going to be moving up and down the field as they have at times in recent seasons. Though with their defense, they're hoping a more-conservative approach and ball-control pays off.
Can Bengals Be Better?
Burrow would seem to offer promise, When that resonates is the real question. Getting a first-rounder returning from injury at tackle in Williams should help, but they're otherwise solidly below average across-the-board. Therefore, in week one, you have a rookie QB with a truncated preseason being thrown to the lions in the form of the Chargers' defense. And depending on that front to assuage talent like Melvin Ingram, Joey Bosa, and other hitters on all levels is asking a lot from everyone on the Cincinnati offense.
If longtime Cincy standout receiver AJ Green is still the receiver of old and can have his health hold up, that's a great tool for a young QB like Burrow to have. Tyler Boyd and John Ross offer some relief, as does Joe Mixon at running back. But it's not the best overall tools, especially behind that O-line. They get some relief with the unfortunate injury to Chargers' super-safety Derwin James, but the young QB will be tested by a secondary that still has a lot of playmaking ability with Desmond King, Casey Hayward, and newly-acquired Chris Harris, Jr.
Bengals' Defense: An X-Factor
Granted, a lot of stars need to align, but the ceiling is high for this somewhat-revamped Cincy defense. Up front, getting another big body in DJ Reader to go with Carlos Dunlap and Geno Atkins would appear to make them pretty formidable. With the Chargers' run-game more of an uncertainty, despite Ekeler unquestionably being a good player, the Bolts will have a lot of big bodies to navigate around, and like their opponent, questions loom around that offensive line.
The Cincinnati linebacking unit and secondary is more of a dicey issue, but youngsters with upside taking those spots could potentially pay off. It might not. The secondary gets Mackensie Alexander to lend some reliability. William Jackson, III. needs to step up a little bit, and if Darius Phillips can follow through on the promise he showed in 2019, albeit in limited time… it could carry this defense to a new level. Against a Chargers' offense that is trying to find its bearings, the Bengals home-defense might not be tested to the extent they will in future games, as they also get their legs under them and see all the new pieces congeal.
A Lot in Common
When you strip it all down, both of these teams share a lot of the same traits. Each has a new QB operating behind a substandard offensive line, though the Chargers' line has the potential to be better if they can stay healthy. Both quarterbacks have weapons, but aren't very deep in that area. Especially with Williams out for the Chargers, their offensive playmakers look to be of comparable firepower, though Keenan Allen is probably the best receiver on the field. Both defenses are strongest up-front, though the Chargers have more proven pieces in the back. Still, in some ways, even a Bengals' team coming off a 2-14 season still matches up decently with the Chargers.
Take the Points on the Home Dog
It's a tricky enough road-spot for the Chargers in week one where the thoughts of a revamped offensive approach taking flight right away is doubtful. The Bengals bring enough heat up front to keep Taylor and the Chargers off-kilter. Meanwhile, Burrow will be looking to make a good impression, and it's been a while since he lost a game. I envision a close game and in a case like that, taking 3.5 points seems like the move. I'm going with the Bengals.
Loot's Prediction to Cover the Point Spread: I'm betting on the Cincinnati Bengals plus 3.5 points.
Football Betting Guide
New to football betting? NFL point spreads can be confusing at first, but our how to bet on football article help you bet like a seasoned pro! You'll also learn how to wager on teasers, parlays, over/unders, prop bets, futures and how point buying works.