Chiefs vs. Ravens MNF Pick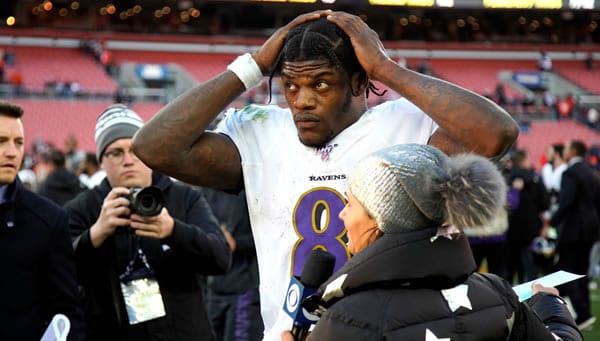 Kansas City Chiefs (2-0 SU, 1-1 ATS) vs. Baltimore Ravens (2-0 SU, 2-0 ATS)
Week 3 NFL
Date/Time: Monday Night Football, September 28, 2020 at 8:15pm EDT
Where: M&T Bank Stadium, Baltimore, Maryland
TV: ESPN
Point Spread: KC +3.5/BALT -3.5 (BetOnline)
Over/Under Total: 54
The Kansas City Chiefs are heading to Baltimore to take on the Ravens in what should be an AFC Championship game preview. There hasn't been a Monday Night Football matchup with this much juice since the Chiefs-Rams classic in 2018, but even then, we didn't really think an all-time great game was about to unfold. This MNF pairing has no shortage of anticipation with the Mahomes-Jackson matchup taking center stage. Both teams have looked more than capable in the early going, and both have, more importantly, avoided the injury bug that has bitten down hard on some teams around the league. This should be an absolute barn-burner of a game with the winner sending a strong message that they are the best of the best.
Trend Watch
Both teams have seen tremendous success in recent seasons, so it is not surprising to see some very positive trends leading into this game. Kansas City has nine ATS wins in their last eleven games overall with a 12-5-1 record against the spread in their previous eighteen on the road. Baltimore is 9-1 ATS in the last ten against an AFC opponent and 5-1 against the spread in the past six as the favorite. The over/under total is relatively high for the NFL, but we are talking about two top-10 offenses on the young season. The over has a 5-2 mark in the last seven Kansas City games on Monday Night, but the under is 4-0 for the previous four Chiefs road games. The under is 4-0 in the past four, where Baltimore is a favorite and 5-1 when the Ravens are home favorites. With the mid-week line at Baltimore -3.5, about 57% of public bets have come in on the Ravens' side.
Part III
These teams have squared off twice in recent seasons, with KC getting a 33-28 win in 2019 and a 27-24 OT victory in 2018. If you don't recall either contest, what you imagine should happen very much did. The Ravens averaged 198 rushing yards as a team in those games while the Chiefs averaged 355 passing yards. Another solid rushing day could be in store for Baltimore as they have averaged 5.1 yards per rush. KC has given up 4.7 yards per rush through two games. Keeping the ball away from Patrick Mahomes seems to be the best idea, although that is easier said than done. The Ravens have a better chance than most of doing that considering their run-first approach and ability to get off the field on defense. Baltimore leads the league with five takeaways through two weeks and is allowing just 28% on third-down conversions. This is just one game of sixteen, but with the way things are looking, the winner this week is in prime position to control many playoff scenarios if everything goes the way it should down the road.
Baltimore's Best Shot
It will likely take Baltimore's best to take down the reigning champs, but the Ravens have dismantled the Browns and Texans ahead of this game, averaging 35.5 points along the way to show they are ready. We know Lamar Jackson can change a game with his legs, but he is hitting on 78% of his passes this season with four scores and no interceptions. He leads the team with 99 rushing yards, but three running backs are north of 70 yards through two games to give Baltimore a truly versatile rushing offense. Mark Ingram notably scored three touchdowns against KC last season, and he is now flanked by J.K. Dobbins, who leads the team with two rushing scores. Gus Edwards continues to find a role and leads the backs with 90 yards. Some of that has come in mop-up duty, but the Ravens are not in bad shape if they suddenly lose Ingram or Dobbins mid-game. Marquise Brown (10-143) leads the team in catches and yards with TE Mark Andrews leading all receivers with two touchdown grabs. These weapons are not overly flashy even well-known in some cases, but the job gets done with efficiency. KC is 9th in points allowed but outside the top-25 in rushing and total yards allowed, and this Baltimore offense is in a position to take direct advantage of what could be a real weakness on the KC defense. The Ravens defense is producing across the board with four forced fumbles, two interceptions, and six sacks through two games. Six individual defenders have been in on those sacks, and the Ravens have held Baker Mayfield and Deshaun Watson to a combined QB rating of 76.
Mahomes and Momentum
There appears to be no post-championship swoon coming in KC as their MVP signal-caller has looked as good as ever, and the team still has that winning edge as evidenced by a 23-20 OT win against the Chargers last week. It wasn't a classic KC effort, but until they lose, their confidence keeps rising, and a championship defense becomes more of a reality in their minds. Mahomes has completed 65% of his passes for 513 yards and five scores, and the O-line has allowed just two sacks thus far. With so much attention paid to that pass, rookie Clyde Edwards-Helaire has found running room and is averaging five yards per carry while leading the team with 175 rushing yards. Tyreek Hill and Travis Kelce have both scored twice and are at the 140 receiving yard mark through two. This offense isn't very deep, and much of the contributions come from the same players each week, but no one has been able to stop them quite yet with KC averaging 28.5 points with no turnovers through two games. Rookie L'Jarius Sneed has impressed early with two interceptions and three pass defenses to be the standout in the secondary.
Take the Home Team to Cover
It is tempting to side the Mahomes, CEH, Kelce, and Hill with a 3.5-point cushion as I think they score, even against the #1 ranked defense in points allowed, but Baltimore can score as well. I think the Ravens will be allowed to dictate the pace of this game with volume rushing attempts and selective passing against a KC defense that has looked porous. KC has done a good job of bend-don't-break, but that will be a taller task this week against an elite run game. Lamar Jackson isn't turning the ball over, which only increases Baltimore's ability to win the time of possession battle. Mahomes will have a solid outing, but I think he tops out around 300 yards instead of the 340+ that he has in two previous games against the Ravens. This is the right place and time for the Ravens to sneak by the Chiefs, and I think they get the slimmest of ATS wins as well win a 28-24 victory.
Ted Walker's Pick to Cover the Spread: Baltimore
Football Betting Guide
New to football betting? NFL point spreads can be confusing at first, but our how to bet on football article help you bet like a seasoned pro! You'll also learn how to wager on teasers, parlays, over/unders, prop bets, futures and how point buying works.