Dallas Cowboys vs. New England Patriots Pick 11/24/19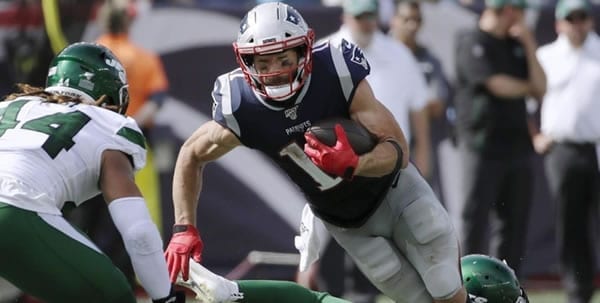 Dallas Cowboys (6-4 SU, 6-4 ATS) vs. New England Patriots (9-1 SU, 7-3 ATS)
Date/Time: Sunday, November 24th, 4:25 PM
Where: Gillette Stadium, Foxboro, MA
TV: FOX
Point Spread: DAL +6.5 / NE -6.5
Over/Under Total: 46
East divisional leaders meet in Foxboro on Sunday when the New England Patriots host the Dallas Cowboys at 4:25 on FOX. The Cowboys hold an all-time 7-5 advantage in the series, but the Patriots have won the last five between the teams, including the previous four by an average of over 20 points per game.
UNDERACHIEVING
Dallas comes into week 12 with a 6-4 record, though a little shine is taken off their winning mark when you consider they have been favored in every game this season. Five of their six victories came against teams that currently have a losing record, and three of their four losses were against the only three teams they've played so far that are over .500 on the year. A lack of success against quality opponents should be of no surprise when it comes to the Cowboys as, since 1995, they have gone 0-6 in the divisional round of the playoffs and 4-4 in wild card games.
DAK ATTACK
The Cowboys offense ranks 1st in the NFL in total yards per game and passing while sitting at third in scoring with an average of 28.6 points per game. Dak Prescott leads the way at quarterback and has had a highly successful contract season, completing 67.7% of his passes while throwing for 3,321 yards along with 21 touchdowns through the air and three more on the ground. Prescott has thrown nine interceptions on the season, and his ability to avoid those mistakes has an undoubted effect on his teams' recent success, as he has thrown interceptions in seven of their last nine regular-season losses. Even more important is his successful passing ability, as Dallas has won 16 of the previous 17 games that Prescott has a quarterback rating of over 100 with their only loss coming against Minnesota two weeks ago.
RUSHING SUCCESS
Ezekiel Elliot is one of the only true lead backs left in the NFL, and on the season has rushed for 833 yards with eight total touchdowns scored. Behind one of the better offensive lines in the league, Elliot has continued his consistent success since joining the league back in 2016. He will hope to keep things going against a Patriots defense that has allowed a rusher to go over 100 yards in two of their last three games (Nick Chubb and Mark Ingram). Much like Prescott, a strong performance from Elliot has led to positivity for the Cowboys, as they have won 11 games in a row when he rushes for over 105 yards and are just 2-7 in their last nine when he averages under four yards per carry in a contest.
More Picks: Ravens vs. Rams ATS Prediction >>>
RECEIVER ROUND UP
Amari Cooper leads all Cowboys receivers in yards, receptions, and touchdowns, and while he isn't 100% healthy thanks to a knee injury, he is expected to play on Sunday against the Patriots. Second on the team is sophomore Michael Gallup, who has shown enough this season to prove he will be in the league for quite some time, along with former Packer Randall Cobb, who has come on strong of late with 15 catches for 221 yards and a pair of touchdowns in his last two games. At tight end failed announcer Jason Witten is back again and will be looking to get into the end zone sooner than later as he hasn't scored since week two. The team seems to respond well when he does, as they are 9-1 in their last ten regular-season games when Witten scores a touchdown.
ISSUES
After losing their first game of the season against the Ravens in week nine, the Patriots responded well enough last week with a 17-10 road victory against the Eagles. Despite the victory, quarterback Tom Brady was noticeably agitated both after the game and in interviews on Monday, and with the absurd rumor that Rob Gronkowski was ever coming back finally quashed, he will need to work even harder to get through the various issues affecting not only him but also the entire offense. Red zone struggles, a porous running game and inconsistent to terrible offensive line play highlight problems facing the team that they will need to get fixed by playoff time if they hope to continue their recent Super Bowl appearance streak. The return of left tackle Isaiah Wynn should go a long way in addressing at least a couple of their more significant glitches, though how long he will be able to remain on the field is always a concern considering his quickly gained reputation of being made of paper mache.
SLOW START
After the Browns game on October 27th, the Patriots had scored a first-quarter touchdown fourteen games in a row while outscoring opponents 84-7. In the past two games, since they have started out losing 27-0 combined and have gone scoreless in both initial quarters. A lack of consistent running game has undoubtedly contributed to their recent issues, though that has been a full game issue for them as well, having now gone 11 straight regular-season contests without a player clearing the century mark in rushing yards. Sony Michel continues to struggle his way to a 3.3 yards per carry average. It becomes more evident each and every week that last year's success was more the result of having a consistent offensive line along with additional exceptionable blockers in now injured James Develin along with since retired Rob Gronkowski. If only Michel could find a way back to his rookie form, as the team has gone 16-1 in their last 17 games in which the second-year former Bulldog has gotten fourteen or more carries.
PASSING PROBLEMS
For the third time, this season, Tom Brady finished with zero touchdown passes in a game after the final whistle sounded in their win against the Eagles. Despite his lauded by Patriots player posts on Twitter and Instagram, Antonio Brown will not be back this year, so what they have currently on the roster for receivers is what they will have going forward for the rest of the season. Julian Edelman, Muhammad Sanu, and Phillip Dorsett are all viable threats, but the effectiveness of who they have after that remains to be seen with just rookies N'Keal Harry and Jakobi Meyers available behind them. Meyers had particular issues in their past game with simple route routing, and how reliable or trusted he will be going forward remains to be seen.
TRUE TESTS AWAIT
The Patriots defense looked a little shaky early on last week after the Eagles marched 95 yards down the field on them on their way to a touchdown and 10-0 lead. After that, though, the New England defense settled in and shutout Philly for the remaining 42 minutes of the game. They will hope to continue that success, but how successful they can be remains to be seen with potent offenses in Dallas, Houston, and Kansas City awaiting them in their next three games.
THE FINAL DECISION
With Tom Brady is clearly unhappy with the offense is struggling to find any sort of consistency, the Patriots seem ripe for an upset with Dak Prescott and Ezekiel Elliot both playing well for their NFC East leading Cowboys. The problem for Dallas, though, is they are coming off a game in which they let up 27 points to a backup quarterback and running back and for the season have faced the aforementioned struggles against teams with a winning record. They have also found difficulty in matchups against non-NFC East opponents of late, having gone 12-17 in their last 29. The Patriots usually have one game a year in which a loss seems likely. However, they still end up finding a way to play a complete 60 minutes, and I believe this will be that week and that they will eventually come away with a win and cover at home against the Cowboys on Sunday afternoon at Gillette Stadium.
Mike's Pick to Cover the Point Spread: New England -6.5
STOP LOSING TODAY! START WINNING WITH DOC'S TEAM OF PROFESSIONALS! GET A FREE NO STRINGS ATTACHED $60 FOR THIS WEEKEND'S GAMES!