Detroit Lions vs. Chicago Bears Odds & Pick 10/3/21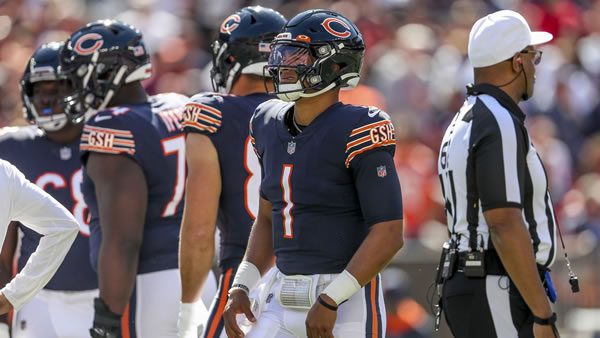 Detroit Lions (0-3 SU, 2-1 ATS) vs. Chicago Bears (1-2 SU, 1-2 ATS)
Week 4 NFL
Date/Time: Sunday, October 3, 2021 at 1PM EDT
Where: Soldier Field, Chicago, Illinois
TV: Fox
Point Spread: DET +3/CHI -3 (BetOnline - Awesome contests! Awesome bonuses! Awesome site!)
Over/Under Total: 42.5
The Detroit Lions take on the Chicago Bears at Soldier Field on Sunday in NFC North action. These familiar foes are both hungry for a win. For the Lions, they fell to 0-3 on Sunday after nearly beating the Ravens, only to be nipped at the wire with a late field goal, 19-17. The fact that it was a record-setting 66-yard FG makes it that much more painful and, in many ways, quintessential Detroit. Still, they've covered two of three spreads, at least proving to be a good-valued team thus far despite their lack of success. For the Bears, it was another anemic performance in Justin Fields' first NFL start, with a 26-6 loss to Cleveland on Sunday. Who can get it done in divisional play on Sunday?
Pros and Cons of Chicago in This Spot
Sure, they have a lot of problems, particularly on the offensive side of the ball. But after beating Cincy and losing to both the Rams and Browns, they're in their wheelhouse this week. They catch a divisional foe who is winless at home. The 6-for-20 passing performance by Justin Fields, where he failed to so much as minimally ignite this Chicago offense, will likely expedite Andy Dalton's return. Head coach Nagy said it's up in the air who will start this weekend. Fields looked really out of sorts, albeit in a tough spot against a good Browns team. They have a good running back but a hot-and-cold talent in David Montgomery, a good but undependable receiver in Allen Robinson, and a few decent role guys who show up some weeks and disappear in others. This game comes down to points, and they're just not going to be able to put up much many weeks.
It's hard to determine if the once-impenetrable Chicago defense has gotten worse or if it's just a matter of waning support on the other side of the ball. And while they're not the iron-clad unit of a few seasons ago, they're still pretty solid, definitely a defense that can stifle a middling offense like Detroit's. Following an opening-week collapse against the Rams, they've held it together well the last few weeks. With their offense only able to summon an absurd six first downs on the day, they still held the high-octane Cleveland offense to just two touchdowns. Following a week where they held Cincinnati to just 17 points, this is a position where the "D" can turn this game in their favor.
Lions a Tough Team to Evaluate
Even as their 0-3 record suggests a straight line of badness, there's a story behind it. The Lions are 0-3 with a twist. A blowout to San Fran almost turned into the greatest comeback in NFL history in week one. The final score of their game with the Packers looked bad, but it was only late when the Packers were able to establish separation. And they had a real shot at winning last week against a compromised but still-strong Ravens team coming off a win over the Chiefs. A little turn here or a twist there; it could be a different story. After all, it took a record-breaking kick to beat them. As it is now, they are certainly flawed, but it's not like they're not dangerous.
Unable to put together a solid sixty minutes thus far, we've seen a Detroit team show enough flashes on both sides of the ball to warrant consideration. At times, we see Jared Goff dissecting defenses with accurate throws while dishing it off to D'Andre Swift and Jamaal Williams in the backfield, a pair of versatile contributors. We see a defense making plays, toughening up on third down, and maintaining against good defenses like Baltimore and Green Bay. Then you go to the bathroom and come back and see an offense failing to establish clear roles and floundering. And a defense allowing big plays through the air and on the ground.
There are some things to like, and one is the Detroit offensive line, a group that at least gives Detroit's skill-players a chance to succeed. But with Goff a fresh face behind center with a new coaching staff, maybe one can see that this wasn't going to be a formula that took hold right away. The preseason notion that they are thin at the receiver position is turning out to be all so true. TJ Hockenson is a fine young tight end, but a no-name receiver crew is a lot to overcome, especially against defensive teams like Chicago.
More Picks: Get Loot's NYG/NO pick against the spread >>>
Offense Vs. Defense
With Jared Goff and a few contributors, the Detroit offense would appear to be a bit more dangerous than Chicago's at present. That doesn't mean they're good. But it's all relative. And when it's 2021, and you're hoping Andy Dalton gets over a bruised knee in time for the game, it speaks volumes about the state of the Bears' offense. In any event, the nod goes to Detroit. But in Chicago's favor is having the only unit on the field that can actually be called good, and that's their defense. It's the most excellent part of either team. The Detroit offense might have more potential, but their leading receivers are running backs. They have no wide receivers. The Chicago "D" has no glaring limitations. And it's understandable why in a game like this, people would defer to that.
Take the Bears
If you had the misfortune of watching the Bears last week, giving them your support here would seem highly counterintuitive. An offense that is squarely in the toilet is repellent enough. But I look for better here in a better spot at home and in their division. The run-game should resonate to slightly greater effect, and maybe we see Montgomery get untracked a bit. With their "D" doing a lot of the heavy lifting and rendering the Lions to the run and short passes. I see it being a grind for both teams, with "D" winning the day. I'm taking the Bears.
Loot's Prediction to Cover the Point Spread: I'm betting on the Chicago Bears minus 3 points. Bet ALL your Week 4 NFL picks FREE by taking advantage of a 100% REAL CASH bonus on your first deposit of $100 to $1000 at Betnow Sportsbook!