Green Bay Packers vs. Chicago Bears Week 1 Pick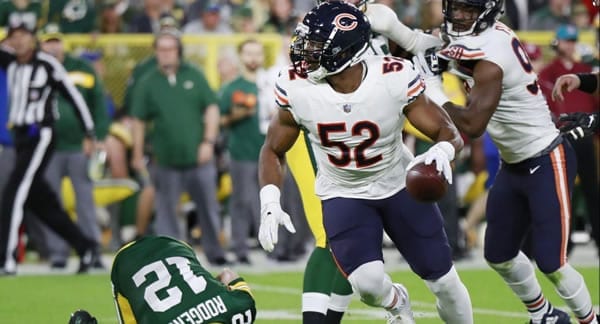 Green Bay Packers (6-9-1 SU, 6-9-1 ATS) vs. Chicago Bears (12-4 SU, 11-5 ATS)
Date/Time: Thursday, Septemeber 5, 8:20 PM EST
Where: Soldiers Field, Chicago
TV: NBC
Point Spread: Chi -3 (-120) / GB +3 (+100) (BetNow)
Over/Under Total: 46
Gameday Update: (5:42PM ET) The line is holding steady at Chicago -3. The public are backing the Packers to the tune of 56% and are wagering on the under at 58%. The total in this game opened at 46 and has been bet up to 46.5 indicating wiseguys/sharp bettors are expecting some points to be scored in this game. We spoke to a couple of large books today who are happy with their position where they stand to make a tidy profit with a Bears cover. As you will find below, Keith also like the Bears to get the money tonight. For those of you siding with the general betting public, the best line we've seen for the Packers is +3 +103, which can be found at Wagerweb, who is currently running a special season opener bonus where you can deposit $100 to $1000 and get a 50% REAL CASH bonus. Good luck! 
ARE YOUR READY FOR SOME FOOTBALL???
After the long summer hiatus, NFL Football returns and will kick off its 100th season on the shore of Lake Michigan with a matchup of historic rivals, the Green Bay Packers paying a visit to the Chicago Bears. This game opened at Pack +4 many months ago, but Green Bay has drawn some money, and 5dimes has settled on the Bears as 3 point favorites – with a little extra vig on Chicago. My play is to lay the points and take the home team. Here are three reasons.
The Monsters of the Midway Will Control the Game
Chicago brings the NFL's best defense into the 2019 campaign, looking to build off of last year's top defense in points allowed. Chuck Pagano takes the reigns of Bears D after Vic Fangio move to Denver, but Pagano inherits the nucleus of Fangio's squad and will be a more aggressive than Fangio was. Kalil Mack returns as the centerpiece of the defense that was 3rd in sacks last year and first in turnovers. There is a lot of talk this year that the Bears defense won't create as many turnovers this year which is probably true, but with the front seven returning they will be able to control the line of scrimmage most weeks, including this one.
They will face one of the best passers in the league in Aaron Rogers, but Rogers will be running a new offense that is nothing like what he has run since he has been in the league. New coach Matt LeFleur brings his "Sean McVay" flavor of offense to the Pack that will focus on motion at the line of scrimmage, zone running and timing passes. Green Bay's offense will get their first real test of this new scheme at Soldiers Field on opening night. Aaron Jones has a high upside running the ball and may flourish in the system, but the only receiver Rogers trusts are Davante Adams, and the Bears will be keyed in to shut him down. I expect the Bears defensive line will dominate the Packer offense as they did at the end of 2018. LeFleur's system will not be ready for a challenge like the one Mack and company will provide, and points first downs and points will be hard to come by for the Pack.
Chicago Offense Will Answer the Call
Matt Nagy is in year 2 of his head coaching term in Chicago, and the Chicago offense should continue to grow in his system. QB Mitchel Trubisky was somewhere between Jim McMahon and Blake Bortles last year but made strides at the end of the year and led the team to 12 regular-season wins. Trubisky leads an offense that returns every starter except for RB Jordan Howard, so the entire team is poised to step forward. Howard is replaced by rookie David Montgomery who is as good of a runner as Howard was and can also be used as a weapon in the passing attack. Allen Robinson will be two years removed from his torn ACL and is set to emerge again as a top tier receiver in the league. Chicago has a lot of weapons, and Nagy has the ability to put Trubisky in positions to succeed. The Packers have made some improvements on their defense and coordinator Mike Pettine may have the best D seen in Green Bay for a while. Za'Darius Smith was brought in to spark the pass rush, and the secondary has some playmakers. Cutting ties with defensive tackle Mike Daniels in July was an odd move that the Cheese Heads might regret. I don't think Chicago will score at will in the contest, but I expect them to start fast, get a lead, and then set the pace for the game.
LeFleur May Be In Over His Head
Mike McCarthy is the only NFL head coach Aaron Rogers has ever worked for, but that will change on opening night. LeFleur takes over in Green Bay, and the expectations are that he leads the Pack offense back to being the cream of the NFL. McCarthy was the fall guy for Rogers only having one Super Bowl win, and although he must take some blame for stale play design, the talent on the team was sub-par, and Rogers didn't elevate that talent as some elite quarterbacks can do. LeFleur studied under McVay before being the Titan's offensive coordinator last year. LeFleur introduced the McVay concepts of motion, zone runs setting up play action and quick-hitting pass routes, and it resulted in the Titans ranking 27th in offense. LeFleur was a reach for a head coaching spot, and now he will teach his scheme to Rogers, who has traditionally worked in a system that required receivers to win their routes, or Rogers to free-lance until someone was open. Rogers may not adapt to this system and especially may not be a believer in the system in week 1.
LeFleur didn't have the talent in Tennessee to repeat what McVay did in LA, but the Green Bay talent at the skill positions beyond Davante Adams also doesn't compare with the Rams. 2nd year wide receivers Marcus Valdes-Scantling and Equaminius St. Brown were not very good last year, Randall Cobb left in free agency, and Jimmy Graham is years past his prime. LeFleur may end up being as successful as his mentor, but his talent is overmatched in week 1, and it is hard to expect him to scheme to overcome that gap. If Green Bay gets behind and the offense sputters early, LeFleur may have a hard time rallying the troops in front of the hostile Chicago crowd.
Keith Allen's Pick
Play the Bears -3 to open NFL's 100th season. This line implies that the teams come in equal, but Chicago dominated the Packers at the end of last season and has brought back all of their key starters. At the same time, Green Bay has brought in a coach that will radically change the playing style of their hall of fame quarterback and has no experience as a head coach. The Bears should take care of business against their arch-rival, winning the game and covering the spread.
Take the Bears -3
50% Cash up to $250

STOP LOSING TODAY! START WINNING WITH DOC'S TEAM OF PROFESSIONALS! GET A FREE NO STRINGS ATTACHED $60 FOR THIS WEEKEND'S GAMES!