Las Vegas Raiders Season Wins Total Pick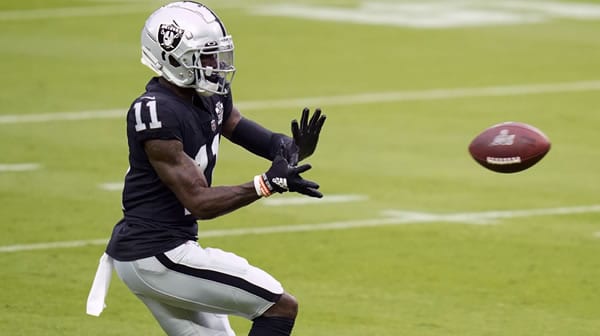 Las Vegas Raiders Season Wins Total Over/Under
The Las Vegas Raiders hope a new city will pave the way for a new beginning. One of the more storied franchises in football, the Raiders' postseason presence since 2002, consists of a single wild-card round loss. But in John Gruden's third season, some things are expected to get better in their new home, following a somewhat-promising 7-9 season in 2019. Will the rebuild and all those high draft picks start to resonate in their new home this season?
The Raiders started last season 6-4, and after winning three straight, they were actually in the wild card picture, before dropping five of their last six. Chalk it up to the growing pains of a young team, as they were up and down, showing promise, while also showcasing some the reasons they might not quite be ready for primetime. But with a new site that offers new challenges to visiting teams and a lot of new additions, the Raiders are one of those wide-range teams that offers something for everyone from a betting-standpoint. Let's look at the odds for the Raiders' season wins total in 2020, followed by our analysis and best picks.
A Look at the Odds
LV regular-season wins over 8.5 +179
LV regular-season wins under 8.5 -217
LV regular season wins over 8 +155
LV regular season wins under 8 -175
LV regular season wins over 7.5 +115
LV regular season wins under 7.5 -135
LV regular season wins over 7 -127
LV regular season wins under 7 +107
LV regular season wins over 6.5 -163
LV regular season wins under 6.5 +143
LV regular season wins over 6 -242
LV regular season wins under 6 +202
LV regular season wins over 5.5 -290
LV regular season wins under 5.5 +245
Odds Explanation: You see with the many choices on the Raiders' season wins in 2020, 5 Dimes offers a range. You have a more-standard win total, with amounts that are either lower or exceed that total for bettors who wish to take a more extreme stance. The standard win-total in this bet is seven wins, with over going off at -127, with under fetching a +107 quote. That is followed closely by the 7.5-win total, with under at -135 and over at +115.
Pick Analysis
I like over seven wins at -127. I think there is ample reason to forecast at least one added win for the Raiders from last season. Not everything is roses on this team; let's face facts. Some of these recent draft picks have paid off—guys like running back Joshua Jacobs. Others seem to have been gigantic reaches. Not every move the Raiders have made in the last few years were necessarily good ones. And while they're assembling a nice cast, there aren't any real stars on the team. That could happen down the road, but there isn't a ton of All-Pro talent on this team outside of Jacobs. Yet.
I'm starting to like the nucleus on offense. Derek Carr catches a lot of flack, and some might question whether he's, in fact, the long-term answer, but he just had his second 4000-yard season, completed over 70% of his passes, and did all this without a real number-one receiver. They're hoping rookie first-rounder Henry Ruggs, III. can fulfill that role. With a growing TE in Darren Waller and other nice aerial role guys like Tyrell Williams, Hunter Renfrow, they have a lot of talent forming on that offense. Adding Marcus Mariota gives them a viable option for Carr if he's injured or falls flat while getting TE Jason Witten gives them a nice dose of leadership.
Perhaps most impressive is the turnaround of what was once a deficient front. The Raiders' offensive line might actually be one of the best in the conference, which could really help this offense, and all the changes they made resound massively. Richie Incognito's return was a huge boost, while young G Kolton Miller really showed his teeth last season. It has developed into a tip-top unit.
Unfortunately, the same cannot be said about the opposite line of scrimmage. Youth like Maxx Crosby, Clelin Ferrell, and others should come around. Youngsters should develop. And getting Maliek Collins, Cory Littleton, Damarious Randall, and others means this side of the ball has infinitely more talent than when Gruden first arrived. They are pretty loaded in the secondary. They get the first-rounder Jonathan Abram back from injury, they signed Prince Amakamura and Jeff Heath, and they should be really strong in the back. We can at least hope the Raiders become an impactful defense that can get turnovers, something that has been missing lately. It has been 17 years since the Raiders last had a defense that wasn't ranked in the bottom half of the league. Ending that inglorious streak could go a long way for the Raiders making a surge this season.
Still, they have to face the defending Super Bowl Champions twice and the rest of an AFC West that could be pretty good. The season gets off to a difficult start, beginning in Carolina, hosting the Saints, going into New England, hosting Buffalo, before going into Arrowhead. They're going to need to get through that at least 2-3 to have a chance at hitting some of these numbers. Because after the bye, which follows the KC road game, they host Tampa before going on the road for consecutive road games against Cleveland and the Bolts. In other words, they need to hit the ground running this season, as they are certainly not being eased into action this year.
Final Verdict
With all that said, I think the Raiders will hit .500 this season. I think "over" 7 wins at -127 is the best move. Equaling last season's win total will at least be a push. A tougher schedule than what most 7-9 teams see, along with the uncertainty of adding a ton of new pieces, makes this less than a slam-dunk. But I see the Raiders at least continuing their progress as a rising team this season, even if they don't make a huge overall impact. Bet this week's games for FREE by scoring a 100% real cash bonus on your first deposit of $100 to $300 at MyBookie Sportsbook!
100% REAL CASH up to $300

USE BONUS CODE:
PREDICT100
Football Betting Guide
New to football betting? NFL point spreads can be confusing at first, but our how to bet on football article help you bet like a seasoned pro! You'll also learn how to wager on teasers, parlays, over/unders, prop bets, futures and how point buying works.