MNF Picks: Saints vs. Raiders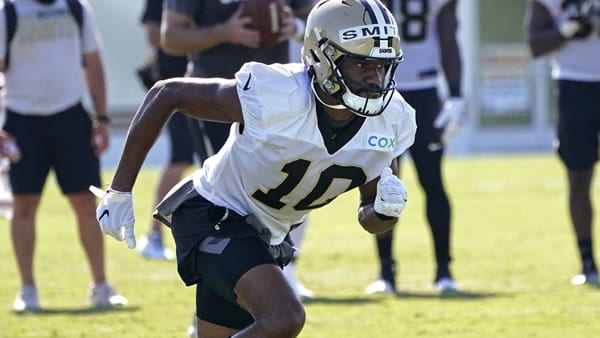 New Orleans Saints (1-0 SU, 1-0 ATS) vs. Las Vegas Raiders (1-0 SU, 1-0 ATS)
Week 2 MNF
Date/Time: Monday, September 21st, 2020, 8:15PM EST
Where: Allegiant Stadium, LV, Nevada
TV: ESPN Channel 206
Opening Line: N.O. -4.5 and 50.5
Gameday Point Spread: NO -5.5/LV +5.5 and 48.5
Money Line: Saints -222/Raiders +192
The New Orleans Saints head to Las Vegas to take on the Raiders in their first-ever game at the $2B 1.8M square foot Allegiant Stadium after playing their last 25 years at the Oakland Coliseum. It's going to be tough sledding for John Gruden's crew against one of the NFL's best teams.
Can a Dog Finally Win a Game This Week?
Favorites have gone 14-1 straight up in Week 2. That trend looks to continue tonight for the Saints, who are currently sitting at -5.5 and -222 on the money line. I'm usually a huge proponent of a MNF home underdog; however, the variables are very one-sided tonight, with most edges belonging to Sean Payton's club. Much ballyhoo is being made of the Saints missing wide receiver Michael Thomas, but they likely won't miss a beat.
How will the Saints Look Without Thomas?
The acquisition of Emmanual Sanders brought the Saints receiving corps to the next level. He doesn't stretch the field like Thomas, but he's a great possession receiver and route runner. He's not the player I'm expecting to see shine tonight, though.
There's a saying in sports "Next Man Up," and that'll be in play Monday when Tre' Quan Smith gets his shot to shine in the national spotlight. There's a reason Payton has kept this guy around for a third year with the team. He's good. Smith has excellent speed, which creates separation from defenders, and he's an asset at the goal line in jump ball/high pointing situations. He's no Michael Thomas, and he's had some dropped ball issues in the past, but he's an ample replacement.
Lastly, the biggest reason I'm not concerned with Thomas being out is that Drew Brees is the consummate professional. He's also got plenty of tools at his disposal.
The X's and O's
When it comes to the X's and O's, the Raiders offense, which is centered around Josh Jacobs, plays right into the Saints' strength. Last week in Carolina, the Raiders ran Jacobs 25 times for 93 yards against a Carolina team that will likely be ranked one of the worst defenses in the NFL this season. The Saints run-D is STOUT and hasn't allowed a 100-yard rusher in 44 games. Vegas Oddsmakers have so little confidence in the Raiders run game that they've made Jacob's over/under rushing total only 69.5 yards tonight.
The Raiders are easy to defend. Their main objective is to run, and when they do pass, it's short dink and dunk action. Allowing a good defense to shorten up their coverage is likely to be a disaster for Vegas. Carr simply doesn't have the arm to stretch the field, which has been evidenced over the course of his career. The Raiders brought in Henry Ruggs to be a playmaker, but it's yet to be seen if he'll be able to stretch the field. He's banged up as well.
What Home Field Advantage?
With no fans in the stands to be loud and disrupt play-calling, HFA hasn't really been an advantage at all. Throw in the fact that the Saints have been exceptional away from home (14-2 on the road straight up and 13-3 ATS), venue loses its edge.
Prime Time Success
I'm sure you've met "one of those guys" that wants to win at all costs. Cheat, lie, steal, that's Sean Payton. He'll do anything to get a W. He loves the spotlight. New Orleans is a spotless 4-0 on Monday Night Football over the last three seasons (2-2 ATS).
No Carr Insurance
The Raiders offensive line did a good job protecting Derek Carr last weekend, but keep in mind that was against the bottom of the barrel Panthers, a bad defense who lost their top two defenders in Kuechly and Bradberry. The O.L. suffered a considerable loss when RT Trent Brown went down, and then backup Sam Young later went down. Richie Incognito is said to be nursing an Achilles injury as well. This does not bode well against the above-average D-line of the Saints. I expect the defense to be in the backfield often.
BET YOUR MNF PICK FOR FREE BY DEPOSITING $100 TO $300 AND RECEIVING A DOLLAR FOR DOLLAR 100% REAL CASH BONUS AT MYBOOKIE SPORTSBOOK!
Sin City Edge Neutralized
It's a proven fact that sports teams visiting Las Vegas don't perform well. Do you perform well when you go there? These athletes aren't much different than you or me. They go out, go clubbing, booze it up, go to strip clubs, bang chicks, smoke weed, etc. Oftentimes, this leads to a poor performance on the field. Lucky for us, due to COVID restrictions, visiting NFL players are in somewhat of a bubble with strict security/travel restrictions are in play. The Saints will be nice and healthy for Monday's game with no distractions.
Revenge?
Both Latavius Murray and Jared Cook used to play for the Raiders. While it's highly doubtful that they'll have revenge on their minds, players always want to fare will versus their old clubs.
A De-Barked Dog?
John Gruden's club hasn't done so hot as an underdog. The Raiders are 8-18 straight up over their past 26 games when not favored and are 0-4 both straight up and against the spread in their last four as home dogs.
Time is a Quarterback's Best Friend
Drew Brees should have plenty of time to assess the field as Vegas is a wet paper bag with regards to pressure. The Raiders struggled to generate any sort of pass rush in the opener, achieving just one sack and four quarterback pressures against Carolina.
Prior Meetings
Nothing relevant here as these teams haven't played each other since 2016. For stat rats out there, the Saints have beaten the Raiders three out of the last four meetings.
How the Public is Betting the Game
The Saints are getting the lion's share of the spread bets with the consensus around 63%. The moneyline action is close to even with the Raiders getting 54% of the wagers. The total, as is typical for most games, the public is playing the OVER with 67% landing on that side of the O/U line.
Betting Trends
Saints are 15-4 SU as a favorite of -3.5 to -9.5 over the last three seasons but are only 9-10 against the spread during that span.
Saints are 38-11 SU over their last 49 games.
LV is 5-11 SU as underdogs of 3.5 to 9.5 points over the last three seasons
LV is 12-21 over their last 33 games straight up and 15-18 ATS
West's Pick to Cover the Point Spread:
No home-field advantage, a Payton led team who plays well on the road and in primetime situations, a Saints rock-solid defense vs. a Raider OL missing its best player, there's lots to like here.
Cam Jordan and Demario Davis will wreak havoc up front, and when Carr gets down and is forced to pass, Marshon Lattimore will neutralize whoever he's defending. Janoris Jenkins is above average as well. A name you might not be familiar with, Chauncey Gardner-Johson, led the Saints Week 1 efforts with ten tackles.
Every way I slice this game, I come out with a Saints victory. This is saying a lot because I don't like laying points on the road in a spotlight game. Bookmakers always inflate the point spreads on these contests, leaving them with little to no value.
It's never easy winning on the road in the NFL, but the stars are aligned for the Saints to both win and cover this game. My prediction is a 24-13 Saints victory.
Other MNF Bets to Consider: Latavius Murray OVER 8.5 carries. (This wager can be found at Bovada Sportsbook). Lat got the rock 15 times in the last game vs. Tampa Bay, and I'd expect at least 10 in this matchup where it should be a positive game flow situation (Saints with lead, running the clock out). I also believe Payton will preserve Alvin Kamara as much as possible this season as N.O. is primed to go deep into the playoffs this season and must keep the crafty running back on the field to do so. I also think New Orleans may run the ball more to offset the loss of Thomas.
100% REAL CASH up to $300

USE BONUS CODE:
PREDICT100