MNF Picks: Vikings vs. Bears 11/16/20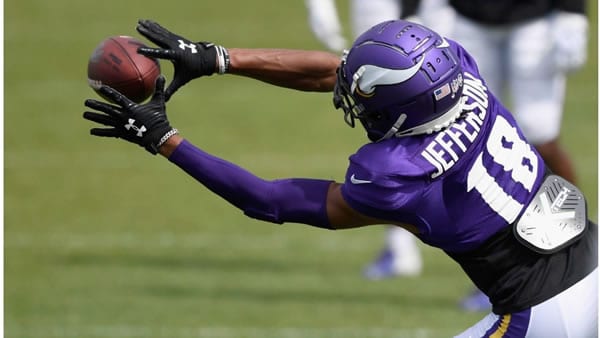 Minnesota Vikings (3-5 SU, 5-3 ATS) vs. Chicago Bears (5-4 SU, 5-4 ATS)
Week 10 NFL
Date/Time: Monday Night Football, November 16, 2020 at 8:20PM EST
Where: Soldier Field, Chicago, Illinois
TV: ESPN
Point Spread: MIN -3/CHI +3 (Top Sportsbook Bonus Offers - Double your deposit!)
Over/Under Total: 44.5
The Minnesota Vikings come into Soldier Field for an NFC North battle with the Chicago Bears on Monday Night Football. These teams could have deceiving records. At 3-5, the Vikings have won two in a row, beating a good Green Bay team, before smashing the Lions last week, 34-20. The Bears would appear to be in better shape at 5-4, but with three straight losses, the highlights have been few and far between in recent weeks. On Sunday, they fell to the Titans, 24-17, scoring two touchdowns in the game's final five minutes to make it look closer than it really was. What can they come up with this week at home against a suddenly-hot Vikings?
Minnesota Back on Track?
Two wins does not a renaissance make, but the reemergence of Dalvin Cook has come with tremendous results. In the last two games, he has run for 369 yards and scored six touchdowns. Everything has benefitted as a result. With Kirk Cousins not getting it done, an aerial package not delivering, and a defense that was being pushed to its limit, the Vikings were nowhere. With Cook running up and down the field, however, the offense suddenly has life, and a defense that is rested can get a little more out of what they have. But as Dalvin goes, so do the Vikings. If he can stay healthy and remain in top-form, they will be in a lot of games. If not, we will see the team that started off 1-5.
They started showing life in a razor-close loss to the Seahawks on the road before getting their clocks cleaned at home against the Falcons in a demoralizing loss. But when Cook got back into action, we saw them start to take off. And the closeness of these recent one-score games came only as a result of late-game scores in garbage time, as the Vikings have actually been fairly dominant in recent weeks.
More NFL Week 10 Picks: Seahawks at Rams Betting Prediction >>>
Is Chicago Finished?
The recent Minnesota flourish could be bad news for what has turned into a really struggling Bears' team. At 5-1. It was hard to explain the Bears' success. Sure, they have the defense, but it's not the great Bears' defense we saw a few seasons ago. And the offense is really bad and not getting any better. And while they did beat Tampa, most of their wins are against suffering teams, and now they're one of them. The defense has remained vaguely-solid, with an offense that often times screeches to a halt in games, much to the chagrin of their bettors and fans.
Unless Chicago is playing the bottom of the league, it's hard to make this formula work. Their defense can certainly flummox an opposing offense, but it's not good enough to support an offense that has hit the skids. And it's demoralizing too when you're out there on defense trying to help a team cling to life while watching one drive after the next end without payoff on offense. The offense and defense don't exist in a vacuum. It goes hand in hand, and at times you can notice the Chicago defense sagging because of what's happening on the other side of the ball. It's hard to tell if it's Nick Foles' fault or if that's the line. Allen Robinson is a fine receiver, but finding steady sources of production from the rest of a cast that is anything but awe-inspiring has proven elusive for the Bears' offense.
It's unfortunate for Chicago because they have playmakers on all phases of the defense, but between the offense stringing them out and a shortage in big, game-changing plays on defense, they just haven't been able to have a strong impact on games. What was a low-key pick of high value that delivered early in the season has turned into a real liability to have on your betting ticket. Anytime in the last three weeks, looking at a Bears score has been a real letdown for anyone in their corner. It makes it harder to pull the trigger this week.
Hope for the Bears in this Matchup
Last season, the Bears beat the Vikings once and lost by two points in the other game—this in a season when the Vikes were generally better than the Bears, winning ten games on the year. Dalvin Cook looks to be a potential difference-making factor in this game, but how often do you usually see that third huge game in a row? A home Chicago defense can still be a handful, even with the team in a bit of a tailspin. If this game turns into a grind and Cook isn't firing on all cylinders, it could suit a Bears team that has thrived in that context this season. After all, how bankable is a Vikes' team that started off 1-5? Sure, they might look appealing as they've been playing well, particularly in contrast with a wayward Bears team. But there is still a reason Minnesota is down there with Detroit at the bottom of the division, and it's not because they're a bankable proposition, though their 5-3 ATS mark isn't too shabby.
Take the Home Underdog
Admittedly, it's not an easy bet to make. I realize Dalvin Cook could go off, Cousins could have a good game, and Chicago can continue with their slapstick style of offense. I just see a tight divisional game where the defense will play a larger role than offense. The Vikings getting better basically consists of Dalvin Cook playing really well, and maybe a home Chicago defense can offer some answers. And against a Minnesota defense that has had enough issues of their own, maybe Chicago's offense can get some better results and cover the spread at home. I'm taking the Bears.
Loot's Prediction to Cover the Point Spread: I'm betting on the Chicago Bears plus 3 points. Question: Why would you bet on games at -110 odds when you could be laying only -105 at BetAnySports? It just doesn't make any sense!
Football Betting Guide
New to football betting? NFL point spreads can be confusing at first, but our how to bet on football article help you bet like a seasoned pro! You'll also learn how to wager on teasers, parlays, over/unders, prop bets, futures and how point buying works.