New England Patriots Win Bet Odds & Pick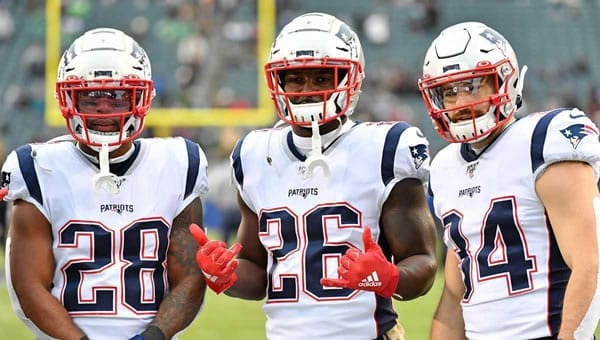 New England Patriots 2020 season betting preview
Below is a breakdown of the new-look New England Patriots and what to possibly expect out of what should be a wide-open 2020 campaign. Not only the team but also the league as it attempts to navigate its way thru unforeseen territory while continuing to be hampered by leadership thanks to their despot dictator in fuhrer Goodell.
HEAVY LOSSES ON OFFENSE
The loss of Tom Brady is obviously a monumental one for the Patriots for many reasons, but the offense will also undoubtedly feel the departures as well caused by the retirement of fullback James Develin and offensive line coach Dante Scarnecchia. Both were enormous in helping to offset a running game that was at times limited due to the inconsistency of Sony Michel and the questionable/moronic play calling of overrated offensive coordinator Josh McDaniels.
COACHING BALANCE
With Brady gone, the spotlight will only get brighter on McDaniels as he will now be relied upon to either call plays for a veteran reclamation project at quarterback in Cam Newton or an untested second-year player Jarret Stidham. As last season wore on, the chatter amongst Patriots fans grew louder and louder about McDaniels' continuously unreliable decision making. This season with the extra pressure on him thanks to the new faces around him, the team can ill afford to see his issues of incompetence continue to worsen or more frequent then they saw in 2019. The greatness of Bill Belichick can never be understated, but there is only so much he can do if the person driving the offense from the sidelines keeps leading them off a cliff.
GROUND OPTIONS
With questions at quarterback, the success of the ground game will be that much more important if the Patriots want to be able to compete against a brutally tough schedule. Former first-round pick Sony Michel saw a drop in production last season. While he was undoubtedly affected by the loss of the underrated blocking of Gronkowski and Develin being injured for the majority of the season, he will need to figure out how to create his own success if he wants to hold onto the lead back role for the Patriots. The addition of Cam Newton may lead to more playing time for James White. Who's one of the best passing catching backs in the league, and the opportunity to make a name for himself will also be there for 2019 3rd round pick out of Alabama Damien Harris. He, if proven effective, could certainly push Michel for more first and second down work. With news that Michel might not be available for the start of training camp due to injury and backup Brandon Bolden opting out of the season due to COVID concerns, the importance of success White, Harris, and veteran Rex Burkhead become that much more critical for the Patriots offense. They will undoubtedly have hurdles to overcome to make that happen, with offensive tackle Marcus Cannon and fullback Danny Vitale also deciding to forego the 2020 season due to virus concerns.
HARRY SITUATION
Another 2019 selection, 1st rounder N'Keal Harry, could be an additional wildcard key to the offense's success, much like Damien Harris. Harry was injured before last season started and didn't make his debut until mid-November, leading to a disappointing 14 receptions for 126 yards and two touchdown rookie year. The team drafted him in the first round for a reason, and if he can stay healthy could be an especially valuable asset for Cam Newton, who like Harry is known for his improvisational skills when plays break down, and the possibility for down the field connections could really open things up for the Patriots offense.
IF YOU'RE NOT BETTING YOUR FOOTBALL PICKS AT 5DIMES SPORTSBOOK, YOU'RE WASTING MONEY! -105 SIDES! -105 TOTALS! 20 POINT TEASERS! 25 TEAM PARLAYS! CLICK HERE TO REGISTER AND START SAVING BIG BUCKS TODAY!
RECEIVER REBOUND
In front of Harry on the Patriots receiver depth chart are Julien Edelman and Muhammed Sanu, both of whom struggled to end 2019 due to injuries. Edelman still finished the season with 100 receptions for 1117 yards and six touchdowns but was only able to get into the endzone twice in the final nine games as he limped his way to the finish line. With the offense struggling, New England gave up a 2nd round pick at the deadline for Sanu, who did next to nothing to prove his worth after being acquired. Though much like Harry, the team did invest legitimate draft capital in acquiring him, and there is reasonable hope that this season he could prove to be worth somewhat of the value they gave up to get him. If not, they will need free-agent signees, Damiere Byrd or Marquise Lee, second-year wideout Jakobi Meyers, or even special teams legend Matthew Slater to catapult up the depth chart.
TIGHT END DRAFT DUO
After losing Rob Gronkowski before last season due to a short-lived retirement, the Patriots had a dearth at tight end and finished 2019 last in the NFL in overall stats at the position. They attempted to offset that going into this year by drafting two tight ends in the third round, Devin Asiasi, and Dalton Keane, hoping that at least one of them can turn into a difference-maker for the offense. This marked the first time they took two tight ends in a draft since 2010 when they got Rob Gronkowski in the 2nd and Aaron Hernandez in the 4th, a move that should have led to even more Super Bowl titles for the team if not for the fact that Hernandez decided to be one of the world 's dumbest criminal after returning a rental car with a bullet casing from a murder weapon in it and leaving his DNA on a blunt next to a dead body at a crime scene.
BRADY'S REPLACEMENT
The biggest key to the offensive success will be whoever takes the reigns of the quarterback position, with odds heavily in favor of Cam Newton getting the nod over Jarret Stidham. The latter was to be the expected starter for most of the offseason after the team decided to pass on taking a quarterback in the draft. Instead, the Pats had just Stidham and ancient Brian Hoyer at the position on the roster. The signing of Newton to a risk-free, incentive-laden contract made ample sense for the team and now gives them a veteran presence that regardless of how he has presented himself on the field (he will forever have to deal with the fumble nonsense in Super Bowl 50 and the ensuing press conference lack of responsibility), has always had the respect of his teammates and the locker room as a whole and now has an incredible drive to prove others wrong after being passed up in free agency by the other 31 teams in the league.
NEWTON'S ISSUES
How effective Newton can be remains to be seen as there are a variety of stats out there to show a drastic drop off in effectiveness over his recent years. Since the 2015 Super Bowl season, Newton has a record of just 23-25 as a starter and has thrown 44 interceptions in his past 46 games, including a streak of at least one in seven of his last eight games played. His effectiveness on the ground was a significant part of his success, but thanks to a variety of injuries, he has seen that ability drop and has just four rushing touchdowns in his past eighteen games. This is a particular issue for Newton as making plays with his feet has helped offset an accuracy issue throughout most of his career, having completed over 60% of his passes in a season just once since 2013.
COACH-QUARTERBACK RELATIONSHIP
One frequent variable that has been brought up regarding Newton since signing with the Patriots is how he will mesh with head coach Bill Belichick. Some, such as former GM Scott Pioli, compared to the possible relationship to 'oil and water,' but those now close to the team point to the fact that Belichick has lightened up a bit in the last couple of years in terms of how tight things are run. This would go a long way in helping Newton adapt to the new offense while also acclimating himself to a new locker room for the first time since being drafted by Carolina back in 2011.
DEFENSIVE DEPLETION
The Patriots finished the 2019 season ranked 1st in both total defense and points allowed per game. Unfortunately, duplicating that feat may prove a lot easier said than done after suffering heavy losses in free agency, most notably team leader in tackles/sacks/tackles for loss Jamie Collins, fellow linebacker Kyle Van Noy along with defensive back Duron Harmon and lineman Danny Shelton. Things also got worse with the recent news that Dont'a Hightower and Patrick Chung will also be opting out this season because of COVID concerns. The loss of Hightower is especially brutal not only because he was the second-best remaining player on the defense behind Stephon Gilmore, but also because it left the Patriots with little experience at a linebacking position that went from one of the strengths of the team to one of the most questionable groups in the league.
REST OF THE BUNCH
Six of eleven starters are gone from a season ago, all of whom were essential pieces to the team's success; they will need to rely on power up front on the line and leadership amongst the backs to help keep things together. Last season left little doubt that Stephon Gilmore currently holds the belt for the best cornerback in the league. He will need to continue his dominance in 2020 and, with the help of Devin and Jason McCourty, offset the recent loss of Chung and maintain the necessary balance needed in the back seven to counter an unproven group of linebackers in the middle. The group also returns cornerbacks J.C Jackson and Jonathan Jones, free-agent signee safety Adrian Phillips, and draftees Joejuan Williams and Kyle Duggar.
Up front the line will be built by Lawrence Guy, John Simon, Deatrich Wise, Chase Winovich, Beau Allen and Adam Butler, and will hope to supply enough pressure to allow untested linebackers Ja'Whaun Bentley and 2020 second-round pick out of Michigan Josh Uche get more accustomed to their increased playing time.
SCHEDULE OF DOOM
The toughest thing facing the Patriots this season may not even be the departure of Tom Brady, instead it could very well be a nightmarish schedule awaiting them that grades out as the toughest in the NFL. They travel on the road to face four teams that finished last year with double-digit wins (Chiefs, Seahawks, Bills, and Texans) while also heading out west to take on a Rams team that is a year removed from playing in the Super Bowl. Things only get marginally easier at home with the Ravens, 49ers, and Bills all headed to Foxboro. Winning there was never an issue for the Patriots, putting up a streak of 18 victories at home heading into the month of December last season before ending their year in disastrous fashion that included a 1-3 mark in Mass. that culminated in a nauseating choke job in week 17 as a monster favorite against the Dolphins and then closing out 2019 and Brady's Patriots career with a disappointing 20-13 loss at home to the Tennessee Titans on Wild Card weekend.
THE FINAL DECISION
The success of Cam Newton will likely be the biggest decider in the success of the Patriots this season, and how he does not only replacing Brady on the field but also in the locker room could both be nearly equally as important. One of the reasons the Patriots were able to respond so well when Brady initially took over for Drew Bledsoe was how the rest of the team was forced to step up as a cohesive unit rather than waiting around for their superstar quarterback to make a play on his own. It also helped a great deal back in 2001 that they were able to find great consistency on the offensive line with the same players starting 12 games in a row, which now 19 years later will be equally as important for Newton though not nearly as easy with o-line guru Dante Scarnecchia having retired. The Patriots and Belichick have found reclamation success in the past with Randy Moss and Corey Dillon and underappreciated turned stars in Rodney Harrison and Mike Vrabel. They will hope Newton can fall into that same category and not the unfortunate other side that has befallen the team with such misses as Albert Haynesworth, Chad Ochocinco, and Shawn Springs.
The Patriots have gone seventeen straight seasons with double-digit wins, but that streak looks to be in serious jeopardy heading into 2020. Monumental losses via free agency, retirement, and now due to COVID leave the Patriots shorthanded all over. They may have vastly increased salary cap space ability (24+ million), and there are some quality options remain available such as Jadeveon Clowney, but how much interest they have in any of them and how much of an impact they could make the longer it takes to sign would remain to be seen. A decreased training camp and lack of preseason games, more importantly, gives Cam Newton that much less time to get acclimated to a new offense that will now have to carry that much more of a load with the heavy losses on defense.
Brady, Develin, Scarnecchia, Cannon, Dorsett, Collins, Hightower, Van Noy, Shelton, Chung, and Harmon are all gone from a season ago. They will now have to rely heavily on a veteran quarterback with a questionable amount of gas left in the tank to lead an offense that has questions throughout along with being led by a coordinator in McDaniels that lacks any sort of consistent creativity or ability to make in-game adjustments before it's too late. Belichick has proven himself to be the greatest coach in NFL history. Still, he can only do so much to overcome the number of issues facing the team, especially going up against a downright brutal schedule. With all that mind, I will be picking the Patriots to go under their expected win total of 9.5 wins, the first time I have gone against them going into a season since the year before Drew Bledsoe arrived.
MIKE's PICK:
PATRIOTS UNDER 9.5 wins. Bet your over/under season wins picks FREE this season by taking advantage of a 100% REAL CASH bonus on your first deposit of $100 to $300 at
MyBookie Sportsbook
!