NFC Championship Predictions: 49ers vs. Rams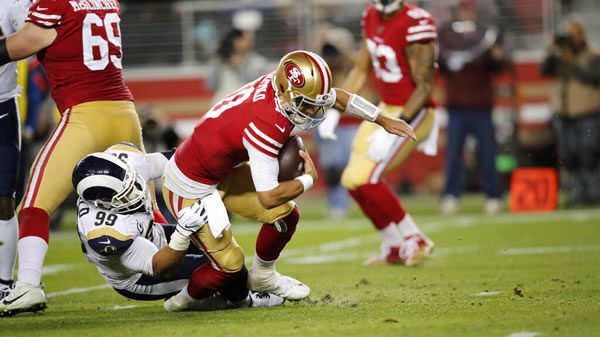 San Francisco 49ers (12-7 SU, 11-8 ATS) vs. Los Angeles Rams (14-5 SU, 10-9 ATS)
NFC Conference Championship
Date/Time: Sunday, January 30, 2022 at 3:30PM PST
Where: SoFi Stadium, Inglewood, California
TV: Fox
Point Spread: SF +3.5/LAR 3.5 (SportsBetting.ag)
Over/Under Total: 47
The San Francisco 49ers take on the Los Angeles Rams in the NFC Championship Game. These familiar divisional rivals will duke it out for a third time this season to see who will represent the NFC in the Super Bowl. A win here would get the Rams a home-field Super Bowl. The way they salvaged the win last week against a come-backing Tampa team was captivating, but San Fran also came through the fire for a last-second win. Both teams really had to scratch and claw to get here. Who can take that final step?
Very Recent History
On November 15, the 49ers took it to the Rams in a 31-10 win. More recently, on January 9, in the final week of the regular season, the Niners were able to put a 27-24 win over the Rams to punch their ticket to the postseason. We've seen some troubling things from the Rams in this particular matchup. In two games, they managed 34 total points and never really showcased their high-octane offense. It never came off well against the 49ers. Meanwhile, the Niners were able to get two good games out of Eli Mitchell, with guys like Deebo Samuel and Brandon Aiyuk also getting off.
We are seeing the San Francisco defense doing well in a big way against the Rams. On January 9, two SF picks were key in turning things in their favor, as were five sacks, with Aric Armstead getting after Stafford with gusto. In the first game between these teams, they also got two picks, showing that this defense has been pretty apt in putting a crimp in the Rams' offensive operations this season. For the Rams to get to the Super Bowl, they will need to vanquish an opponent that had their number this season.
Dont Neglect the Rams
First of all, damning recent history aside, it's not easy to beat a good team like the Rams three times in a season. Say what you will about the 49ers' great coaching, their heart, and ability to overcome adversity. All those things are true. But the Rams also have some of those things in place, and one should expect a good plan this week, as the Rams look to avoid the Niners laying three wins on them in one season.
Naturally, not every offensively-gifted team is going to thrive against the Niners. The Rams couldn't really do it in two games, and we saw a home Packers team last week also struggle. But this could be a week at home with the stakes super-high that we see some of that offensive firepower start to resonate. After all, the Rams have the far more coveted quarterback, a slew of dangerous receivers with the best in the biz in Cooper Kupp. And they have a nice tandem of backs that can do damage. That would appear to be a big advantage over a guy in Jimmy Garoppolo whose position never seems all that cemented, a decent back in Mitchell, but still a sixth-round rookie, and aerial talent in George Kittle, Deebo Samuel, and Brandon Aiyuk, guys who show up some weeks and don't in others.
Main Obstacles for the Rams
It's hard to make sense of the 49ers. You look at what they have, and they typically surpass it. A lot of it comes down to their unflappability. They have absorbed so much adversity, and having overcome it to the point where they made it this far has left them a steeled football force galvanized by going through the flames of adversity. So as we break down the apparent advantages, the Rams might have in terms of home-field, superior offensive weaponry, a better quarterback, and all their other edges, let's remember it hasn't worked in two games against this team. Sometimes, in all sports, a team just has your number even if they appear to have less firepower than their opponent. There's just something quirky within the matchups that steers it in their way.
It won't be easy to get that ultra-focused sixty-minute effort the Rams will need. They will need to be really on-point. And even when things go their way, they have to keep hammering. We saw last week when Tampa nearly came back in improbable fashion, actually requiring some Matthew Stafford-Cooper Kupp late-theatrics to get the win. They might not get away with that this week. But after two losses to their divisional rival and with a Super Bowl appearance in the offing, maybe we will see elevated urgency this week from the Rams and, therefore, some better results. But if they start committing the same mistakes, with turnovers, allowing a massive SF pass-rush, along with sporadic busted coverages, this isn't going to be easy. And if they get a lead and apathy again sets in, that won't be good, either.
Boiling Down the Dilemma
To pick a winner in this game, you have to defer to something. Maybe it's the Rams' overall firepower and star*power on defense. Stafford, Kupp, Odell, and others just loom larger than Garoppolo, Eli Mitchell, and a receiver in Deebo Samuel, who isn't really being used as a top receiver anymore. Or maybe in this context, a team's ability to overcome adversity and get the most of what they have is the more-appealing list of qualities to you.
Take the Points
I suspect a close affair, and in that case where picking a winner is difficult, having 3.5 points isn't a bad feeling. It's entirely possible that the Niners will see their success come to an end, and the third time will be a charm for the Rams. That offensive firepower could resonate at home, with the Niners falling a bit flat in their third straight road playoff game and fourth straight road game overall. I just see this as being a strange time for the wheels to come off for the Niners. I see a tough game, with the Niners hanging in there and covering the spread.
Loot's Prediction to Cover the Point Spread: Im betting on the San Francisco 49ers plus 3.5 points.
10* GAME OF MONTH **INSANE 75% NFL PLAYOFFS!
AAA Sports has gone 5-1 (83%) with their NFL Playoff picks over the L2 rounds and overall they enter the Super Bowl having gone an INSANE 75% (9-3!) with ALL of their NFL Playoff releases! AAA Sports is playing with HOUSE MONEY in BOTH the NFL and College Football this season and they're UNLOADING MASSIVELY in this year's Super Bowl with BOTH SIDE and TOTAL! BE THERE!
Football Betting Guide
New to football betting? NFL point spreads can be confusing at first, but our how to bet on football article help you bet like a seasoned pro! You'll also learn how to wager on teasers, parlays, over/unders, prop bets, futures and how point buying works.