[et_pb_dcsbcm_divi_breadcrumbs_module hide_homebreadcrumb="off" homebreadcrumbtext="Home" separator="sep-raquo" hide_currentbreadcrumb="off" homebreadcrumborientation="left" _builder_version="3.8″ fontsbreadcrumbs_font="Lato||||||||" fontsbreadcrumbs_text_color="#000000″ fontsbreadcrumbs_font_size="15px" fontsbreadcrumbs_line_height="16px" fontsseperator_font="||||||||" fontsbreadcrumblinks_font="||||||||" fontsbreadcrumblinks_text_color="#2567cf" custom_margin="25px|||" custom_margin_phone="30px|||" custom_margin_last_edited="off|desktop" custom_css_main_element="font-family: Helvetica Regular;" global_module="3641″ saved_tabs="all"][/et_pb_dcsbcm_divi_breadcrumbs_module]
Philadelphia Eagles vs. Tampa Bay Buccaneers Pick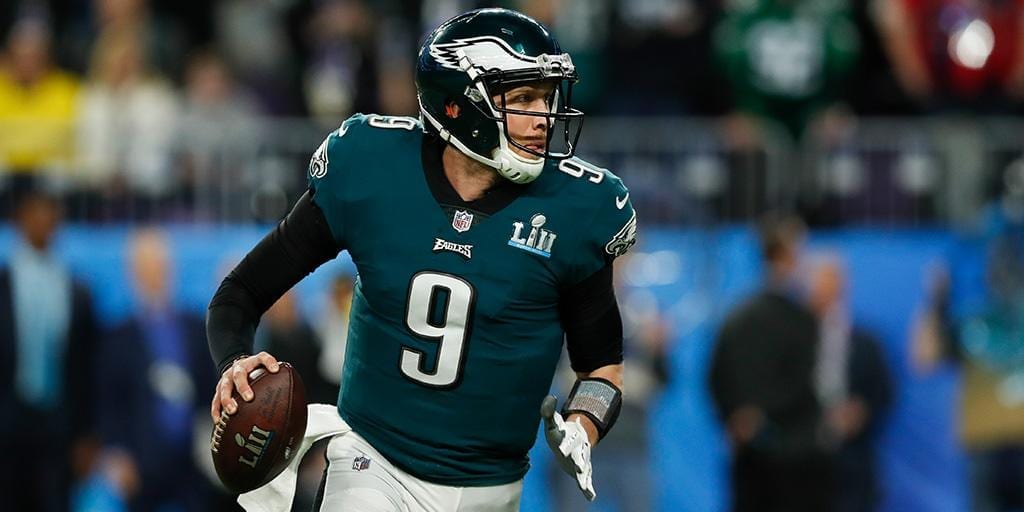 Philadelphia Eagles (1-0 SU, 1-0 ATS) vs. Tampa Bay Buccaneers (1-0 SU, 1-0 ATS)
NFL Week 2
When: Sunday, September 16, 2018 at 1PM EDT
Where: Raymond James Stadium, Tampa, Florida
TV: Fox
By: Loot Levinson, Expert Football Handicapper, Predictem.com
Spread: PHI -3/TB +3
Total: 44
The Philadelphia Eagles come into Raymond James Stadium on Sunday to take on the Tampa Bay Buccaneers in big NFC action in week two. Both teams were successful in week one games. The defending Super Bowl champion Eagles overcame a slow start to beat a good Falcons team on Thursday, 18-12, showing a lot of the things that made them so good last season. Tampa, meanwhile, was a surprise in week one, beating the Saints in a road game where they were 10-point dogs, 48-40. Who can take it to 2-0 on Sunday in Tampa?
There were things to like from both teams in week one. Philadelphia was taking on a team that nearly beat them last season in the playoffs, a Falcons team that opened the game with a lot of fire. Philadelphia avoided the adrenaline dump of all the pomp and circumstance of the event, with the appreciative crowd celebrating a long-awaited title. And in the second half, the offense started rolling a bit under the stewardship of Nick Foles, while the defense did its part, as is usually the case.
After a tough '17 season and not a lot of people pointing to the Bucs a potential surprise team, Tampa really rocked the boat in week one. The 48-40 score doesn't even do it justice, as Tampa led New Orleans 48-24 midway through the final quarter, before the Saints went on a little late run. With Ryan Fitzpatrick behind center, the downcast sentiment was understandable. So what does the aging journeyman do? He goes out and throws for 417 yards and 4 touchdowns.
Careful Week One Takeaways
There is no reason to get carried away with the appraisal of any week one game. Sure, they can be revealing, but they are one-game windows nonetheless. That really applies when the result is perhaps a little out-of-range, like Tampa's big showing in week one. A lot of teams over the years kicked butt in week one, before being out of the picture not long after.
The Bucs certainly looked good on Sunday, but New Orleans was also decidedly off-key for much of the game, with mistakes being plenty. The Saints' defense had actually gotten a lot better last season, but looked a lot like the ramshackle unit of a few seasons ago against Tampa. Things aren't likely to come as easy this week against a much-stingier Philly defense. It's one thing to torch the Saints on an off-day, but this is a different kettle of fish.
With the Eagles there is obviously less projection needed, as they are defending champions. Still, week one doesn't eliminate any of the concerns that they had to start the season. They did a great job in absorbing Atlanta's big plays on Thursday Night Football, but still looked very sluggish early, which could be dangerous this week for spread-covering purposes against a Tampa bunch that looks fired-up.
Looking Past Illusions
The season opened with perceptions that may or not be true. With Jameis Winston suspended, the perception of Tampa was that of a diminished force. I'm not so sure Winston would have gone to town like Fitzpatrick did on Sunday, showing some of his old fire. The way he connected with DeSean Jackson and Mike Evans was tremendous, as his presence was a big uplift for the whole offense. Sure, their run-game isn't great, but Peyton Barber had some nice moments, with Fitzpatrick showing his still-useful legs. With tight end OJ Howard, WR Chris Godwin, Adam Humphries, the aerial-attack looked varied and dangerous. On "D," CB Vernon Hargreaves looks healthy and played well. Some added menace up-front with Vinny Curry looked to be paying off, as well.

The context is different with the Eagles, but it seemed like an inordinate amount of people were down-rating them heading into this season. The lack of a recent repeat-champions could be a cause for that, but patterns alone do not constitute a real analysis. They seem awfully-strong on both sides of the ball, led by a coach who seems to have a little extra something, namely how he doesn't wait for the ceiling to fall in when playing with a lead and how he uses his feel to lead the team.
Sure, there were some personnel losses and departures in the Philly coaching staff, but was there anything substantial enough upon which to base a real downturn? Atlanta came into town a hungry team looking to win and it looked a lot like the Eagles of last season to me. They might not be shot from a cannon every week this season, but as of now, we have to assume a solid Eagles team will surface in Tampa on Sunday.
Lay the Points on the Road Favorite
If the Eagles were to start admiring their handiwork from last season or even on Thursday, this game could be a letdown spot. That seems like wishful thinking. The Eagles are coming off the long week and saw what happened to a Saints team that didn't hit the field last week ready to go. A lot of what the Eagles bring to the table would seem to give the Bucs and Fitzpatrick a lot of problems.
The Eagles' defense is one that can really get after a quarterback. It's hard to see the Bucs managing to create much of a running-game. Last week's win came at a cost, with DeSean Jackson getting banged up and suffering concussion-related issues. If he's out, that's one less weapon to wield against a defense that is far beyond what they saw last week. I see the Eagles starting fast and keeping Tampa out of the game en route to a cover.
Loot's Pick to Cover the Point Spread: I'm betting on the Philadelphia Eagles minus 3 points.
<aside><h4 class="widgettitle">More NFL Picks</h4><!-- [et_pb_line_break_holder] -->
<!-- [et_pb_line_break_holder] --><div class="widget-footer"><a href="https://www.predictem.com/nfl/">See all the NFL picks.</a></div><!-- [et_pb_line_break_holder] --><hr><!-- [et_pb_line_break_holder] --><style><!-- [et_pb_line_break_holder] -->ul.postsbycategory {list-style-type: none; margin:0; padding: 0; margin-left: -3px}<!-- [et_pb_line_break_holder] -->.postsbycategory li {padding: 5px 0px; display:block; clear: both; border-bottom: 1px solid #ccc;line-height:16px!important; min-height: 50px;}<!-- [et_pb_line_break_holder] -->.postsbycategory li a{color: #000; font-size: 14px!important;}<!-- [et_pb_line_break_holder] -->.postsbycategory img {width: 85px!important; height: 40px;<!-- [et_pb_line_break_holder] -->float:left; <!-- [et_pb_line_break_holder] -->padding:0px;<!-- [et_pb_line_break_holder] -->margin: 0px; margin-right: 8px;<!-- [et_pb_line_break_holder] -->border: 1px solid #EEE;<!-- [et_pb_line_break_holder] -->}<!-- [et_pb_line_break_holder] --> .widget-footer a {color: #666;}<!-- [et_pb_line_break_holder] --> .widget-footer a:hover {padding-top: 2px;}<!-- [et_pb_line_break_holder] --> </style></aside></aside>
<div style="width:340px; margin: 0 auto;"><!-- [et_pb_line_break_holder] --> <a class="twitter-timeline" data-width="340" data-height="500" data-link-color="#008156" href="https://twitter.com/PredictemPicks?ref_src=twsrc%5Etfw">Tweets by PredictemPicks</a> <script async src="https://platform.twitter.com/widgets.js" charset="utf-8"></script><!-- [et_pb_line_break_holder] --></div>
<div class="new-cta"><!-- [et_pb_line_break_holder] --> <img src="https://www.predictem.com/wp-content/uploads/2018/04/bovada.png" alt="Bovada" /><!-- [et_pb_line_break_holder] --> <p style="margin-top: 5px; font-size: 22px; line-height: 30px;"><!-- [et_pb_line_break_holder] --> 50% Cash Bonus<!-- [et_pb_line_break_holder] --> </p><!-- [et_pb_line_break_holder] --> <hr class="cta-divider"><!-- [et_pb_line_break_holder] --> <p style="padding-bottom: 20px; font-size: 15px; line-height: 20px"><!-- [et_pb_line_break_holder] --> Friendliest Sportsbook &<br> Best Betting Software<!-- [et_pb_line_break_holder] --> </p><!-- [et_pb_line_break_holder] --> <a href="https://www.predictem.com/betting-sites/bovada/"><button class="btn-widget-cta"><!-- [et_pb_line_break_holder] --> See Review<!-- [et_pb_line_break_holder] --> </button></a><!-- [et_pb_line_break_holder] --></div>