Ravens Season Win Bet – Odds & Predictions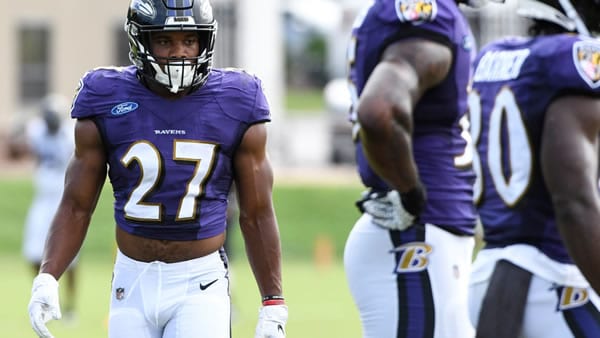 Baltimore Ravens Season Wins Total Over-Under
Last season, the Baltimore Ravens exploded in the regular season. After falling to 2-2 after losing to the Chiefs and Browns, The Ravens peeled off 12 straight wins to close the regular season at 14-2. Sure, following two early-playoff exits in a row, it's hard to feel as good about the Ravens as one normally would. And it's hard to forget how as double-digit favorites at home, they got absolutely creamed by the Titans and Derrick Henry. But let's remember this is a bet that focuses only on the regular season, so the Ravens needing to exorcise their postseason demons is really another matter entirely.
It's important to remember how terrifying the Ravens were over the last 75% of the season. Most games weren't even close. They absolutely mopped up on playoff teams like the Seahawks, Patriots, and Texans. They beat the 49ers. They beat the Bills. You have a rising commodity in Lamar Jackson at quarterback who might be the best player in football. Last season, he threw 36 touchdowns against only six picks, while also running for over 1200 yards on the ground. And they're loaded. Let's try to break down a likely landing-spot for the Ravens in this upcoming regular season. Here are the odds, followed by our analysis and picks.
A Look at the Odds
BAL regular season wins over 12.5 +187
BAL regular season wins under 12.5 -227
BAL regular season wins over 12 +151
BAL regular season wins under 12 -171
BAL regular season wins over 11.5 +100
BAL regular season wins under 11.5 -120
BAL regular season wins over 11 -135
BAL regular season wins under 11 +115
BAL regular season wins over 10.5 -173
BAL regular season wins under 10.5 +153
BAL regular season wins over 10 -261
BAL regular season wins under 10 +221
BAL regular season wins over 9.5 -317
BAL regular season wins under 9.5 +259
Odds Explanation: Here we see a range of win totals. The standard line in this bet is 11.5 wins, with over +100 and under being -120. That's followed closely by the 11-win total, with under at +115, as over is fetching a -135 quote. The range covers anything from 9.5 wins up to 12.5.
Pick Analysis
I'm going over 11.5 wins at +100. I think the schedule shakes out in such a way that any shortcomings the Ravens might have will be more or less camouflaged in the face of their 2020 workload. They get to operate in the AFC North, so they get the Bengals and Browns twice. Those Steelers games are tough, and maybe they take one L in their division this season. Or maybe two? They have to play the Chiefs in week three but get that one at home.
The Ravens get to play the entirety of the NFC East and the AFC South. And while that means they play Dallas and last year's tormentor in the Titans, that's a lot of dog-meat with Washington, the Giants, and Jacksonville. The Ravens end the season with games at Cleveland, hosting the Jags and Giants, and then at the Bengals. So even if they take some lumps earlier in the season, they have a chance to win out at the end. And having Cleveland and Pittsburgh more in the division mix means they're tougher opposition to the Ravens, but they will also push Baltimore to finish strong, as locking up the division might not be the cinch it was last season.
It's not all roses, despite their rampant success in last year's regular season. While there's no abundant reason to forecast this, they are one injury to Lamar Jackson away from major problems. But that applies to a whole bunch of teams. Losing Marshall Yanda upfront isn't being talked about enough, and if it's DJ Fluker stepping in, that's a major downgrade. There is enough talent to pick up the slack, but it's something worth watching. Adding JK Dobbins could be huge, as they add another running weapon to join Jackson and Mark Ingram.
Still, for all their power last season on offense, this side of the ball is a little light on star-power. The backfield is loaded. But their leading receiver, Hollywood Brown, had just 584 yards. Tight end Mark Andrews is approaching near-elite status, but it's hard to identify any real go-to receivers on this unit. We'll see if that costs them more this season, as opposing defenses get up to speed in stopping this offense. It would just be nice to see more aerial-upside in this league.
All this could qualify as nit-picking, and people obsessing on this unique upstart offense distracts them from the crown jewel of this team, which is the "D." When a Ravens team is good, this is the side of the ball you need to look at. Even when fighting injuries the whole season, this was still a top-five unit and could even be better this season with improved fortune. There are stars on every level of defense, and coordinator Wink Martindale's blitz-heavy approach has really brought the best out of this group.
What people are citing as cause to downgrade the Ravens this season might actually prove to light a fire under them. Last impressions are sometimes the most vivid in this league, as it is hard to shake the image of the Ravens falling apart at home after a nearly perfect run to the playoffs on the heels of 12 straight wins. But I see a team with an edge. For the purposes of this bet, would it have been better if they won the Super Bowl? Or will the hunger and the fact that they're aggravated and looking to atone make for a better proposition for this bet?
Final Verdict
Issues aside, I think an 11-5 record would constitute a letdown season for the Ravens. And with this schedule, their mindset, and how loaded they are team-wide, I don't see a gaggle of setbacks this season. I like over 11.5 at +100.
100% REAL CASH up to $300

USE BONUS CODE:
PREDICT100
Football Betting Guide
New to football betting? NFL point spreads can be confusing at first, but our how to bet on football article help you bet like a seasoned pro! You'll also learn how to wager on teasers, parlays, over/unders, prop bets, futures and how point buying works.