Season Win Total Bet: Kansas City Chiefs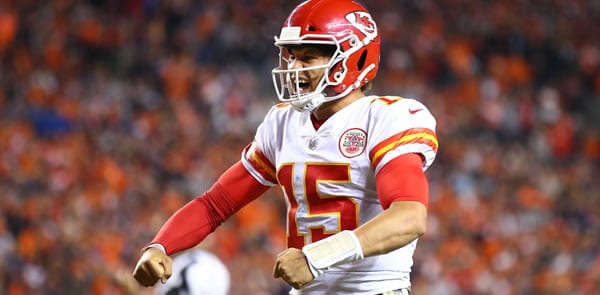 Kansas City Chiefs Season Wins Total Over/Under
The defending Super Bowl Champion Kansas City Chiefs approach 2020 with a lot of optimism. Patrick Mahomes locked in the big contract, and with a largely-intact cast, they now get to the business of repeating. Let's face it, with a high-profile Bowl winner, the following year's wagers will possess a certain hype-element that has a way of sucking the value out of these kinds of wagers. In other words, the Chiefs aren't going to be catching anyone by surprise, meaning your projected thoughts of massive success might not be had at the best value-point.
For all their success last season, the Chiefs won 12 games, a nice record, but only the fifth-best regular-season record in the league. No other team in their division was even .500, so they had room to spare. That might not be the case this season in the AFC West with what might be enhanced opposition within their division. With a tough schedule and the potential of a Super Bowl hangover, this could be one of the tougher projections in the conference. Let's look at the odds for the different season wins totals, followed by our analysis and picks.
A Look at the Odds
KC regular-season wins over 13½ +228
KC regular-season wins under 13½ -268
KC regular-season wins over 13 +190
KC regular-season wins under 13 -230
KC regular-season wins over 12½ +143
KC regular-season wins under 12½ -163
KC regular-season wins over 12 +102
KC regular-season wins under 12 -122
KC regular-season wins over 11½ -135
KC regular-season wins under 11½ +115
KC regular-season wins over 11 -189
KC regular-season wins under 11 +164
KC regular-season wins over 10½ -237
KC regular-season wins under 10½ +197
Odds Explanation: The 5Dimes season wins total betting system revolves around different totals, offering you a range. The standard win line for this bet is 12 wins, with the under at -122 and over at +102. Very close is the 11.5-win total, with over at -135 and under at +115. These picks are sandwiched by other selections for those looking to take a more out-of-range stance. Check out 5Dimes website to see these and all the other cool NFL betting options! (And there are a lot!)
Pick Anmalysis
For this bet, I'm going a little off-script. I see 12 wins being a bit upper-range on the scale of possibilities, making "under" 12.5 wins at -163 my best pick on the board. The other picks are appetizing, but I'd prefer for a 12-4 season to be a winner, rather than a push or a loss, in the event that I went for the slightly-better odds at under 12 or 11.5 wins.
The Super Bowl Hangover is, in fact, a consideration. Sure, the Chiefs are built to last. But when you're still burping up the taste of championship champagne, you're just not going to be as hungry as other teams. There is a reason two teams in the last quarter-century have managed to repeat, and it's not just because rosters are being depleted. It's a mental thing—the loss of a razor's edge and the relinquishing of the very urgency that helped carry you to glory in the first place.
There isn't a ton to dislike about this roster, with Mahomes working with some of the best at their position in guys like TE Travis Kelce and WR Tyreek Hill. They have great complimentary guys like Sammy Watkins, Mecole Hardman, and Demarcus Robinson. Adding Clyde Edwards-Helaire in the backfield could prove to be big. And while it was the offense getting the lion's share of the attention, it may have been the "D" that just as responsible for their success, a very improved unit. The signing of Frank Clark and Tyrann Mathieu worked great, and resigning difference-making DT Chris Jones in the offseason helps them keep their unit mostly intact. With this offense, allowing the 7th-fewest points on defense in the league was simply huge for Steve Spagnuolo's defense.
The schedule isn't easy. Again, I don't expect every other AFC West team to below .500 again this season. The Chargers, Raiders, and Broncos could all be good teams for all we know, and the 6-0 record KC posted in-division last season might not happen again in 2020. Considering that the Chiefs were only 6-4 outside of their division last season, it's worth looking at the toughness of their non-division schedule this season. With road games at Baltimore, Buffalo, Tampa, and New Orleans, there are a lot of landmines on this schedule. You can start to see why a prediction where the Chiefs can only lose 3-4 games this season has the air of a problematic wager. And they're going to need to hit the ground running, starting off with Houston at home, before consecutive road games at the Chargers and Ravens, back at home for the Raiders and Patriots, and then on the road for consecutive road games against the Bills and Broncos. By the end of week seven, it's possible that you'll already be up against it if your position was a 12 or 13-win season.
We do live in a strange time, with the scope of what can bring a team down now broader than simply the injury-bug. If something bad were to happen to Mahomes, it would really throw this proposition into a tizzy. With key offensive lineman Laurent Duvernay-Tardiff having already opted out, that's a pretty big ding on an O-line that isn't that great, especially for a Super Bowl-winning unit. They're going up against some pretty tough defensive lines in their own division and elsewhere, and it's something to watch this season.
Final Verdict
One doesn't want to get too carried away in trying to build a case against what might still be the best team in football. But I think the conditions pave the way for a less-than-pristine season for the Chiefs, at least to the extent where they won't win more than 12 games this year. I'm going "under" 12.5 wins at -163. Bet on your first few NFL games for FREE by cashing in on a 50% real cash bonus up to $250 FREE at one of the web's oldest and most trusted betting site: Bovada Sportsbook! Your credit card will work there for deposits too!