SNF Picks: Seattle Seahawks vs. Pittsburgh Steelers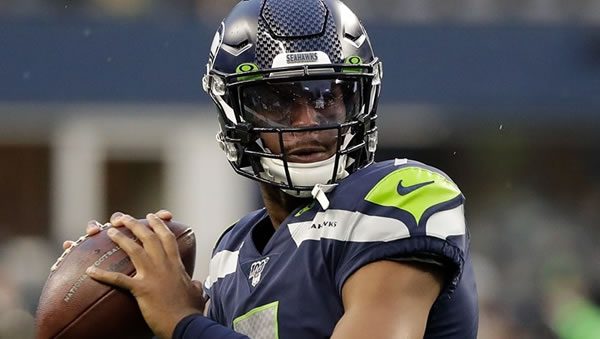 Seattle Seahawks (2-3 SU, 2-3 ATS) vs. Pittsburgh Steelers (2-3 SU, 2-3 ATS)
Date/Time: Sunday, October 17, 8:20 EST
Where: Heinz Field, Pittsburgh
TV: NBC
Point Spread: Sea +5 / Pitt -5 (MyBookie)
Over/Under Total: 42
Sunday Night Football travels to Steel City for a week 6 in a battle that looked a lot more intriguing two months ago than it seems now. These two perennial Super Bowl contenders both sit at 2-3, last in their divisions but will try to kick start their season this week. Betanysports.eu is making the Steelers 5 point favorites and setting the game total at 42. The play is to ride Geno Smith as he takes over for the injured Russell Wilson to cover the 5 point spread. Here is the handicap.
Pittsburgh Doesn't Deserve to be 5 Point Favorites Against Anybody
The 2021 Steelers have two fairly good wins under their belt, they took down the Bills in Week 1 and then, after three losses, topped the 3-1 Broncos. It doesn't take a Quarterback Guru to see that Big Ben is toast, that he can't move to extend plays, and that he should have rode into the sunset last January. Roethlisberger ranks 26th in the league in both yards per attempt and QB Rating, and there is every reason to believe it will get worse as the league wears on. To add to his problems this week, slot receiver JuJu Smith-Schuster will be out after suffering a shoulder injury last week against the Broncos. Ben still has Chase Claypool and Diontae Johnson to work the ball downfield to. These are both very capable receivers, but the problem is with Ben, and his offensive line is one of the worst in the league, so they aren't helping him. Rookie running back Najee Harris is doing everything he can, averaging 100 yards from scrimmage each game, but defenses know what's coming and are gearing up to stop it. The Steelers offense is 27th in scoring, averaging less than 19 points per game. Look for the Steeler offensive woes to continue this week. The Seahawk defense isn't anything special, but Roethlisberger and this offense have a very low ceiling which we will all see on Sunday Night Football.
The Steeler defense has been nothing special either. They are middle of the pack in the opponent's yards per play, and points allowed. T.J. Watt has missed some time but is back doing what he does best, wreaking havoc for opposing quarterbacks. Watt has registered five sacks in his four games, but the balance of the Steelers has only added five more sacks. Count on Seattle focusing on Watt to at least prevent him from taking over the game. Pittsburgh has struggled on the back end defending wide receivers, and their linebackers cannot cover running backs, so even Geno Smith should be able to get first downs and put points on the board. This is not the Steel Curtain we were expecting this year, so don't look for the Steeler D to hold the Seahawks under 20 points on Sunday Night.
Seattle Is a Desperate Team
Seattle came into the season knowing they play in the best division in the NFL, and the road to the playoffs would be tough. Sitting at 2-3 and playing at least the next three games without Wilson, Coach Pete Carroll knows his team must come out with their hair on fire and get a W this week. Smith is a capable backup. He looked capable last week when he was forced into action and will be working with one of the best receiving tandems in the NFL. Pittsburgh will have their hands full guarding D.K. Metcalf and Tyler Lockett, both of whom are averaging over 15 yards per catch on 25 catches and have combined for eight touchdowns. Seattle should have Chris Carson back to lead the rushing attack that has averaged 4.3 yards per carry which is good for 10th in the league. Steeler defensive linemen Stephon Tuitt and Tyson Alualu can clog up the middle, but both are likely out this week. Even so, getting yards on the ground will not be easy for the Seahawks, so Smith will have to be sharp in the passing game.
Seattle's defense should be looking forward to playing the Pittsburgh offense. The Seattle D is currently last in yards allowed but should fare better this week. Seattle has faced some of the best offenses in the league through 5 weeks, so look for better results this week. Seattle should be able to get penetration upfront and take advantage of Big Ben. Look for Jamal Adams to be all over the field and cause trouble for Roethlisberger and in the running game. Seattle's D can't dominate a game, but they can hold this Steeler offense in check.
More Picks: Need more advice? Check out what the Pros are Playing >>>
The Spot Favors the Seahawks
Pittsburgh as a big home favorite is almost an automatic fade. In the last five years, the Steelers are 19-29 ATS as a favorite and 12-18 ATS as a home favorite. During the same time period, the Seahawks are 15-10 ATS as an underdog and 12-7 ATS as a road dog. The Hawks are also 13-7 ATS after a loss. Playing with a backup quarterback will only make these trends more relevant. Pittsburgh could easily have a weak effort after a good win against Denver and not having to face Russell Wilson. Seattle, on the other hand, will know that they have to come together and play their best game to have a chance to win on the road. Carroll is a great motivator in these spots, so his team will be laser-focused. This is a classic Tomlin let-down spot where the Steelers sleepwalk through the first three quarters, and the game comes down to the wire.
Take the Points and the Seahawks
If you remember watching Geno Smith play quarterback from his days with the Jets, this won't be easy, but they play in Pittsburgh is to back Smith and the Seahawks +5 against the Steelers.