TNF Best Bet: Cincinnati Bengals at Cleveland Browns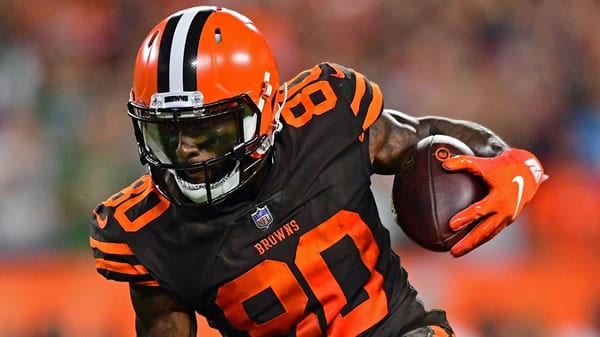 Cincinnati Bengals (0-1 SU, 0-1 ATS) vs. Cleveland Browns (0-1 SU, 0-0-1 ATS)
Week 2 NFL
Date/Time: Thursday Night Football, September 17, 2020 at 8:20PM EDT
Where: FirstEnergy Stadium, Cleveland, Ohio
TV: NFL Network
Point Spread: CIN +6/CLE -6 (BetNow - Currently running a 100% Bonus!)
Over/Under Total: 44.5
The Cincinnati Bengals take on the Cleveland Browns in this all-Ohio week two AFC North showdown on Thursday Night Football. Neither team was able to get the "W" on Sunday in week one. The Browns were soundly battered, suffering a 38-6 humiliation to the Ravens. If you were inclined to cut them some slack, it came on the road against an outstanding team, though camouflaging a 32-point defeat isn't easy to do. Cincinnati fell to the Chargers at home, 16-13. They should have tied the game, with a missed FG spoiling Joe Burrow's debut. But unlike Cleveland, there were some good things from that game that the Bengals could build on. Who can shine on the short week in Cleveland?
Same Issues with Browns?
It's pretty clear that those who insisted the Browns will be good the last few years need to cool it already. It's enough. When a franchise is entrenched in a long-losing tradition, turning it around is no cinch. Let's also keep in mind that these week one results are easy to misinterpret. It's a one-game window at the end of the day. And just because everything culminates into that moment, it still needs to be looked at as any other one-game sample. Sure, we can take notes on what worked and what didn't or just get a general read on a team. But making any concrete conclusions could have you chasing your tail the rest of the season. So yeah, Cleveland looked as ragged as they did at any time last season, but it's one game, and it was against the leading conference favorite.
Still, some things looked the same. Baker Mayfield threw another pick and barely completed half of his passes. A receiver crew that looks good on paper didn't materialize. Odell Beckham Jr. will have big games but doesn't appear to be the consistent contributor of years past. If looking for some positive signs—the O-line kept Mayfield protected, at least some of the time, while holes were opened for the run-game, a part of their outlook that they had to abandon as they fell so far behind.
BET YOUR WEEK 2 NFL PICKS FOR FREE! DEPOSIT $250, GET $250 FREE AT MYBOOKIE!
One should hesitate in taking a Cleveland defense too much to task for doing the same thing all teams seem to do when playing the Ravens, which is falling apart. That front actually did pretty well, applying some pressure to Lamar Jackson, while holding the Ravens to 3.6 yards per run, allowing just a few big runs on the day. It's just with all the money and high picks the Browns have spent on defense, they still don't really ever seem to get the results from their back-seven that you would tend to project. This game should be a better measure of where they really stand, as again, judging defenses after they played Baltimore paints a less-flattering image than normal.
First Impressions of Burrow and The Bengals
When Burrow ran in a 23-yard TD in the first quarter to take a 7-0 lead, things were looking pretty good. Fast forward three-plus quarters, and things weren't looking so good with only two FGs of production over the rest of the game, including a key miss that cost them a possible win. So there were some issues. But against an attacking Chargers' defense, Burrow showed a lot in his first game and held up remarkably well. He moved really well with his legs, and the O-line wasn't terrible, even springing a bit of a run game. Working against a tough and playmaking Chargers' secondary, Burrow did throw a pick and didn't connect well with his receivers, but still hung in there and gave his team a chance to win.
Granted, the Chargers' offense is in a state of transition, and with Tyrod Taylor behind center, they're a more-subdued version of what they were, but the Bengals' defense performed better than some suspected. Not having Geno Atkins in there hurt the front and their run-stop. But the back-seven played really well, and outside of two big pass-plays in excess of 30 yards, the Chargers faced a lot of resistance. They face a more aerially-inclined quarterback this week in Mayfield, but they at least didn't appear hopeless, as some were predicting of this defense.
Last Season
Even with the Bengals squarely in the dumps last season, they still split two games with the Browns in 2019. They lost a one-score game in Cleveland in week 14, before beating Cincy at Paul Brown Stadium in week 17 by a 33-23 score. What that means now is debatable. But when even a tanking Cincy team manages to hang in there and even win a game against a team that had loaded up for a big run, it at least suggests that they match up decently. Despite all their shiny individual parts, the Browns could barely get any separation last season when the Bengals were in a deflated headspace.
Other Factors
Based on last week's result, one should expect some urgency on the part of the Browns and head coach Kevin Stefanski. Losing to the Ravens on the road is one thing. That can be chalked up as a rough day, and they can move on with a clear head and some optimism. However, a loss at home to the Bengals would put the Browns squarely in the dumps again. With high hopes and a roster that suggests a playoff team, this is as urgent as you'll typically see a team in a week two setting.
Take the Road Dogs
On top of their other issues, Cleveland is also nursing some injuries. Already missing pieces in the secondary, they now have CB William Jackson, III. is listed as questionable, as well as starting LB Jacob Phillips. Starting LT, rookie Jedrick Wills, is also questionable. Cincy would like to get Atkins back to take advantage of that. This is a big stage, a spotlight game, where Joe Burrow has thrived before. I see him doing better in this spot, and while I see the Cleveland offense making more noise this week, I see Cincy hanging in there and covering the spread.
Loot's Prediction to Cover the Point Spread: I'm betting on the Cincinnati Bengals plus 6 points. This would be a GREAT game to throw into a teaser bet! Find the biggest teasers (up to 20 points) at Wagerweb Sportsbook!
Football Betting Guide
New to football betting? NFL point spreads can be confusing at first, but our how to bet on football article help you bet like a seasoned pro! You'll also learn how to wager on teasers, parlays, over/unders, prop bets, futures and how point buying works.