TNF Pick: Miami Dolphins vs. Jacksonville Jaguars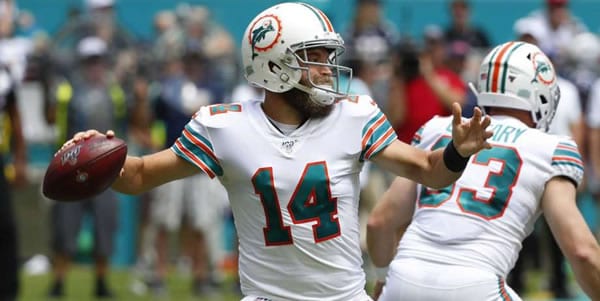 Miami Dolphins (0-2 SU, 1-1 ATS) vs. Jacksonville Jaguars (1-1 SU, 2-0 ATS)
Week 3 NFL
Date/Time: Thursday Night Football, September 24, 2020 at 8:20PM EDT
Where: TIAA Bank Stadium, Jacksonville, Florida
TV: NBC
Point Spread: MIA +2.5/JAC -2.5
Over/Under Total: 47.5
The Miami Dolphins come into TIAA Bank Stadium for a Thursday Night Football showdown with the Jacksonville Jaguars. The Dolphins sit at 0-2, but in losing to the Patriots, 21-11, in Foxborough and narrowly losing to the Bills on Sunday, 31-28, they are showing that they can't be taken for granted. Jacksonville wasn't able to follow up on their week one upset over the Colts, falling at home, 33-30, to the Titans. But in covering their second straight spread to begin the season, they also haven't been the doormat some suspected. Which team can shine in this spotlight game on Thursday?
Signs of Life From Both Teams
Betting against the Dolphins and Jags to start the season may have seemed like a good idea, but that would have resulted in a 1-3 record ATS, with the one cover being a narrow one. The Dolphins have many issues, make no mistake, but in going toe-to-toe in two games with the AFC East division's best means, they might not be out of their element in this spot. Even with limited weaponry, they're hanging in there. Ryan Fitzpatrick was a lot better on Sunday, and for all his faults, when he's on, he's really good. But while the offense was a lot better on Sunday, the "D" was not. And in giving up 417 yards to Josh Allen, it's still clear that it's hard to get everything on this team working well at the same time.
It was a little disheartening to see Jacksonville fight so hard to get back into the game on Sunday against the Titans, only to let it all slip away late. But through two weeks, it's fair to say they've over-performed for a team many had shoveled dirt on. Gardner Minshew is really an X-factor at quarterback, oscillating from awful to brilliant without much notice. And with added experience, he seems to be poised to have a nice season. He was good again on Sunday, though two picks were costly, especially the late one that sealed it for Tennessee. He was still impressive in spots, with 339 yards and three touchdowns. The defense was battered early, but tightened up late for the comeback attempt, only to fall a little short at the end. Still, it's not so bad through two weeks for the Jags.
Matchup Advantages for the Jaguars
Minshew should have opportunities to pick up big chunks of yardage against this Miami defense. The Dolphins' secondary may have held up against Cam Newton in week one, but looked awful in spots against Buffalo, with virtually all Bills' main receivers having big games on Sunday. The Jacksonville offense might lack star-power. In fact, they are relatively anonymous, for the most part. But they have an interesting rookie back in James Robinson, an undrafted free agent who is showing a lot of heart while also showcasing a nice ball-catching knack. Rookie Laviska Shenault, Jr. gives them some interesting possibilities, as the rookie WR can also run the ball. Add ball-catching talent like DJ Chark, Keelan Cole, Chris Conley, and Tyler Eifert, and maybe what they lack in Q-rating, they make up for in-depth and variety. It's entirely possible that we've underrated this offense a little bit heading into this season, and 57 combined points against the Colts and Titans attests to that. Against Miami, it would stand to the reason that the point-total could swell this week.
The Jacksonville defense is another matter, but it's still a part of the team where some went overboard in their critique heading into 2020. Against two offenses that can do damage, they've really only had one bad half. Largely ineffective against Ryan Tannehill, there is no questioning that the secondary has taken a few steps back in recent years. Their playmaking ability came into play in week one, keeping them in the game and largely responsible for the win. But they were still porous in week one and followed suit last Sunday, giving up nearly a picture-perfect game to Tannehill.
What Miami Needs To Do
Through two games, the Jaguars' defense has been stuffing the run, for the most part, quite a testament going against two opponents with strong running-attacks. With Miami depending on Matt Breida and Myles Gaskin, it's a useful combo, but not one that figures to do a lot of damage on a consistent basis. One can expect more of an aerial flair from the Dolphins this week, and that could be to their benefit. Again, through two games, the Jacksonville secondary has flashed some playmaking appeal, but appear to be one of the more-readily-exploitable units in the conference. Miami could also be in the running for that honor. At any rate, even with a ball-catching corps that doesn't get the blood pumping with Dede Westbrook (questionable), Devante Parker. Mike Gesicki, Isaiah Ford, and Preston Williams, it's really their best chance in this spot.
Fitzpatrick has shown that in the right spots, he can still create a lot of mayhem aerially. He's not dependable, can be mistake-prone, and is wildly-inconsistent, but this also looms as a spot where he could have one of those eye-popping stat lines. If he can take care of the ball, a recurring issue, the Miami offense could easily be right in the mix. But while Jacksonville has lost a lot of its horses, they can still capitalize on mistakes. And Miami's offense makes its share of them.
Take the Points
I'm not sure I like Jacksonville in this role. If people aren't expecting much from the Jaguars and you think they could be alive in a matchup, that's one thing. Like they did the first few weeks—performing better than expected when what was expected is that they were going to be destroyed. That doesn't mean they're ready to shine as a home favorite on Thursday Night Football. Still, if it were to happen, why not here? I just think Miami is going to be able to get in the end zone with enough frequency to keep this one respectable. I'll take the Dolphins.
Loot's Prediction to Cover the Point Spread: I'm betting on the Miami Dolphins plus 2.5 points.
$100% Cash up to $500

STOP LOSING TODAY! START WINNING WITH DOC'S TEAM OF PROFESSIONALS! GET A FREE NO STRINGS ATTACHED $60 FOR THIS WEEKEND'S GAMES!