TNF Pick: Pittsburgh Steelers vs. Cleveland Browns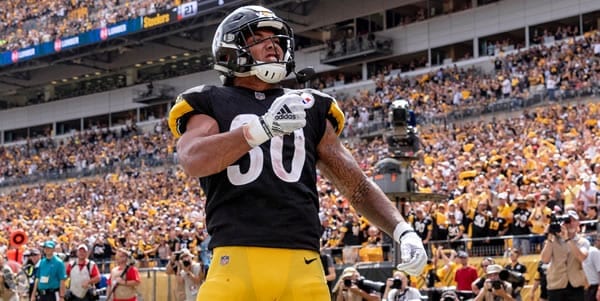 Pittsburgh Steelers (5-4 SU, 6-3 ATS) vs. Cleveland Browns (3-6 SU, 2-6-1 ATS)
NFL Week 11
Date/Time: Thursday Night Football, November 14, 2019 at 8:20PM EST
Where: FirstEnergy Stadium, Cleveland, Ohio
TV: Fox/NFL
Point Spread: PIT +2.5/CLE -2.5 (BetNow - 50% REAL CASH Bonus up to $1000!)
Over/Under Total: 40.5
The Pittsburgh Steelers face the Cleveland Browns in an AFC North battle on Thursday Night Football in week 11. Both teams are coming off wins. For the Steelers, it was their fourth in a row—a 17-12 win over the Rams at home that helped bring their record to 5-4. They now look to make some noise in their own division. Cleveland was able to pump some needed life into their season with a nice 19-16 win over Buffalo on Sunday. Can they keep the good momentum going at home? Or will they be easy pickings for a surging Pittsburgh squad?
Why the Steelers' Surge is Bad News for Cleveland
It's just tough that on the heels of a nice win, they now host a team that is peaking. The Browns are catching no favors on the scheduling front, and they would rather have played the Steelers several weeks ago. It's just when you're trying to find your footing on offense, the last thing you want to face is a peaking stout defense that can alter games with their big-play ability.
The Pittsburgh defense is really in a groove now, coming out of the funk it was earlier in the season. With the Cleveland offense a mistake-prone one so far this season, it's a part of the game that could be result-shifting. And since adding Minkah Fitzpatrick, who scored another TD on Sunday off a fumble, while securing a critical pick late in the game, their big-play component has only been enhanced. They had three picks on Sunday, while also applying a steady pass-rush. They seem to be relishing in their newfound success, knowing they're a key part of it. They play with joy and are a very physical and opportunistic group. Against the error-prone Browns with all their turnovers, look out!
Issues in this Game for the Steelers
For all their prowess on defense, the Steelers are going to need to put up some points in some of these games. They need a point-output in their higher range this weel. And there are issues—beyond just having Mason Rudolph in there, as James Conner missed the last game (should return this week) and an already threadbare receiver crew was compromised by a less-than-100% JuJu Smith-Schuster. If not for their defense scoring points, they would have lost to the Rams. And while it's great to have a "D" pitching in like that, this could be a game where they have to keep pace with a dangerous offense. Say the Browns get a couple of big plays and a defensive or special teams score, the Pittsburgh offense is going to be under a lot of pressure. A touchdown here and a field goal there might not be enough.
We do this EVERY week! We're FREE! Please consider bookmarking this page! –>
NFL Football Picks
Avenues to Victory for Cleveland
The Bills have an offense that can be stymied, so the Browns doing well against them on Sunday doesn't mean a whole lot perhaps. Still, the Steelers' offense lacks almost all of its prior firepower, and the Browns' defense could compete. They need to get that pass-rush going again, with Myles Garrett quiet in their last few games. But they've been a little better against the run and looked good on Sunday. With the Steelers' struggling to gain any momentum on the ground, they could be left to taking to the air with a depleted aerial crew against a Cleveland secondary that has been pretty stout this season.
You also have a Cleveland offense with more options. On Sunday, we at least saw what could be, with Mayfield having an efficient game. Nick Chubb is a big factor and was again over 100 yards on Sunday. Odell Beckham and Jarvis Landry led the aerial charge, and you could at least see roles being more established. When you see a top pick at QB, two star receivers, and a blossoming stud running back and compare it to the Steelers' depleted offense, it just gives you pause.
Teams also respond differently to varying expectations, sentiments, and feelings in the locker-room. After coming up well short of fulfilling their role as conference contenders this season, maybe reality setting in is a good thing. Perhaps the Browns can get into a groove better now that all the attention is off them. Going from celebrated to ridiculed maybe gave them a little edge that they were missing to open the season. Then again, they just beat Buffalo—that's it. While a nice win, they have a lot of ground to make up.
The Power of Momentum
It's not just a matter of momentum or inertia. With the Steelers, it's the range they covered in getting to this spot. Starting the season looking to get this team back on the right track after missing the playoffs last year, they fell hard. They lost Big Ben. Even Rudolph went down, and they were playing with their third-stringer for a while, an undrafted rookie free agent. To then rise up from that somehow and grab hold of something good says a lot about the leadership on the team and their resolve and wherewithal. Contrast that to a chronically-underachieving Cleveland team, with their 3-6 mark beyond even what their biggest pessimists in the preseason were predicting. Who would you rather have your money on?
Take the Road Dog
Granted, the lack of firepower on offense will likely cost the Steelers at some point. But I'm not so sure about the Cleveland offense, either. At least Pittsburgh has an excuse, but why exactly is Cleveland squarely a bottom-half offense? I see a game where points might be hard to come by, with the Steelers' defense doing just enough to edge the team over for the cover. I'll take the Steelers.
Loot's Pick to Cover the Point Spread: I'm betting on the Pittsburgh Steelers plus 2.5 points. Bet this game and ALL your football, baseball and basketball picks at DISCOUNTED odds! Yes, you don't have to lay -110! You can lay -105 at BetAnySports which will save you BIG money! They've been around forever and are ROCK SOLID!