Washington Football Team vs. Dallas Cowboys Week 12 Picks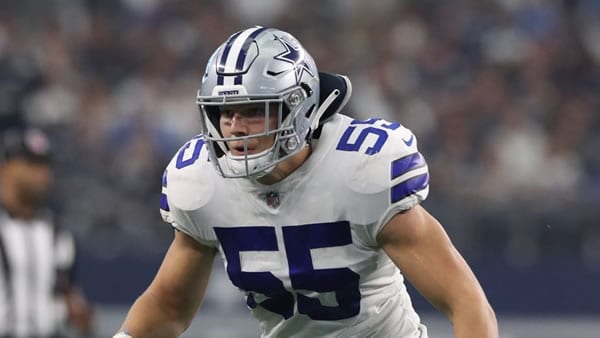 Washington Football Team (3-7 SU, 5-5 ATS) vs. Dallas Cowboys (3-7 SU, 2-8 ATS)
When: Thursday, November 26, 4:30 p.m.
Where: AT&T Stadium, Arlington, Texas
TV: Fox
Point Spread: WAS +2.5/DAL -2.5 (Best Turkey Day Bonuses)
Total: O/U 46.5
Outlook
Believe it or not, if the Eagles get beat on Sunday, the winner of this game will be tied for first place in the NFC East. That's a bizarre statement about a pair of 3-7 teams, but that's life in 2020 for you. Washington was the recipient of good fortune when it coasted to a 20-9 win over the Bengals in part because Joe Burrow got injured and is now out for the season, sapping Cincinnati of anything productive in its offense.
Meanwhile, Dallas has actually started to look like an NFL team in the past two weeks, as it played the unbeaten Steelers tough and upset the Vikings on the road. Andy Dalton is now back from injury, and as long as the Cowboys aren't playing at night, they look like they could surprise a few people over the remainder of the season. They've certainly got the right opponent for building momentum, as they've had Washington's number when the teams have met in north Texas. Dallas has won four straight over Washington at AT&T Stadium, and the Cowboys haven't put up fewer than 31 points in that stretch. Plus, a win here would give Washington a season sweep of Dallas, something that the Football Team has only done once in the past 14 seasons (2012). A win here would also give Washington something it hasn't experienced in 2020 — a road victory.
How the Public is Betting the Washington/Dallas Game
Fool me once, shame on you. Fool me twice, shame on me. Fool me eight times, you're the Dallas Cowboys, and the public is frankly sick of it. Despite Dallas covering its past two games and scoring 31 points against Minnesota, the public is not buying the Cowboys as a good offense, as the number has already dropped from 48 to 46.5. However, the public does still believe in the Cowboys' ability to beat the Football Team in Dallas, as 67 percent of tickets have come in on the Cowboys, and the number has increased from -1.5 to -2.5.
Injury Concerns
Washington:
Quarterback Kyle Allen (ankle), tackle Saahdiq Charles (knee), and defensive tackle Matt Ioannidis (bicep) are on injured reserve, while tackle Geron Christian (knee) is out indefinitely. Running back Bryce Love (knee), wide receiver Dontrelle Inman (hamstring), linebacker Jared Norris (hamstring), tackle Cornelius Lucas (ankle), safety Deshazor Everett (ankle), and linebacker Ryan Anderson (knee) are all questionable.
Dallas:
Punter Chris Jones (abdominal), cornerback Trevon Diggs (foot), and center Tyler Biadasz (hamstring) are all out indefinitely.
When Washington Has the Ball
If the Football Team is going to have any success over the remainder of the year, it has to clean up the turnovers. Washington has really struggled to keep the football as of late, going minus-7 in the turnover battle since the win over the Cowboys, including an ugly five-giveaway showing against the Giants. The big problem for Washington in recent weeks is that Alex Smith has had to try to do too much, in large part because Washington hasn't had anything resembling a running game. The Football Team finally got something going on the ground against Cincinnati because the Bengals were toothless without Joe Burrow, which allowed Washington the rare pleasure of playing from ahead.
But the Football Team probably won't be able to do that in this game because when things are clicking, Dallas can score quickly. That means Smith is likely to press, and how well Washington does depends almost entirely on whether Smith plays as he did in Detroit or like he did against New York. If Smith looks like he did at Ford Field, Washington has a good chance, as Smith tossed three touchdowns in that game and led a solid comeback in the second half. If Smith looks like he did at home against the Giants, Dallas will cruise to victory, as Smith tossed three interceptions and found a way to lose at home to Daniel Jones.
A successful game for Washington would mean Terry McLaurin finding open space in the Dallas secondary and getting at least 100 receiving yards and a touchdown. At the same time, Antonio Gibson needs to at least keep the offense on the field. If Washington is going three-and-out, or worse, giving Dallas short fields with turnovers, it'll be a long day.
BET YOUR THANKSGIVING DAY GAMES FOR FREE BY SCORING A 100% REAL CASH BONUS! DEPOSIT $100 TO $300 AND RECEIVE A DOLLAR FOR DOLLAR MATCH AT MYBOOKIE SPORTSBOOK! MUST USE BONUS CODE: PREDICT100
When Dallas Has the Ball
Andy Dalton is back and looks like he's ready to put the past behind him. Dalton initially looked like his career was on his last legs when he took over from Dak Prescott, as the Cowboys were quickly crushed by Arizona and Washington in his first two starts. But Dallas has started to look more like its old self over the past two weeks, which gives the Cowboys some reason to hope that they can somehow steal this division.
Like Washington, Dallas has to stop turning the ball over if it's going to be successful. Unlike Washington, Dallas can actually move the ball on the ground. Ezekiel Elliott topped 100 yards on the ground at Minnesota, and Washington is a lot weaker against the run than it is against the pass. Elliott struggled to get going in the Football Team's win earlier this season, but historically, Elliott has torn up the Football Team when the teams meet in Texas. In three meetings with Washington at AT&T Stadium, Elliott has 340 yards and four touchdowns to his name, and he's going to need to be at his best for Dallas to get a result.
Betting Trends
Want to win some money off your relatives? Wait until halftime, and then bet your uncle that Dallas won't score a touchdown in the third quarter. Ideally, the Cowboys will be coming off another solid first half, making this look like you're taking the wrong end of a bet. But here's what you'll know that your uncle doesn't: Dallas hasn't scored a touchdown in the third quarter since Week 5, and Washington has only given up two touchdowns in the third quarter all season. Whatever Ron Rivera's doing at halftime is working for his defense, and it's an angle that you can definitely exploit.
As for the total, don't read too much into the Football Team's 25-3 win in Washington. Over the past five years, the higher scoring game of the season has been in Dallas four times, with the one exception coming in 2017 when the teams put up 52 points in both games. Only one of the past eight meetings between the teams in Arlington has gone under the total of 46.5 points, so there could be good value here.
Previous visits to Dallas haven't gone well at all for Washington, nor has traveling for the Football Team in 2020 in general. Washington has failed to cover in its past three trips to Dallas, and in 2020, the Football Team is 0-4 SU and 1-3 ATS away from home. Plus, the defense has really struggled to stop opponents on their home turf. Washington's given up at least 30 points in three of its four road games this year, with the lone exception being a visit to the offensively-challenged Giants.
Weather Report
The roof looks like it will be open for Thanksgiving Day, as forecasts call for partly sunny skies and 76 degree weather, with the wind coming at a mild eight miles per hour and going south-southeast.
Dan's Pick to Cover the Spread
The public no longer believes in Dallas, which makes this the perfect time to go for the Cowboys. Dallas is playing its best football of the season right now (not that that's saying much), and the Football Team has been truly terrible when it plays on the road. Plus, Washington's been to Dallas eight times on Thanksgiving since 1974. With the exception of 2016, the Football Team has played the role of gracious guest quite well, as the Cowboys have won the other seven matchups and usually done so relatively comfortably.
I have no issues giving 2.5 points in this spot. Give me the Cowboys and the over, but take the Cowboys now and take the over later in the week, as I think the public is going to keep hammering the under and give us a more favorable bet on the total. Hey, while I've got your attention… We're likely to get a whole bunch of new eyeballs on our site this weekend so thought we'd share some very valuable information with ya. When you bet on games, there's a 99% chance that you're laying/risking -110 odds on your bets. Did you know that there are a couple places online (solid sportsbooks) where you only have to lay -105? Imagine how much money this would save you over the years. Thousands of dollars! Find this beautiful offer at BetAnySports! You'll be so glad you made the switch!
Football Betting Guide
New to football betting? NFL point spreads can be confusing at first, but our how to bet on football article help you bet like a seasoned pro! You'll also learn how to wager on teasers, parlays, over/unders, prop bets, futures and how point buying works.