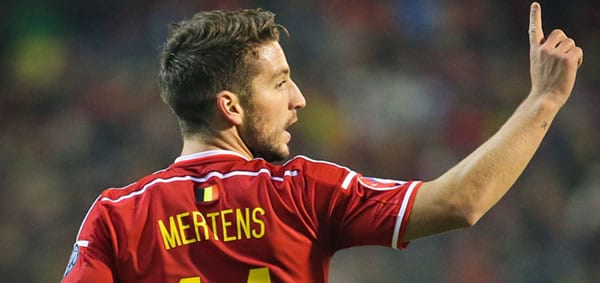 We're now just two months away from the European championships, postponed by a year because of COVID. It's a bit weird to see the Euros held in an odd year instead of the traditional two years after the World Cup, but luckily, UEFA's decision to postpone means that fans will be allowed in the stands at most of the venues across the European continent.
When betting futures markets for the Euros, it's important to remember that the bracket determines a lot about how far a team can go. These groups were not randomized because of each group containing a host team, so the knockout stage bracket already appears to favor specific teams more than others, simply based on who will most likely be in their path.
Another thing to remember is that surprises don't often happen in this tournament. They do occur, such as when Greece shocked everyone in 2004 to claim the title and when Denmark won the 1992 title despite failing to qualify for the tournament in the first place (long story), but nine of the 15 European championships have gone to four soccer bluebloods: France, Germany, Italy, and Spain.
But Portugal wasn't a big surprise as a first-time champion in 2016, and it wouldn't shock anyone if Belgium or England won their first European title this time around. Here's a quick look at a few teams I'll be considering, plus a couple of favorites that I likely won't be backing.
Belgium +550
This is the team I want to back in this tournament for a few reasons. First, Belgium did get a bit of a raw deal in that it was the only top seed to draw a group with two hosts, but neither Denmark nor Russia is all that menacing as a host team. Belgium already went to Copenhagen and beat Denmark during Nations League play last year, and Russia managed to get beat by a badly-out-of-form Slovakia in its most recent World Cup qualifier, so facing these two and debutante Finland shouldn't worry the Red Devils much.
Second, assuming that Belgium can make it through the group in pole position, the draw opens up for Roberto Martinez's squad. The Red Devils would face a third-place side in the round of 16 before a likely quarterfinal with Italy, a very winnable match. Unless there are significant upsets in the group stage, Belgium wouldn't come across England, France, or Spain until the semifinals, making this a very realistic ask for the Red Devils.
Third, and most important, this is probably the last, best chance that Belgium has to win a European championship with this golden generation. This and the 2022 World Cup are probably the previous tournaments that this group will play a major role in, as the likes of Axel Witsel, Dries Mertens, and Eden Hazard are already on the wrong side of 30, with Kevin de Bruyne joining them there next year. Given that former captain Vincent Kompany has already retired at age 34, most of this group probably won't be around for Euro 2024, meaning it's now or never if Belgium is going to become champions of Europe. That's the situation I want with my champion.
DEPOSIT $200 AND GET $200 FREE AT GTBETS SPORTSBOOK!
England +500
Buyer beware. England might be the favorites in the tournament, given that the semifinals and finals will be held in London, but you might want to pump the brakes on Gareth Southgate's men here. First, the Three Lions are not exactly playing top-quality defense as of late. England looked shaky against Poland in its recent World Cup qualifier, and losses to Denmark and Belgium within the past calendar year show that this side can be beaten.
Second, England's draw is brutal. Let's say that the Three Lions run through the group unscathed and earn the first position in Group D. Guess who will be waiting for them in Ireland? The runner-up from Group F, also known as the Group of Death. Barring a major surprise, that means an early date with either 2018 World Cup champion France, 2016 European champion Portugal or 2014 World Cup champion Germany. Any time facing Germany is the best option of the three; you know that you've been handed a nightmarish draw. And if England survives, they've probably got the 2012 European champion in the quarterfinals in the form of Spain…and the Three Lions still have two matches to go.
Honestly, just like in the 2018 World Cup, which saw one half of the bracket stacked and the other soft (which allowed Croatia to reach the final), England would probably be better off dropping to second and going that direction. But unlike in 2018, when England openly played for a loss against Belgium because it knew it was through to the knockout stages, the Three Lions can't do that here. They open with Croatia, the most likely team to win the group other than themselves, and losing that match would put England in peril if they slip up to Scotland or the Czech Republic. England's going to have to do this the hard way, and +500 isn't enough for that, in my opinion.
France +550
You won't see me making this bet for the 2022 World Cup because the Curse of the Champion is very real when a European side wins the World Cup. But reigning World Cup winners have done very well at the following Euro, with Germany reaching the semifinals in 2016 and Spain winning the title in 2012. Since the tournament expanded past eight teams in 1996, the defending World Cup champion has at least reached the quarterfinals at the following Euro when it was eligible to compete in Euros. (The exception was 2004 when the reigning world champion was South American nation Brazil and Greece came out of nowhere to win the title.)
France's group is brutal on paper but might be a little easier than it looks. Germany has already announced that coach Joachim Loew will leave after Euros, and Die Mannschaft looks rusted and wornout after losing to North Macedonia at home. Portugal is the 2016 European champion, but Cristiano Ronaldo is now 36 years old and can't carry the team by himself anymore. France has plenty of young talent and has looked very good during qualifiers, taking just one loss at Turkey in 10 overall matches. Kylian Mbappe should be even better than he was in Russia in 2018, and there's still enough left in Antoine Griezmann at age 30 to trouble defenses.
Plus, if France can survive the group, the draw opens up considerably. As the winner of Group F, France would be one of two group winners that will not play another group winner until the semifinals. A semifinal appearance should be expected here, and it wouldn't shock anyone to see France lifting a trophy for the second time in three years.
Spain +700
This is more because Spain got dealt a relatively soft group as opposed to anything that La Furia Roja has done on the pitch as of late. Slovakia looks overmatched after a pair of draws with the likes of Cyprus and Malta (although they did manage to upset Russia), and Sweden and Poland are only average sides that really shouldn't threaten Spain all that much in the group stage.
But beyond the group stage, it's not looking all that great for Spain. The Spanish really struggled at Georgia and nearly ended up with a draw to the eastern European minnows, which isn't good preparation at all for the likes of England, France, or Portugal, one of whom will almost certainly be the opponent in the quarterfinals for Spain. La Furia Roja is unbeaten in its past six matches, but the hard reality is that other than a 6-0 thrashing of Germany (which appears totally lost at the moment), there hasn't been a lot to get excited about with this team. The defense is far too soft, and if you're giving up goals to the likes of Georgia and Kosovo, you're going to be in trouble against strong attacking sides, even if you do have Ferran Torres pushing your attack forward. There are better bets available.
BET ON SOCCER GAMES LIVE-IN-PROGRESS AT A SPORTSBOOK WHERE YOUR CREDIT CARD WILL WORK FOR DEPOSITS AND YOU GET A 50% BONUS! –> BOVADA!
Netherlands +900
I'm well aware that the Oranje were a wreck from 2015 to 2018. In the last two major tournaments, the Dutch failed to qualify, despite a very forgiving format at Euro 2016. But the Dutch made the last four at their last major tournament (the 2014 World Cup) and have looked a lot better in the past two editions of Nations League. They didn't botch qualifiers this time, as they rolled through Northern Ireland, Belarus, and Estonia and split their two matches with Germany to ease into the final tournament.
Beyond that, the bracket has given the Oranje reason to believe that they can make a run. First, as one of the host nations, the Netherlands will not leave Amsterdam until the knockout stage. Second, they've been handed a very favorable quartet in Group C. Ukraine and Austria are solid teams, but neither should give the Oranje too many problems, and North Macedonia is easily the weakest squad in this tournament (even though they did manage to beat a suddenly subpar Germany in World Cup qualifiers). If they come through their group in first, they'll play a third-place side, most likely a beatable Poland or Sweden. Win there, and their likely opponent would be Wales, Switzerland, or Denmark, all of which are manageable.
The likely road gets difficult in the semifinals, where the Dutch would probably have to navigate through England or Spain, but getting +900 on a team that's playing good soccer and essentially has a glide path to the semifinals if they don't screw it up represents excellent value.
Denmark +2800
Denmark might be manageable for a top side, but they're also very capable of pulling a surprise because Kasper Schmeichel is a wall at the back for Danish Dynamite. Getting out of the group will be no easy task for the Danes in a group that includes World No. 1 Belgium, but at least Denmark won't have to leave Copenhagen during the group stage as the host for Group B.
The key for the Danes will be whether they can get off to a strong start in their group by taking down Finland in the latter's first-ever Euro match. When you draw the weakest side in the group in your first match, that match almost always determines whether or not you'll manage to make it out of your group and into the knockout stage. If Denmark does manage a second-place finish (likely the best the Danes can hope for in a group with Belgium), it'll actually be in a pretty good position to make a run. Nobody in Group A is particularly frightening (Wales has injury problems, and I'm not sold on Italy), and the Netherlands are probably the most manageable of the likely group winners. The semifinal and the likely duel with Spain or England that comes with it would surely be a problem, but I'll take +2800 on a team that has a reasonable chance to make it to the semifinals.
Wales +10000
Yes, Wales has some issues with injuries right now, but as long as Gareth Bale is on the pitch, the Dragons have a chance to breathe some fire. Realistically, Wales' best shot was probably 2016, when it made a run to the semifinals before falling to Portugal. Veterans like Aaron Ramsey and Hal Robson-Kanu have had problems with age and injuries, and they might or might not be on the pitch when the Welsh begin their run toward trying to go further than they did in 2016.
But with Bale and a host of young guns on the pitch, Wales has the ability to really scare some teams and drew a favorable bracket. Turkey has played well as of late, but facing them should be fairly manageable, and Italy and Switzerland aren't anywhere near as strong as some of the other seeded teams in this field. Wales can win this group if all the stars align and should be thinking a solid No. 2 in terms of coming out of this group. That would give the Dragons a pair of winnable matches to start off the knockout stage, increasing the likelihood they can make a return to the last four.
The big question here is whether Wales' young guns handle the moment well and produce. Bale had to do most of the work by himself in Wales' first two group games in 2016, and with several team members having sat out for much of the stock market rise, he might be called upon to get the Dragons into the knockout stage. The other worry is the travel involved, as Wales will be bouncing back between Rome and Baku, Azerbaijan, which could be rough on the roster. But for these odds, I'll take a shot despite the drawbacks. Bet the tournament for FREE by taking advantage of a HUGE 100% real cash bonus offer where you can deposit anywhere from $100 to $1000 and they'll match you dollar for dollar! Find this killer offer at BetNow Sportsbook!