Spain vs. Germany Predictions 9/3/20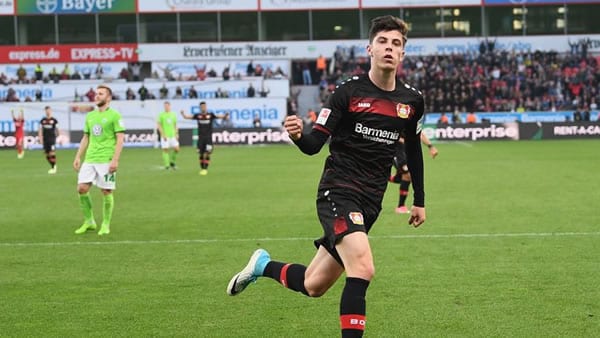 Spain vs. Germany
When: Thursday, September 3, 2:45 p.m.
Where: Mercedes-Benz Arena, Stuttgart, Germany
TV: ESPN
Point Spread: Spain +0.5/Germany -0.5
Moneyline: Spain +190/Germany +140/Draw +240
Total: Over 2.5 (-106)/Under 2.5 (-129)
Soccer lines available at 5Dimes - Bet on soccer at reduced odds!
Last Time Out:
Spain crushed Romania 5-0; Germany slammed Northern Ireland 6-1.
Previous meeting:
The teams drew 1-1 on March 23, 2018, at Esprit Arena in Dusseldorf, Germany.
About the Matchup:
Two of the European titans face off in the first match of the 2020 UEFA Nations League, with both teams approaching this as more of a time for transition before next year's European championships. Both countries believe that they've seen the window close on a generation that managed to win a World Cup title (Spain in 2010, Germany in 2014), and both have turned the page to a new generation of stars.
That could lead to a feeling-out process as both nations try to establish their footing in the competition as well as play their first competitive matches since the pandemic began. The teams haven't been together since March, and not every league in Europe has been playing, which might make for a slow start as Spain and Germany both try to establish their new identities in 2020.
Scouting Spain:
La Furia Roja was dealt a massive blow at the start of the week, as striker Adama Traore of Wolverhampton was officially ruled out of the match after an inconclusive test for COVID, leaving Spain down two strikers after Mikel Oyarzabal of Real Sociedad also tested positive and was ruled out of the game.
That really leaves the goal-scoring duties to fall to Ansu Fati. A 17-year-old striker who is viewed as the next big Spanish star. Fati scored seven goals for Barcelona in the 2019-20 season, no small feat for a player who won't turn 18 until the end of October. Fati has yet to play for the senior team in Spain prior to this match, so this will be a historic moment for the young star.
But the real concern for the Spaniards is whether they can actually prevent goals. Spain's backline has struggled in its past three matches away from home, as Romania, Norway, and Sweden all found the net against the Spanish. Making matters worse is that coach Luis Enrique doesn't exactly have much to choose from in goal, as keepers David de Gea (Manchester United) and Kepa Arrizabalaga (Chelsea) were both maligned for their performances during the season, with Kepa actually dropped for several matches because of his struggles. Given that Spain was never a great defensive side anyway, it's a genuine concern as to the confidence of the keepers right now.
Scouting Germany:
This is about redemption for coach Joachim Loew and Germany, as Die Mannschaft have been rather poor over the past two seasons. In 2018, Germany finished bottom of its group at the World Cup for the first time in its history, and the Germans followed that up with a last-place finish in its Nations League group last season, only spared relegation by a format change.
At first glance, it might seem that Loew is going for defense first given that he's only named two forwards to his squad, but when one of them is Timo Werner, and you've got Kai Havertz in the midfield, you really don't need a lot of offense beyond that. Havertz was Bayer Leverkusen's top threat in the Bundesliga, while Werner was the main man at RB Leipzig and has now moved on to Chelsea. Both will be expected to produce, and Loew has a lot riding on them doing exactly that.
That's because the Germany boss has decided to stick with a strategy of playing younger players like Havertz (21) and Werner (24) while ignoring past German heroes like Thomas Muller of Bayern Munich. Given that Bayern just proved itself the best team in the world by winning the Champions League, Loew's decision to take only two Bayern players while leaving proven winners off his squad will be heavily criticized should the Germans again fall short.
Dan's Best Bets:
The last four times that La Furia Roja has left the boundaries of Spain, it's let in a goal. That includes a trip to Torshavn, where the Faroe Islands managed to score before Spain pulled out a 2-1 win over the Faroes. The last time that Spain actually shut out an opponent outside of Spanish soil came on March 26, 2019, when Spain handled Malta 2-0 on the road.
Given that, I think there's outstanding value in taking Germany to win to nil at +310. Die Mannschaft is in better shape than Spain at the moment, given that it's at home, and it's bringing a full-strength roster to this matchup. Werner and Havertz on the same pitch should be an outstanding partnership, and the fact that Spain hasn't been able to keep out lesser sides should have both salivating.
So why take Germany to win to nil? This actually hasn't been a high-scoring fixture over the past few meetings. The teams have met four times in the past 12 years, and three of those have seen just one goal in the entire match, with 2018's 1-1 draw being the exception. Plus, Spain's down two of its best scorers, and goals might be tough to come by as a result. If you want to use history as your guide, backing a one-goal match will pay at +375, which might be the way to go with how these two will likely play not to lose.
Dan's Score Prediction:
These are not the normal European giants who have won two of the past three World Cups between them. These teams are entering a transition phase and want to get themselves ready for when the Euros take place next year. The result is very much secondary for Spain, which knows it's entering a new path and wants to get it going.
Not so for Germany, which is trying to speed up the process after its 2018 World Cup flameout. There's no question the pressure is on Loew, who might not survive much longer without Germany making a run in this tournament. As such, I'll go with the history and back another 1-0 game, this one going to Germany at +800. Bet the lowest priced favorites and highest paying underdogs at the web's best soccer betting site: 5Dimes Sportsbook!