UFC 239: Jon Jones vs. Thiago Santos Pick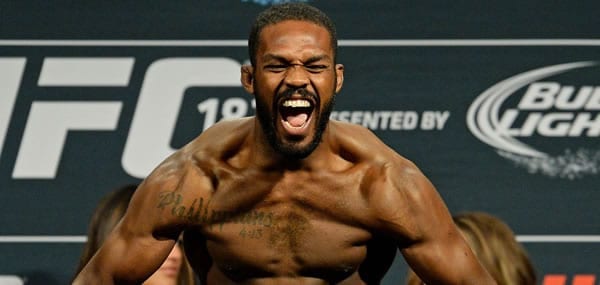 UFC 239: Jones vs. Santos Picks
When: Saturday, July 6, 2019
Where: T-Mobile Arena, Las Vegas, Nevada
TV: PPV
Fight Analysis:
UFC 239 features a world championship main event, with UFC Light Heavyweight Champion Jon Jones defending his title against dangerous challenger Thiago Santos. Firmly-entrenched once again as champion after some rough patches, Jones makes his third octagon appearance in the last 7 months, as he is once again active and at the top of his game. Santos, however, is a wild-card, a winner of 8 of 9 fights and a very dangerous fighter in his own right. He has knocked out some good competition, but now faces an entirely different level of competition against a fighter in Jones who many feel is the best to ever do it. Let's break down the UFC 239 main event!
Jon Jones, 24-1 (10 KOs, 6 Submissions), (-650) vs. Thiago Santos, 21-6 (15 KOs, 1 Submission), (+475)
Jon Jones defends his UFC 205-pound belt against Thiago Santos in the UFC 239 main event in Las Vegas. It's nice to see Jones back in the octagon, getting back to the business of being a powerhouse. After beating Alexander Gustafsson for the vacant title, he scored a title defense over Anthony Smith in March and now faces the dangerous Santos, who is four years older than Jones at 35. Santos is on a nice roll, with a lot of octagon success over the last several years. He faces long odds, however, for this title fight. Does he have a chance? Check Odds From The Best Bookmakers For The Highest UFC Payout!
When you look at Jones' professionalism, it really stands out. There may have been an occasion or two where he wasn't 100% prepared, but he still managed to win. A look at his resume reveals a long list of wins over what has been a golden era of 205-pounders. You name him and Jones has probably beaten him. You're not likely to catch Jones slacking. But Santos does possess some abilities that make him an interesting darkhorse, even in a fight that on the surface, is difficult to imagine him winning.
It's important to note Jones' fight IQ when we break down Santos' actual chances of winning this fight. It's true that Santos is deadly on his feet, wielding hammers that can short-circuit the brains of anyone upon who he lands cleanly. But Jones is very adept at using his range to avoid his opponent's advances. And if his opponent lands or threatens to land, Jones can take things down to the ground fairly easily. And it is in this area where Santos would appear to be in the most trouble. With Jones, you either have to out-strike him or it's probably not going to work. And the gulf between the two on the ground is vast indeed.
In a way, Santos is the ideal upset candidate on the basis of throwing shots meant to decapitate his foes. But there is such a kamikaze nature to his approach that it makes you wonder how it will fly against an opportunist in Jones. The champion really makes people pay for their mistakes. He has great vision of a fight and can see very clearly what's occurring. And while one would be tempted to say maybe he's taking this lightly, since when has he ever done that? Banking on a reduction of Jones' urgency is a pretty flimsy basis upon which to judge a fight.
50% Free Play up to $1,000

Still, Santos can't be categorically ruled out because if any opponent slips up, Santos has the ability to end things quickly with his violent striking. Santos isn't there to get to the latter rounds or to conserve energy. He's there to turn out a guy's lights. But Jones is a guy who moves and uses his range. He's not a guy looking to trade shots in the octagon. Jones is such an athletic marvel that his smarts get overlooked. He knows what Santos' only route to victory is and will be looking to take that element out of play.
Still, if one were inclined to take an underdog, it's usually a good idea to pick one who excels in one area. And Santos fits that bill with his power. But there are levels to this. You have rank-and-file contenders like Santos, guys on the fringe of championship status, actual champions, and then legends who are on the Mount Rushmore of mixed martial arts. Just in terms of classification, Jones is in another stratum than Santos. But power is the best way to take those large gulfs in talent and ability and make them narrower.
Still, Jones has been so dominant and against a higher level of fighter than Santos. You take a fighter like Daniel Cormier, who has run over light heavyweights and heavyweights with ease, and he never really threatened to beat Jones in two fights. And we can talk about PEDs all we want, but whether or not something is completely righteous isn't going to help us handicap this fight. It is what it is. And what it is happens to be the best fighter to ever stop in the octagon. I won't deny Santos has some underdog appeal with those big meat-hooks he swings. But just off the top of your head, wouldn't you want better than a +475 return on your money in the event that Santos was able to pull this off? You can nearly get that return by letting it ride and winning two blackjack hands. It's not nearly tantalizing enough.
Jones hasn't always taken his UFC career as seriously as most would like, but will Santos really be able to do anything about it? Jones stands far above the pack at this weight. A division that is strong at the very top, the 205-pound weight-class in not nearly as deep as it used to be. And these kind of middling contenders like Anthony Smith and even Santos are completely out of their depth. Jones is as on-point as it gets in the octagon and can do what he wants at this level of competition. It takes a lot more than just being able to hit hard to beat "Bones." I see a fairly-routine title defense for Jones, as he scores another victory on July 6.
My Pick to Win: I'm betting on Jon Jones at -650 betting odds
Jones knows that Santos can only threaten him in one specific way. Jones has multiple weapons in his disposal to quell the fearsome striking of Santos. I see Jones staying on-point, thwarting Santos' advances, and illustrating why he is on another level in relation to the contenders at 205 pounds. I picture a fairly-easy defense for Jones in this one.