Anthony Joshua vs. Jarrell Miller Fight Analysis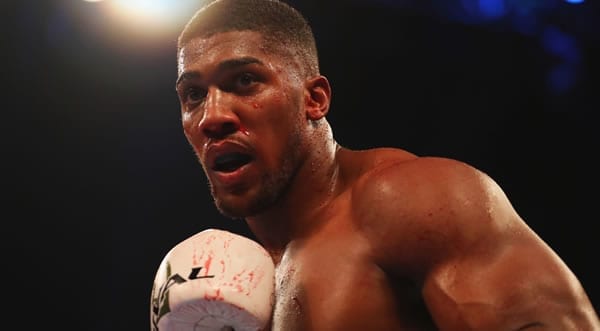 Anthony Joshua (22-0, 21 KOs) vs. Jarrell Miller (23-0-1, 20 KOs)
When: Saturday, June 1, 2019
Where: Madison Square Garden, New York City, New York
TV: DAZN
Weight Class: IBF, WBA, and WBO Heavyweight Titles
Betting Odds: Anthony Joshua (-800), Jarrell Miller (+500)
Over/Under: 9.5 Rounds Over (+155), Under (-185)
England's Anthony Joshua defends his world heavyweight titles against American contender Jarrell Miller on June 1 at Madison Square Garden. The 29-year old champion is making his first professional stateside appearance while fighting in his eighth world title fight. Miller, 30, is an unbeaten contender and should find the geography of this fight to his liking, as he is from Brooklyn. But does the big underdog have a realistic chance? It's a mixed bag.
Fight Analysis
Joshua has taken a little guff on the basis of not throwing himself into the mix at the highest levels. There is still ample time to make a mark, but it's still a little upsetting to some that the other top heavyweights are starting to tangle, while Joshua takes on the best of the rest. And time will tell on this particular fight whether it falls into that category. On the surface, it seems like a doable task for Joshua, but a fight that might fall into the area of high-risk/low-reward.
Joshua is a towering heavyweight at 6'6" with an 82-inch reach, coming in looking like a Greek god, usually in the 245-pound range. Miller, however, is a robust heavyweight in his own right, not as tall at 6'4" and with a 78-inch reach, but he's a big guy. His weight as of recently has hovered in the 280-pound range.
This is the heavyweight division and size isn't a bad thing, necessarily. But Miller has weighed in the 240s before, so to see him now sometimes close to three bills when climbing into the ring, it's worth wondering about his discipline and stamina, particularly at this high of a level. He's pretty agile for a big man, but still, a certain amount of devotion is needed to become champion against a guy who looks like he's cut from granite.
Bet on who will win, the distance and whether there will be a TKO at
MyBookie
This is also a massive jump in class for Miller. He is unquestionably a top American prospect, perhaps the best in the nation or at least the most accomplished. He even has a previous high-level kickboxing career where he took on guys like Crocop. Still, with his best wins coming against the likes of fringe contenders Gerald Washington, Mariusz Wach, and Johann Dahaupas, his resume lacks a certain air of quality to it. He's been doing what has been asked and has won his fights with room to spare, highlighted by 11 stoppages in his last 12 wins.
The limitations for Miller, however, make it hard to picture an abundance of success against Joshua, frankly. There is not an area where he would seem to excel, barring some underlining never-say-die spirit that he hasn't been forced to show yet. His punching power is substantial, but he doesn't seem to have that special kind of power or anything that Joshua hasn't seen yet. He's not what you would call fat, but the extra baggage compromises his speed, as he isn't very swift with his hands or feet. There's an obviousness to his game, as he moves forward and tries to overcome his opponents. He doesn't have a great jab. His gears are few, as he can't speed up and slow down—fighting more or less at one speed.
Still, Miller's exact ceiling is undefined. We know Joshua's is very high, as he has an argument for being the best in the world. Miller has a deep fighting background across different disciplines and at about 280, is to be taken seriously as an unbeaten contender. And Joshua is out of his element, while Miller is right in his wheelhouse at MSG. The aimlessness of Joshua's career could resonate. No one was clamoring for this fight. There was any number of more-appealing fights that seemed doable from a matchmaking point-of-view. This fight has a randomness to it that could result in a reduction of urgency from the champion. It's only fair to ponder a best-case scenario for the guy you're betting against.
Joshua has proven a lot in this title reign. Sure, he seems a bit ponderous and maybe not the most-natural looking boxer. His upper-body is very available, as he presents a big target. But he has proven to be a lot more than just a one-dimensional slugger in recent years. First, he has shown he is no frontrunner. Joshua has been pushed to the brink a few times, and those opponents themselves were knocked out later in the fight. He has big booming power, while also showing he can fight in a more measured way and use his head to win. I think his ring IQ is a bit underrated.
Joshua can mix it up some and is a very adept counterpuncher. There's a reason you don't see a lot of guys opening up with abandon against AJ. There's usually a price to pay. He throws a variety of shots at different distances, with a useful jab and a right hand that short-circuits the nervous system if it lands clean. With his size, explosiveness, and reach, he covers a big part of the ring, and it's not easy to get away from him—especially if you're a big lumbering guy like Miller.
If Miller were equipped to move well around the ring and get that jab going, it would be one thing. But being a bit one-dimensional and without the one-punch power to make it stick, I'm not sure how he makes it work against Joshua. He could catch Joshua cold and out of his element in a freak early stoppage or something along those lines. I don't see it. I see Joshua taking a few rounds before he zeroes in and gets Miller out of there. I'll take Anthony Joshua and the "under."
My Prediction to Win the Fight:
I'm betting on Anthony Joshua at -800 odds and "under" 9.5 rounds at -185 at Bookmaker to take advantage of their high limits. I think the available-to-be-hit Miller is in many ways a great matchup for Joshua, who has a chance to shine in his U.S. debut at Madison Square Garden. A more clever set of tactics is needed to beat Joshua, as opposed to the straightforward approach Miller has utilized in his career. He will bring the fight to Joshua, but Joshua will bring more fight to Miller, and I don't see this going past eight rounds.