Jake Paul vs. Tommy Fury Fight Pick & Analysis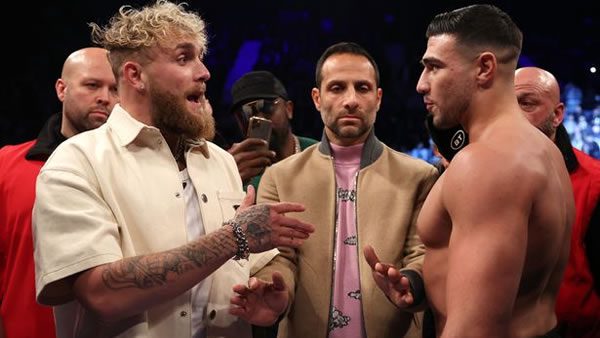 Jake Paul (6-0, 4 KOs) vs. Tommy Fury (8-0, 4 KOs)
When: Saturday, February 26, 2023
Where: Diriyah Arena, Diriyah, Saudi Arabia
TV: PPV
Weight Class: Cruiserweight: 8 Rounds
Betting Odds: Jake Paul (-175), Tommy Fury (+140)—Bovada
Fight Analysis:
Jake Paul takes on Tommy Fury in a special attraction 8-rounder from Saudi Arabia on February 26. Its a bout that was scheduled previously before falling out. Its an unusual fight to break down from a betting standpoint, being that a new type of analysis is needed when both fighters have a total of 14 fights between them. And if Tommy wasnt Tysons brother and Paul wasnt an internet sensation, this fight would go by without much notice. But this is the world we now live in, where merit takes a backseat to notoriety. Still, its an interesting conundrum from a problem-solving perspective at least. Lets try to break this down!
Paul has gained some traction in his fighting career. First, he was beating people with no connection to fighting, progressively increasing his level of difficulty. It went from other internet-popular people, a former NBA player, an MMA fighter not known for striking, then two wins over Tyron Woodley, and most impressively in his last fight, a decision over Anderson Silva. Naysayers conclude that while he looks pretty good, thats against guys not in the boxing business—not a totally unfair appraisal. But how much of a real true boxer is Tommy Fury?
Based on the level of Furys opposition and a naked-eye appraisal, he has some issues. If it werent for Tyson, youd have never heard of him. Now he does have that background of heavy boxing culture. Its in his blood. This is what he does. But his pro career thus far is comprised of some real low-end opposition. And while thats not unusual for a British prospect, Im not sure Tommy really stands out as a true prospect. But youd have to say hes a boxer and for Paul, that alone represents a jump in class.
I just think theres something very calculating about Team Paul and how theyre commandeering his so-called boxing career. At this level especially, money rules the scene. This is about making money. And theres no money in the Paul train getting derailed at this point. So, Fury is the B-side and that comes with a built-in disadvantage. Paul is also the naturally bigger fighter, probably a good division heavier than Fury, even if they come in at similar weights. The Paul team has silenced the critics to some extent by selecting a boxer, but in doing so, have picked someone whose star shines brighter as a celeb than as a true force who has merit in the sport.
Get $60 of FREE member picks & predictions
(NO commitments. NO Credit Card. NO Salesman.)
And while Paul has been made to look better than he is by virtue of who he has fought, there are some good things in place. He has a certain amount of poise in how he has been able to perform so well on pretty big stages—impressive for someone whose previous exposure had all been online. He is working hard at this, steadily progressing and always stepping into the ring in fine shape with strong cardio. You can question the authenticity of this all day, but even within this dicey context, the young man works very hard and has been able to deliver in some scary spots that would normally terrify a young man with little boxing background.
But maybe this will be a different experience for Paul. With no real background, hes going against a guy whose background is deep. And after a string of performances against aging battlers, hes taking on a 23-year old who is actually 3 years younger than him. Hes fighting an actual boxer. Its just that if one wants to harp on Pauls opponents and how theres not a single boxer among them, youd have to be able to say that the dogmeat Fury has been facing even surpasses the menace brought to the ring by former MMA standouts and one cant be certain about that at all. Fury has been going against some really soft opposition and having not stopped any of his last three opponents only paints that in a worse light.
Therefore, if Paul were to pick a boxer, Fury would seem to fulfill a lot of the requirements to create somewhat of an illusion. After all, Fury is unbeaten, comes from a fighting family, and is a pro boxer. But how much progress has he made in reality with the diet of stiffs hes been encountering? How proven is he when theres a struggle? Paul has at least been able to show some toughness, having to bite down on his mouthpiece and grind his way through some fights. You can mock his career, but he has been forced to show more than Fury has, despite the UK banger having two more fights.
Again, I think this is a calculating move by the Paul consortium. Furys boxing background and the fact that pro boxing is his focus counts for a lot. But I think they picked the right guy—a fighter who has a name, is unbeaten, and likely doesnt have the physicality or physical strength to really threaten Paul. There are holes in Pauls game to be sure, but at this level, I think his size and power will be enough to see him through to a win.
My Prediction to Win the Fight:
Im betting on Jake Paul at -170 betting odds. While Fury being a boxer could throw a bigger light on this than what Im forecasting, I think his own limitations make this a winnable spot for Paul in his first boxing match against a pro boxer. Fury would have to fight the perfect fight and nothing that has happened so far in his career has in any way conditioned him for the struggle that likely lies ahead. Did you know that you can bet the fight live-in-progress? Find this killer offer as well as a 50% real cash bonus on your first deposit up to $500 at the web's best bookie —> Bovada Sportsbook!
100% REAL CASH up to $300

USE BONUS CODE:
PREDICT100