Joseph Parker vs. Dereck Chisora Fight Picks & Analysis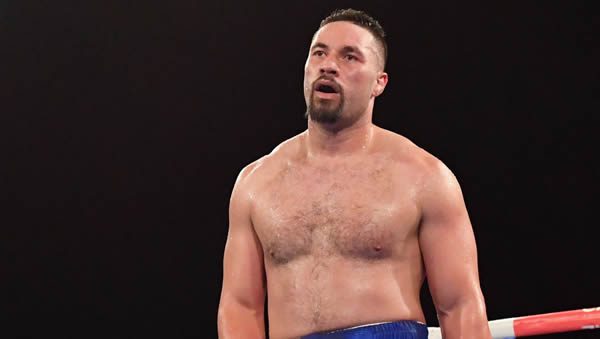 Joseph Parker (29-2, 21 KOs) vs. Dereck Chisora (32-11, 23 KOs)
When: Saturday, December 18, 2021
Where: Manchester Arena, Manchester, England
TV: DAZN
Weight Class: Heavyweights
Betting Odds: Joseph Parker (-200). Dereck Chisora (+160) at MyBookie - They'll give you a 100% bonus up to $300 when you use SPECIAL bonus code: PREDICT100
Joseph Parker takes on Dereck Chisora in a hard-hitting heavyweight rematch from Manchester on December 18. It's a big fight, and with things loosening up near the top of the division, opportunities will be rife, with the winner of this fight more poised to land some of those big fights. In May, Parker was able to garner a split decision that was hotly contested. In a good fight with Chisora. There was little to separate them on the cards. Can Chisora finish what he started? Or will the niftier boxing of Parker allow him to maneuver his way to another win?
Fight Analysis
Chisora came out like gangbusters in their first fight, dropping Parker to the canvas in the first seven seconds of the fight. The hard-hitting Englishman was super-aggressive but found denting the chin of Parker was a tall task. Parker has gone the distance with the likes of Anthony Joshua and features a granite chin and nice recuperative abilities. With an 8-year youth advantage over the 37-year old Chisora, he was able to use his youth, energy, and legs to steer out of trouble, build up points, and win the fight, which is now being held in the same stadium in Manchester.
Both men have had unique careers. Chisora never made it to the level Parker did, as the New Zealander was once a world champion. Chisora, however, has remained near the top for a long time. Chisora has been swapping shots with the best for well over a decade, and while his 11 losses tell part of the story, he never goes away. And he never seems to get worse. He's still a handful, an aggressive and hard-hitting fighter who has an innate sense of what he's doing in the ring.
And sure, we've seen Chisora show up in the ring in various forms of condition before. There have been some puzzling losses in the mix and nights where he may have been more interested in cashing a check. But over the last five years, a time when people were maybe expecting Chisora to fade away, he hit another gear in his career. He started beating other contenders and giving top guys fighters like Oleksandr Usyk a real hard time. He followed it up with a good performance over Parker in their last fight. And Chisora's stamina, which can take observers and fighters aback, is still tip-top for a big guy who works so hard in the ring.
Parker has clearly hit an impasse in his career. Once an unbeaten titlist, his progress stalled. Against Chisora, we saw that lack of killer instinct manifest, as he failed to press his advantage whenever he seemed to have his man hurt. Looking at the two men, it's clear who you'd rather be as a boxer physically. Parker is taller and the younger man. But you'd rather be Chisora mentally. Parker has become very safety-oriented over the years. Not taking chances seems to be his main priority.
So, sure, you're getting a more-talented fighter in Parker, a guy with more tools and upside. You're also getting a guy who gets less out of what he has than Chisora, who has really maxed out his abilities in the sport. With Parker, he likes to score points, peck away, and manufacture wins that way. It can be effective. After all, it was enough for him to earn the call in the first fight.
You'd think having this fight in Manchester would better serve Chisora. It's just a byproduct of boxing where it's hard to win a decision over a fighter fighting in his home country. In the first fight, however, we didn't see any of that courtesy being extended. It was a good close fight, and with Chisora scoring the knockdown, it would oftentimes be enough to see him through to the winner's circle. But the judges preferred the cleaner and more-consistent work of Parker instead.
More Picks: Vasyl Lomachenko vs. Richard Commey Picks 12/11/21
This fight features an interesting quandary. On the one hand, Parker has the physical gifts and talent, so that he really shouldn't be struggling at this level. It's easy to defer to his skills and superior track record at the level right beneath the elite. It's a context in which he generally thrives or at least wins. You just have to wonder if he's the same fighter he was 5-6 years ago. With Chisora being the guy who has been around forever and having soaked up numerous beatings, it's almost kneejerk to consider him the more-spent force. But in reality, he's closer to the guy he was in his prime than Parker is.
With Chisora, it's not just the hard, compact punching inside that makes him a threat. It's the disparity of attitude between him and Parker. Chisora has the better attitude. It could also be seen as a greater disregard for safety, but in the fight game, maybe some of that is required. Parker is quite comfortable in laying on the outside and catching the aggressive Chisora coming in, But if Chisora is able to turn this into more of a dogfight in the rematch, Parker will find himself squarely out of his wheelhouse.
Getting behind Chisora at this level isn't easy. He has sponged a lot of losses over the years, and his reliability pales to that of Parker's. You're never too sure what you're going to get. But another loss at this age might make it hard to soldier on. A win here makes him highly viable for any number of big-money fights either domestically or elsewhere. I just think getting behind him in this fight is the more-positive move. With the value and maybe a little hometown mojo, Chisora can get it done this time.
My Prediction to Win the Fight:
I'm betting on Dereck Chisora at +160 betting odds. It's a tall order for Chisora, both literally and figuratively, but I'm starting to think it's just a matter of time before Parker's safety-first laid-back approach costs him, and it could be in this fight. Did you know you can bet on fights live-in-progress at Bovada Sportsbook? They'll give you a 50% bonus too!
100% REAL CASH up to $300

USE BONUS CODE:
PREDICT100