Vasyl Lomachenko vs. Richard Commey Fight Analysis & Predictions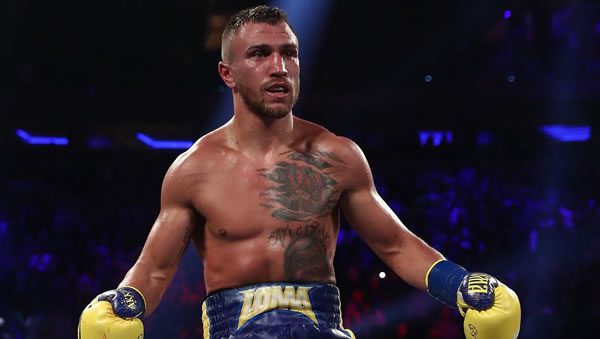 Vasyl Lomachenko (15-2, 11 KOs) vs. Richard Commey (30-3, 27 KOs)
When: Saturday, December 11, 2021
Where: Madison Square Garden, New York City, New York
TV: ESPN
Weight Class: Lightweight: 135 Pounds
Betting Odds: Vasyl Lomachenko (-400), Richard Commey (+300) at MyBookie - Use bonus code PREDICT100 and they'll give you a 100% bonus!
Vasyl Lomachenko takes on Richard Commey in a battle of former lightweight titleholders on December 11 at Madison Square Garden. This bout is notable as it is Lomachenko's first comeback fight since his upset loss to Teofimo Lopez in June. Prior to that, he was ballyhooed as perhaps the best fighter in the world, and now at 33, he looks to work back toward that spot, starting with Commey. In the 34-year-old Ghanaian, Lomachenko draws a veteran campaigner and a real puncher too. Let's break this one down!
Fight Analysis
Commey is a capable fighter and a former IBF champ who lost his belt to the same man who beat Lomachenko in Lopez, who stopped Commey in the second round. He rebounded with a KO over Jackson Martinez in February, but this is only his second fight since 2019. His only other two losses were by split decision, making Commey an interesting X-factor, a little ripe at 34 perhaps, but still, a man who has been near the top for a while, with only one man able to get clear separation from him and that was the same man who beat Lomachenko.
Still, Lomachenko has distinguished himself as the better fighter, a gap Commey needs to bridge. While being near the top of the division, Commey has never been fancied as the true top guy. Even against a common opponent in Lopez, Lomachenko hung tough, while Commey was dispatched in quick order. That kind of arithmetic can be faulty, but it also might be indicative of each fighter's respective ability.
I don't think it's premature to start asking some hard questions about Lomachenko. In the lighter-weight divisions, fighters don't go on forever. He won two gold medals, so it speaks to his excellence as an amateur, as does his mind-boggling 396-1 amateur record. But it also suggests a lot of wear and tear, as he was fighting the top people in the world for a long time. His pro record of 15-2 makes you think of a young prospect, perhaps, but it's deceiving. He has been fighting the best in the world for a long time now.
The way Lopez fought in his June fight with Lomachenko, it's hard to think of a 135-pounder in recent memory who would have been in good shape with that fighter. He was truly superb, so maybe one shouldn't be so hard on Lomachenko. Perhaps he didn't understand the true level that Lopez represented. It's just hard to spin out of that Lopez fight and properly categorize Lomachenko. Is he just a fighter who ran into a buzzsaw in Lopez? Or is this when returns begin to depreciate on him?
Did you know… You can bet on fights live-in-progress at Bovada Sportsbook?
The problem for Commey is that it might not matter. Sure, a depreciated Lomachenko gives him a better chance to get his big shots across. But he's a fairly standard fighter, without the dimensions of Lopez. And this should be a spot where we see Lomachenko's different assets surface. Against Commey, he's going against a dangerous veteran, but one he can manage. Defensively, he's on a different level, and the imagination of his offense would seem to have a good foil in Commey.
In other words, if Lomachenko is starting to slow down, this might not be the spot where we see that come to fruition. Though he has far less tear, Commey is no spring chicken, and it's unusual to see a 34-year old lightweight be able to find a new gear this late in his career. The script is written—Lomachenko gets well with a win over a credible opponent, setting up a rematch with Lopez in 2022. No one's looking for Commey. And it's going to be hard for him to win a decision. Over 400 amateur fights and all these pro title fights, no one stopped Lpmachenko. What are the chances that a 34-year old Commey is the man to turn the trick?
This is not meant to badmouth Commey. He is an expert practitioner in the boxing ring, a relaxed and slick craftsman with an innate sense of what he's doing in the squared circle. He is taller than Lomachenko and has a good 6-inch reach advantage. He is still hungry and can get in there and dog it out if he has to. He has shown a good level of punch-resistance against some good fighters, his quick TKO loss to Lopez being the exception. The interesting thing he does, which might resonate well in this fight, is that he really catches guys well at the end of his strong, snappy punches. And if he can do that to Lomachenko before the former champion gets into range, he could have something cooking.
Perhaps if Lomachenko is truly in a state of rapid deterioration, Commey is an ambitious and skilled enough campaigner to exploit that. I'm not sure that's the case. And coming off a loss, the margin for error with a fighter who has as long a track record as Lomachenko is small. His level of urgency should be in accordance with the reality of the situation. There is no spinning out of a loss to Commey. It would be the end. A win, however, opens up the rematch to Lopez and other huge-money opportunities down the road. And out of sheer fairness, if looking to hold the Lopez loss against Lomachenko, what does that say about Commey, who did far worse in the same spot? I see the Ukrainian slickster maneuvering his way to a clear win in this one.
My Prediction to Win the Fight:
I'm betting on Vasyl Lomachenko at -400 betting odds. While his best fighting might be in the rearview, Lomachenko still represents a robust package of skills. Commey is credible but not special enough to warrant more than passing consideration at this level. Want more fight action? Check out our Joseph Parker vs. Dereck Chisora fight preview and prediction! (Fight goes off December 18th)