Saul "Canelo" Alvarez vs. Daniel Jacobs Picks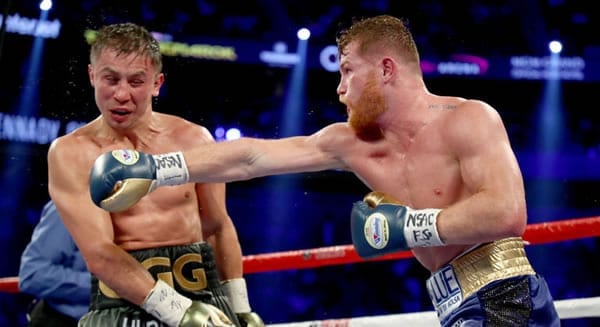 Saul "Canelo" Alvarez (51-1-2, 25 KOs) vs. Daniel Jacobs (35-2, 29 KOs)
When: Saturday, May 4, 2019
Where: T-Mobile Arena
TV: DAZN
Weight Class: World Middleweight Championship
Betting Odds: Canelo Alvarez (-300), Daniel Jacobs (+225)
Canelo Alvarez and Daniel Jacobs meet on May 4 in a middleweight title-unification bout. This has the makings of a nice matchup, as Canelo takes on a real gem in Jacobs, a fighter whose size and power would appear to represent a threat to the favored Alvarez, 28. Three years older at 31, Jacobs has long awaited a chance to make a big splash and has come close before. Will Canelo keep the ball rolling or can Jacobs upset the plans of Golden Boy and Alvarez?
Alvarez Overview
Alvarez had those two fights with Gennady Golovkin—a pair of controversial encounters where Canelo had a draw followed by a win, both heavily-disputed. He returned in December for a one-off fight at 168 against wholly-overmatched Rocky Fielding. This fight is a whole other ball of wax. Some might say Jacobs did better against GGG than Alvarez did, speaking of when Jacobs dropped a close decision to Golovkin in 2017.
Jacobs Overview
Jacobs is an interesting study, a fighter whose career has been atypical in many respects. An overhyped KO artist in his early days, he ran into a brick wall when he was KO'd by a great fighter who was derailed by injuries in Dmitry Pirog. It's hard to believe that was almost nine years ago. He ended up getting cancer and beat it valiantly. He got back to winning, but it was hard not to think he was exposed by Pirog. The wins kept coming, though, and after he snake-licked unbeaten Peter Quillin in one in 2015, it was hard to say anything bad.
Jacobs was still thought to be easy-pickings for GGG in their 2017 fight. Instead, he gave Golovkin hell for 12 rounds. At the end of the day, you have a hard-hitting fighter and a big middleweight at 6-feet. He sucks down to 160, but by the time he surfaces in the ring some 36 hours later, he's close to 180. And he looks it. He's rangy and sturdy, generating a lot of velocity on his big swings.
Since taking on Golovkin nearly two years ago, I'm not a big fan of Jacobs' career trajectory. He has certainly paid his dues by now, and he stayed busy with three wins since the GGG fight, but he has failed to make much of a dent. Nothing against the last three guys he fought, as they are good fighters, but while Canelo has been in the brightest spotlight, Jacobs has been more in a holding pattern. I still look for a hungry performance from Jacobs in this fight, as he's being given what might be his last chance to do something extraordinary.
Fight Analysis:
I think it was good for Canelo to finally get a win where he can get some clear separation on a guy and just blast away and take care of business. After the 2017 and 2018 struggles with Golovkin, getting back on the winning track against Fielding without suffering any more wear was good for him. Whether you think he won either of the GGG fights is a debate for another day. What can't be debated is the elite-status of Mexico's most-celebrated current fighter. He's a completely-together fighter and at 28, has literally seen anything that you can hope to see in a boxing ring. An overlooked aspect of this fight could be Canelo's insanely-higher level of experience in fights like this where the lights are shining their brightest.
I see Jacobs representing a real threat. He's a good 4 inches taller than Canelo with several inches of reach on him, as well. Jacobs has been a middleweight for a very long time, and while Canelo is thick and weighs in the 170 area by fight-night, Jacobs is the bigger man. He has a certain kind of power that Canelo hasn't seen much of—more of that snappy long-range kind of punching power. I think he can use his legs and run some nice shots on Canelo. He has speed, punching power, and while not the most innate thinker in the ring, he's a veteran with a solid handle, unlike the flailing power-puncher of yesteryear.
I see Canelo having some stylistic advantages in this matchup, as well. His defense and overall form are very tight. He protects his head well with the way he angles his body and by keeping his hands high. Canelo doesn't make a lot of mistakes. And when he is tagged, he takes it very well for the most part. Jacobs was in more trouble against GGG than Canelo was. Jacobs might not be as overly-robust as Canelo. And he's also a little more available to be hit.
Bet on winner, TKO, distance and more at
5Dimes
We all saw the nice body-work that Canelo was able to inflict on GGG. Against the longer Jacobs, the opportunities to go to the body will be greater. There's more surface-area available, and Jacobs is looser with the fists and will leave more openings. Jacobs' defense isn't terrible, but it's more based on a set of reactions from different sequences and not as much an overall defensive system as what Canelo employs.
It might upset Canelo-backers, but before any bettor thinks of going against the Mexican superstar, the political angle needs to be considered. Canelo is no different than highly-celebrated fighters of the past and present. It's just not easy to win a close fight against Canelo. His record against GGG probably should be 0-1-1 and not 1-0-1. There have been close-looking fights of Canelo's that are scored as if the judges didn't even acknowledge what the opponent did. Even against Mayweather, a judge managed to score it even when everyone thought Mayweather won easily. Judges seem to lose their minds when scoring Canelo fights—a preposterous 117-111 score against Erislandy Lara, a ludicrous whitewash-scoring against Miguel Cotto, a 118-110 score against GGG in the first fight, and another set of congratulatory scores in the rematch. Can Jacobs even win a decision?
When asking yourself about Jacobs' chances of winning this fight, one has to ask if he can score a knockout. Or if he can just sweep clusters of rounds where no judge would have the gall to give it to Alvarez. And while I see him being competitive with Canelo, I'm not sure he's cut out to beat Alvarez by a big enough margin to really get credit for it. I see Canelo holding his own and doing enough to get a decision. I'm taking Canelo in this one.
My Prediction to Win the Fight:
I'm betting on Canelo Alvarez to win at -300 betting odds that I found at Intertops. Matchup-wise, I think he stacks up pretty well with Jacobs, who is still fairly-unproven at this high of a level. When considering what it will take for Jacobs to get a decision in this fight, I see Canelo being a decent choice even at these odds. Closer to fight night, one could also ponder a position on "over." Either way, I like Canelo to win this one.