Auburn Tigers vs. Florida Gators Odds & Picks 2/19/22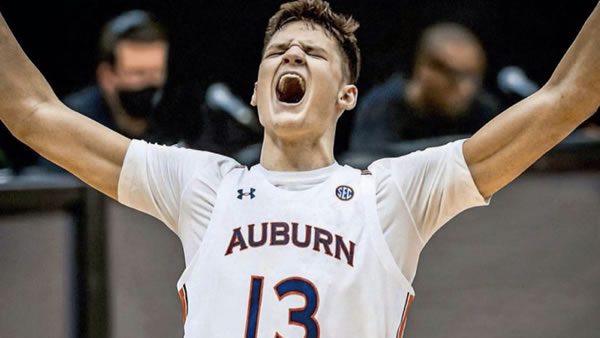 Auburn Tigers (24-2 SU, 18-8 ATS) vs. Florida Gators (16-10, 12-14 ATS)
When: Saturday, February 19, 2 p.m.
Where: O'Connell Center, Gainesville, Fla.
TV: ESPN
Point Spread: AUB -3.5/FLA +3.5 (MyBookie)
Moneyline: ILL -160/FLA +140
Total: 140
Last Time Out:
Auburn handled Vanderbilt 94-80; Florida lost 56-55 to Texas A&M.
About the Matchup:
It's crisis time for Florida. The Gators do not have enough time left to get marquee wins and build their profile without winning both this game and the Arkansas game on Tuesday, as Florida is down to just five games to go until the SEC tournament. The good news for the Gators is that their toughest remaining games are all in Gainesville, but for a team whose best road win is probably South Carolina, the home wins better be outstanding to warrant a sniff from the committee. Florida's best win to this point at home is…Mississippi State, which doesn't have a road win all year. Translation: Florida basically has to beat all of Auburn, Arkansas, and Kentucky to have a shot.
The good news is that Auburn is pretty vulnerable in Gainesville, as the Tigers haven't really put together many complete games away from home, especially since they first claimed the No. 1 ranking. Since the first time Auburn became No. 1, the Tigers have played three road games, and they have not looked impressive in any of them, edging Missouri by one, Georgia by two, and losing by four to Arkansas. However, the Tigers haven't played a road game since the loss to Arkansas, and now they might be free from the pressure that comes with being the team in the top spot. If they're focused, this might be the end of the road for Florida.
Scouting the Tigers:
When you balance your scoring, as well as Auburn did in the teams' first meeting, you're likely to get some excellent results. Auburn got baskets across the board in a 12-point win over Florida earlier this year, and the Tigers went nine players deep, ensuring they'd be fresh from start to finish.
But there's a sign for worry there: Auburn needed to shoot 54% to win that game. The Tigers threw the ball around far too often, committing 15 turnovers in the contest. The rebounding wasn't great; it was simply acceptable, making it rather clear that without shooting the lights out, Auburn would have lost.
On the other side of the coin, Auburn took control of that game despite Walker Kessler being limited to 24 minutes of action and just six points total. If the Tigers can keep Kessler on the floor and get more out of him than just rebounds, they have a good chance to take control.
Scouting the Gators:
Florida is quickly evolving into a good, bad team. A team that beats up on the weaker squads on its schedule but doesn't get the job done against teams who can actually play. There's a reason that other than a win over Ohio State on a neutral floor, Florida doesn't have one win all season over a team that will be in the NCAA tournament. And now the Gators are becoming far too dependent on Colin Castleton, who has been a reliable scorer and rebounder all year long, but certainly cannot do the job alone.
Against Texas A&M, he kind of had to, as the Gators shot 29%, and it would have been even worse if not for Castleton's 15 points and 15 rebounds. Without Castleton, Florida shot a mere 12-for-49 against the Aggies, less than 25% from the field. Philandrous Fleming and Myreon Jones were particularly appalling from the line, shooting a combined 5-for-22 in the one-point loss.
Florida isn't a great shooting team anyway, but the Gators have to be better than what they've shown recently. Auburn can win a rock fight, but it's more likely to boat-race Florida if the Gators aren't hitting their shots.
More Picks: Illinois at Michigan State Predictions 2/19/22 >>>
Auburn will Cover If: The Tigers can keep Kessler on the floor. If Kessler is active and not carrying multiple fouls, Castleton becomes a lot less effective. If Castleton can't be as effective, Florida's offense basically goes splat.
Florida will Cover If: The Gators can get a couple of other scoring options besides Castleton to step up. Florida needs to have two or three scorers getting the job done to try to keep up with Auburn because this game is likely to find itself in the 70s or even 80s. Florida only does that if it finds a shooter to complement Castleton.
Dan's Best Prop Bets
Based on the sheer number of possessions created in an Auburn game, look for this number to go above the 140-point total. Florida's offense is a worry, but the Tigers play so fast that even bad shooting teams will still get close to 60 shots per game, and as long as Florida can hit a third of those shots, the over has a good chance.
Dan's Pick to Cover the Spread
This low spread means Auburn should take care of business. Florida just has not looked good against anyone good this season other than Ohio State one time. The Gators appear to be a classic NIT squad, and without getting these wins, that's where they're heading.
I think the Tigers add to the misery; I'll take Auburn to cover.
Get $60 of FREE member picks & predictions
(NO commitments. NO Credit Card. NO Salesman.)
125% Cash up to $400 w/Bonus Code: PREDICTEM