[et_pb_dcsbcm_divi_breadcrumbs_module hide_homebreadcrumb="off" homebreadcrumbtext="Home" separator="sep-raquo" hide_currentbreadcrumb="off" homebreadcrumborientation="left" _builder_version="3.8″ fontsbreadcrumbs_font="Lato||||||||" fontsbreadcrumbs_text_color="#000000″ fontsbreadcrumbs_font_size="15px" fontsbreadcrumbs_line_height="16px" fontsseperator_font="||||||||" fontsbreadcrumblinks_font="||||||||" fontsbreadcrumblinks_text_color="#2567cf" custom_margin="25px|||" custom_margin_phone="30px|||" custom_margin_last_edited="off|desktop" custom_css_main_element="font-family: Helvetica Regular;" global_module="3641″ saved_tabs="all"][/et_pb_dcsbcm_divi_breadcrumbs_module]
Basketball Pick: Duke Blue Devils vs. Kentucky Wildcats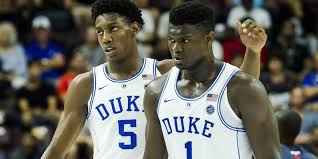 4 Duke Blue Devils (0-0, 0-0 ATS) vs. 2 Kentucky Wildcats (0-0, 0-0 ATS)
When: Tuesday, November 6th, 2018 – 9:30 pm ET
Where: Bankers Life Fieldhouse – Indianapolis, IN
TV: ESPN
By: Kyle Cash, NCAA Basketball Handicapper, Predictem.com
Point Spread: Kentucky -2
Total: 157
The NCAA basketball season is set to tip-off on Tuesday night with the State Farm Champions Classic, and we should be in for two exciting games. College basketball is driven by the titans of the industry – the blue bloods, if you will. It's hard to find bigger titans than Coach K's Duke Blue Devils, John Calipari's Kentucky Wildcats, Tom Izzo's Michigan State Spartans, or Bill Self's Kansas Jayhawks. Unless, of course, you are looking at the two teams that have won the last three NCAA Championships i.e. North Carolina and Villanova, but that is a story for a different time. Tonight, it's all about college basketball's 1%, so let's get this party started!
The Zion-aissance
Long gone are the days when Duke's starting five was comprised of the Jimmy Chitwood wannabes – the Christian Laettners, J.J. Redicks, and Kyle Singlers of the world. Coach K has caught the Team USA bug, and it's impossible for him to shake it. This season, Duke comes into the season with three of the five best forwards in the country – Cam Reddish, R.J. Barrett, and the internet's number one sensation Zion Williamson.
While Zion will be the Vine-star of the team, R.J. Barrett is the true transcendent talent among them. The son of two St. John's college athletes, Barrett is a springy, smooth 6'7" forward who is the projected first overall pick in the 2019 NBA Draft. Also, his Godfather is this guy you might have heard of before – two time NBA MVP Steve Nash. With those measurements, skillset, and basketball IQ around him, I am more excited for him than any other prospect on the team. Zion's dunks and blocks will "wow" us, but Barrett will be the reason that Duke will threaten for a championship all season long.
In the beginning of the season, it's hard to project how these teams will play. Coach K punted on defense last season in favor of playing the fabled 2-3 zone, and he might be forced to do so again this season with their three best players essentially playing the same position. Coach Cal has reloaded his roster with talented freshmen who will probably take their lumps on defense, and as long as Duke's athletes have space to operate, we might be in for more alley-oops in this game than all of Duke's 1994 season games combined.
Cal's Kids are Alright
There is a running joke within college basketball nerds that Coach Cal likes to refer to his players as his "kids," but as the season progresses, they become his "guys." There is another theory floating around as well – when Cal likes his team, he talks about them non-stop. And one quick Google news search will tell you that Cal has been talking A LOT. It was an indictment against last year's players that Calipari refused to gas them up, and it's an indictment against Coach Cal that both Shai Gilgeous-Alexander and Kevin Knox are going to be productive NBA players. If you've been paying attention to my daily NBA picks on Predictem.com, then you know that I'm not the biggest fan of LeBron James. Go ahead and double that sentiment and apply it to my feelings towards John Calipari. Just as a warning.
Discuss this game! Predictem's College Basketball Forum
As I said, Kentucky was able to reel back in the five-star prospects this season, and Ashley Judd and Drake should be happy to find out that Keldon Johnson looks like a potential star. More importantly, Cal has something that he isn't used to having this season: sophomores. A lot of people are fans of Quade Green and PJ Washington as a one-two punch, and the national title buzz is already starting to roll in. Against Duke, they are going to need every inch of length and bit of energy that they can squeeze out of their frontcourt. I'm not sure that any one man can stop Zion Williamson from bulldozing to the rim, but it will be interesting how Cal's defense sets up to stave off Duke's attack. We won't know for sure whether these are Cal's kids or Cal's guys, but a win against the Blue Devils would give us a much better idea of how this season will go.
What History Has Taught Us
Coach Cal and Coach K have only square off twice in Cal's tenure at Kentucky, and they split the series. Tuesday's matchup will be a Champions Classic rubber match. Historically, Duke has dominated Kentucky since the late-90s, but the pedigree of both schools is nearly identical, and we can't learn too much from history. In their last two meetings, both scores ended up around the 135 mark, so be on the lookout for a potentially exploitable total.
Best Bet
As I said, early basketball is something that is hard to predict. Which Duke team are we going to get? Will they be an above-the-rim, high-energy, transition-heavy team? Or will they be a defensive sieve that caves at the slightest bit of opposing pressure? Similarly, I'll always have questions regarding Cal's in-game tactics, but it might be too early for him to know which player he is going to marginalize. In the end, I'll do what I usually do: take the team with more talent, both player-wise and coaching-wise. Give me the Blue Devils, and give me Zion's mixtape injected directly into my veins.
Final Score Prediction: Duke Blue Devils 78 – Kentucky Wildcats 69
<div class="widget105"><!-- [et_pb_line_break_holder] --><h4 class="parlays">Best Sportsbooks for Parlays</h4><!-- [et_pb_line_break_holder] --><!-- [et_pb_line_break_holder] --><table id="parlay"><!-- [et_pb_line_break_holder] --> <tr><!-- [et_pb_line_break_holder] --> <th><span class="team"></span></th><!-- [et_pb_line_break_holder] --> <th>2 Team Parlay</th><!-- [et_pb_line_break_holder] --> <th>3 Team Parlay</th><!-- [et_pb_line_break_holder] --> <th>4 Team Parlay</th><!-- [et_pb_line_break_holder] --> </tr><!-- [et_pb_line_break_holder] --> <tr><!-- [et_pb_line_break_holder] --> <td><a href="https://www.predictem.com/out/SportbetP"><img src="https://www.predictem.com/wp-content/uploads/2018/06/sportbet-sm.png"></a></td><!-- [et_pb_line_break_holder] --> <td>2.74 to 1</td><!-- [et_pb_line_break_holder] --> <td>6.24 to 1</td><!-- [et_pb_line_break_holder] --> <td>13 to 1</td><!-- [et_pb_line_break_holder] --> </tr><!-- [et_pb_line_break_holder] --> <tr><!-- [et_pb_line_break_holder] --> <td><a href="https://www.predictem.com/out/BovadaP"><img src="https://www.predictem.com/wp-content/uploads/2018/06/bovada_sm.png"></a></td><!-- [et_pb_line_break_holder] --> <td>2.64 to 1</td><!-- [et_pb_line_break_holder] --> <td>6 to 1</td><!-- [et_pb_line_break_holder] --> <td>12.3 to 1</td><!-- [et_pb_line_break_holder] --> </tr><!-- [et_pb_line_break_holder] --> <tr><!-- [et_pb_line_break_holder] --> <td><a href="https://www.predictem.com/out/MybookieP"><img src="https://www.predictem.com/wp-content/uploads/2018/06/mybookie-sm.png"></a></td><!-- [et_pb_line_break_holder] --> <td>2.64 to 1</td><!-- [et_pb_line_break_holder] --> <td>6 to 1</td><!-- [et_pb_line_break_holder] --> <td>12 to 1</td><!-- [et_pb_line_break_holder] --> </tr><!-- [et_pb_line_break_holder] --></table><!-- [et_pb_line_break_holder] --><div class="widget-footer"><a href="https://www.predictem.com/best-sportsbooks/parlays-odds/">See all Sportsbook Parlays</a></div><!-- [et_pb_line_break_holder] --></div><!-- [et_pb_line_break_holder] --><!-- [et_pb_line_break_holder] --><!-- [et_pb_line_break_holder] --><style><!-- [et_pb_line_break_holder] --> #parlay {border-collapse: collapse;<!-- [et_pb_line_break_holder] --> width: 100%; border: 0px;<!-- [et_pb_line_break_holder] --> font-size: 14px!important;}<!-- [et_pb_line_break_holder] --> #parlay td, #parlay th {<!-- [et_pb_line_break_holder] --> border: 0px;<!-- [et_pb_line_break_holder] --> padding: 8px;<!-- [et_pb_line_break_holder] --> text-align: left;}<!-- [et_pb_line_break_holder] --> #parlay th {<!-- [et_pb_line_break_holder] --> padding-top: 5px;<!-- [et_pb_line_break_holder] --> padding-bottom: 5px;<!-- [et_pb_line_break_holder] --> font-weight: bold;<!-- [et_pb_line_break_holder] --> line-height: 14px;<!-- [et_pb_line_break_holder] --> text-align: center;<!-- [et_pb_line_break_holder] --> color: #000;}<!-- [et_pb_line_break_holder] --> #parlay tr {border-bottom: 1px solid #edeef0;}<!-- [et_pb_line_break_holder] --> .team {font-size: 16px;}<!-- [et_pb_line_break_holder] --></style>