[et_pb_dcsbcm_divi_breadcrumbs_module hide_homebreadcrumb="off" homebreadcrumbtext="Home" separator="sep-raquo" hide_currentbreadcrumb="off" homebreadcrumborientation="left" _builder_version="3.8″ fontsbreadcrumbs_font="Lato||||||||" fontsbreadcrumbs_text_color="#000000″ fontsbreadcrumbs_font_size="15px" fontsbreadcrumbs_line_height="16px" fontsseperator_font="||||||||" fontsbreadcrumblinks_font="||||||||" fontsbreadcrumblinks_text_color="#2567cf" custom_margin="25px|||" custom_margin_phone="30px|||" custom_margin_last_edited="off|desktop" custom_css_main_element="font-family: Helvetica Regular;" global_module="3641″ saved_tabs="all"][/et_pb_dcsbcm_divi_breadcrumbs_module]
Michigan State Spartans vs. Kansas Jayhawks Pick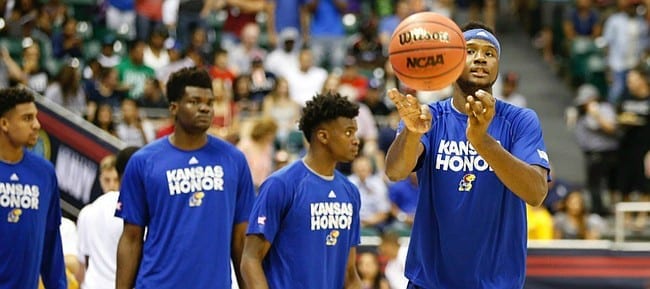 Michigan State Spartans (0-0, 0-0 ATS) vs. Kansas Jayhawks (0-0, 0-0 ATS)
When: Tuesday, November 6th, 2018 – 7:00 pm ET
Where: Bankers Life Fieldhouse – Indianapolis, IN
TV: ESPN
By: Kyle Cash, NCAA Basketball Handicapper, Predictem.com
Spread: Kansas 5.5
Total: 156
The NCAA basketball season is set to tip-off on Tuesday night with the State Farm Champions Classic, and we should be in for two exciting games. College basketball is driven by the titans of the industry – the blue bloods, if you will. It's hard to find bigger titans than Coach K's Duke Blue Devils, John Calipari's Kentucky Wildcats, Tom Izzo's Michigan State Spartans, or Bill Self's Kansas Jayhawks. Unless, of course, you are looking at the two teams that have won the last three NCAA Championships i.e. North Carolina and Villanova, but that is a story for a different time. Tonight, it's all about college basketball's 1%, so let's get this party started!
Start your College Basketball Season Off With a Lead! Best Sportsbook Bonuses
The Ghosts of Spartans Past
Tom Izzo recruiting trail ended up mostly empty this year, and as a result, he was left stranded after Miles Bridges and Jaren Jackson Jr. both left for greener pastures to the NBA. Just a year removed from offering up college basketball's best frontcourt, Izzo is left with the ever-frustrating Nick Ward and former walk-on Kenny Goins. Yikes. PG Cassius Winston was able to take steps forward last year as a lead ballhandler that should propel him to another level this season, but Michigan State is rife with guys such as Winston. Matt McQuaid is still somehow on this team, and their starting small forward is a former five-star who has underwhelmed in his first two seasons. The 10 spot might be favorable for the Spartans to start the season, but Izzo has a knack for getting the most out of the least, and this is a team I wouldn't want to see come March.
Their opponent, however, is a team that I wouldn't want to see on Tuesday night. Kansas lost a couple of important contributors to the NBA last season, but the bones of their Final Four team are still intact, and Michigan State might have a hard time slowing them down. Bill Self doesn't miss a beat, and my guess is that his more talented Jayhawks team will be able to handle Izzo's spare parts roster.
Rock Chalk, Baby
The losses of Devonte Graham, Svi Mykhailuik, and Malik Newman will be tough to overcome, but Bill Self has already reloaded his roster with freshmen and transfers. They come into the season with the fifth ranked recruiting class, and transfer student Dedric Lawson is poised to be a star. Graham and Svi were great college players, but slotting in two five-star recruits in Devon Dotson and Quentin Grimes probably won't give Self any sleepless nights going forward. Most importantly, their anchor Udoka Azubuike is back, and is a legitimate force of nature on both ends. As my large adult son Joel Embiid can attest to, Kansas is the place where big men become beasts, and we are seeing it with Azubuike before our very eyes.
Against Michigan State, there isn't much to dissect. Nick Ward < Udoka Azubuike, and that's all that is going to matter. A savvy guard like Cassius Winston or a senior like Matt McQuaid might be able to exploit the youth of Kansas' backcourt, but the Jayhawks have a bench mob waiting to attack if necessary. It will be interesting to see where this line falls, but a Kansas-Duke moneyline parlay has my name written all over it. Doesn't get much more blue blood than that!
What History Has Taught Us
Tom Izzo has actually won the battles in his career versus Bill Self, winning 4 of their last 6 meetings. Izzo has typically been able to quell Kansas' offensive attack, but in 2017, Kansas put up a 90-spot on the Spartans in the tournament. If Izzo holds grudges (he does), he might be able to rally his troops for the upset victory. The #1 ranked team losing on opening night in the first game is too juicy of content to pass up. I think I'm talking myself into this.
Best Bet
As I've illustrated above, it's very hard to predict how these teams will play. I generally do not enjoy wagering my hard-earned money on 19-year olds. I was 19 once, and I was not reliable enough to get to class on time, let alone produce on the national stage for my alma mater. I'm curious what kind of line is posted for the Jayhawks. Anything less than 6 and I feel good about Kansas' chances; college basketball is a race to 70 in the way that NBA is a race to 100, and I think Kansas is the more explosive option. However, Michigan State has experience on their side, and too many points would make me wary of a tight, lower scoring affair. But I support my son, and if Embiid says Rock Chalk, then so do I. Kansas pulls away late, and the number one seed survives. Also, Duke-Kansas moneyline. What could go wrong?
Final Score Prediction: Kansas Jayhawks 74 – Michigan State 65
Bovada Sportsbook launched in 2001. From the beginning, priority was given to user experience. Most online sportsbooks used one of three out of the box software platforms for their user interface. Bovada spent millions creating its own from the ground up. Its support team was also a focus. It was so good and friendly, that customers would routinely call to chat about the games when they didn't really need any assistance. Bovada eventually had to incorporate limiting casual conversation into their employee training because players enjoyed using customer service for the social element. To this day, Bovada remains focused on a fun experience for their bettors. That includes simple bonus plans like the current offer of 50% CASH Bonus to start the football season.
<h4 class="widgettitle">NFL Picks</h4><!-- [et_pb_line_break_holder] -->
<div style="width:340px; margin: 0 auto;"><!-- [et_pb_line_break_holder] --> <a class="twitter-timeline" data-width="340" data-height="500" data-link-color="#008156" href="https://twitter.com/PredictemPicks?ref_src=twsrc%5Etfw">Tweets by PredictemPicks</a> <script async src="https://platform.twitter.com/widgets.js" charset="utf-8"></script><!-- [et_pb_line_break_holder] --></div>