California Golden Bears vs. Oregon Ducks Pick 3/5/20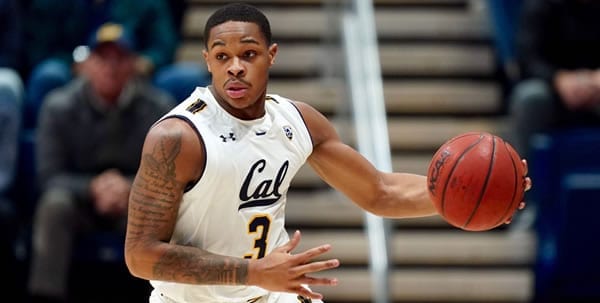 California Golden Bears (13-16 SU, 14-15 ATS) vs. Oregon Ducks (22-7 SU, 17-12 ATS)
When: Thursday, March 5, 11 p.m.
Where: Matthew Knight Arena, Eugene, Ore.
TV: ESPN2
Point Spread: CAL +15/ORE -15 (5Dimes - Stop laying -110! Lay only -105 odds here!)
Total: O/U 131.5
Last Time Out:
California beat Utah 86-79 in overtime; Oregon defeated Oregon State 69-54.
Scouting the Golden Bears:
Has California found an offense at last? Yes and no. The Golden Bears are still rather anemic on offense as a team, but they do have one key weapon in Matt Bradley. Bradley was critical in the Golden Bears' upset of Colorado, scoring 26 points and leading California to a 76-62 win over a team that's tournament-bound. In that one weekend, the Golden Bears clinched a winning record at home in Pac-12 play, no small feat for a team that's had some real trouble winning just about anywhere.
But can California actually pull off a good performance away from Berkeley? It's pretty unlikely. California has covered twice on the road all season: at Colorado, whom the Golden Bears seem to match up with very well, and at Washington State, which has been about as bad as it gets in the Pac-12 this year. That's a real problem for the Golden Bears because Bradley's play at home or away mirrors his team's. Away from Haas Pavilion, Bradley hasn't scored more than 17 points in a game this season.
More Picks: UFC 248 Main Event Predictions >>>
Scouting the Ducks:
Are they back on track? The Ducks picked up a pair of big wins at Arizona and Oregon State, and the Ducks have now won four out of five, with the only loss coming against a scorching Arizona State squad. The Ducks now need to come up with two more great efforts to win the Pac-12 title, as UCLA has the lead in the conference but does not have the tiebreaker against Oregon, meaning the Ducks can take the crown from the Bruins if they can win the last two against California and Stanford.
As has been the case all year, Payton Pritchard has been a warrior for the Ducks. In the past two games for Oregon, he's been even better than Bradley has for California, scoring 61 points in the past two contests. But if the Ducks are going to go anywhere long-term, they need to get him some help. Will Richardson did precisely that in the win over Oregon State, but he's still been prone to a few nights where he's completely disappeared. Oregon got away with it at Arizona, but more often than not, when Richardson doesn't connect on his shots, the Ducks don't end up having a good evening.
X-Factor:
Stanford. Oregon's got a longer race to run here because the Ducks have to get both games this weekend to get the No. 1 seed in the Pac-12 tournament. That can go one of two ways. Oregon is either going to blast California from the opening minute so that Dana Altman can get Pritchard some rest before facing the Cardinal. Or, the Ducks won't take the Golden Bears seriously because their minds are on Stanford and will find themselves locked in a tight battle from start to finish against a lesser opponent.
California has to take advantage of this situation by getting off to a hot start and making the Ducks realize that they're going to have to work for this game. If the Golden Bears can push the Ducks early, this could be closer than people think.
California will Cover if:
The Golden Bears can slow the game down and frustrate the Ducks. California is the Virginia of the Pac-12 in terms of tempo (definitely not in terms of defense), and the Golden Bears love to take the air out of the ball and minimize the number of possessions in the game. In a game with such a high spread, this can be the way to a backdoor cover, as the Golden Bears can possibly frustrate Oregon enough to keep the game tight.
Oregon will Cover if:
The Ducks can play better defense than they did in the first meeting. Oregon doesn't play great defense either, but the Ducks can certainly be better than the 50 percent they allowed California to shoot from behind the arc in the first meeting. The Ducks can certainly shoot their way out of any situation, but they shouldn't have to in this game.
Dan's Pick to Cover the Spread:
I don't really see much of a reason to expect Cal to stay competitive. The Golden Bears have been horrific on the road, and the Ducks haven't lost at home all season long. Oregon has covered in four straight in Eugene, and Cal is 2-7 ATS away from home. The Golden Bears don't have an NCAA bid to fight for, and an NIT bid would require them to sweep Oregon and Oregon State and get to the Pac-12 semifinals to have any shot at being considered.
There's just not enough motivation to consider California here. The only reason to take the Bears here is if you think that Oregon's going to get caught looking ahead to Stanford. I'm not buying that possibility. Give me the Ducks.
100% REAL CASH up to $300

USE BONUS CODE:
PREDICT100
STOP LOSING TODAY! START WINNING WITH DOC'S TEAM OF PROFESSIONALS! GET A FREE NO STRINGS ATTACHED $60 FOR THIS WEEKEND'S GAMES!