CBB Picks: Connecticut vs. DePaul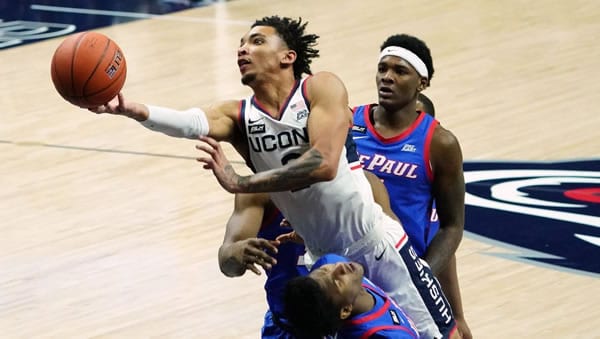 Connecticut Huskies (6-1 SU, 6-1 ATS) vs. DePaul Blue Demons (1-3 SU, 2-2 ATS)
When: Monday, January 11, 6 p.m.
Where: WinTrust Arena, Chicago
TV: FS1
Point Spread: UCONN -5.5/DEP +5.5 (BAS - Why in the world would you bet on games at -110 odds when you could be laying -105 here?)
Total: 140.5
Last Time Out:
Connecticut defeated Butler 72-60; DePaul lost 76-68 to Seton Hall.
About the Matchup:
Connecticut is back in the Big East, and the Huskies seem to be right at home in their old stomping grounds. So far, the Huskies have won three of four in their new conference, with the only loss being an overtime slip-up at home against Creighton, and they've been winning with great play from their defense. Since the opener against Central Connecticut State, Connecticut hasn't allowed anyone to top 70 points in regulation, and they're giving up just 63 points per game for the season.
DePaul's got the opposite situation: the Blue Demons aren't playing any defense at all. On the one hand, they've been able to speed teams up and force them to play at their speedy pace (as evidenced by their 95-90 loss to Providence, typically one of the slower teams in the Big East), but playing fast doesn't really help anything when you're unable to stop your opponent. The Blue Demons are still trying to figure out which pieces go where, as they've only played four games on the season and weren't even close against Connecticut in the teams' first meeting of the year. However, they've been very competitive with other Big East teams; can they give a better showing on their home court?
Scouting the Huskies:
This is the season that Dan Hurley's been waiting for, as it seems that he's restored Connecticut to where it belongs. The Huskies aren't a national contender at this point, but they're a con-tender in the Big East, and that's exactly where they want to be right now.
The big question for the Huskies is whether they're going to be at full strength because they had to play without James Bouknight against Butler and didn't have him anywhere near full strength in the win over Marquette. DePaul certainly wouldn't miss Bouknight on the floor because he hit them for 20 points in the first meeting and didn't even shoot that well, hitting just 6-of-13 from the floor in the win.
But if Bouknight can't go, Connecticut won't be hurting for scoring options. Tyler Polley has stepped up in the past two games with Bouknight limited, and he only managed to play 15 minutes in the first meeting. With how well he's been playing in the past two games, the De-mons likely have another weapon to deal with, which could create a challenging situation for DePaul even if Bouknight isn't on the floor.
More Picks: Get Kevin West's expert college basketball picks >>>
Scouting the Blue Demons:
If DePaul is going to stay in this game, it's got to either shoot better, rebound better or play bet-ter defense, and likely do at least two. The Demons actually got more shots off than Connecticut in the meeting in Storrs, but Connecticut shot a lot better and grabbed ten more rebounds, while the Blue Demons couldn't either of their guards going. Charlie Moore and Javon Free-man-Liberty shot a combined 8-for-25, and when that's all you get out of your two leading scor-ers, it's going to be hard to beat anyone, let alone an opponent of Connecticut's quality.
The rebounding likely isn't getting better, as DePaul is a guard-heavy squad that doesn't get much help on the glass from its one true big, center Nick Ongenda. So that means the Demons have got to shoot it better and have to get out on the Huskies and keep them from getting good looks from inside the perimeter. When a team is shooting above 50 percent against you inside the arc, as the Huskies did in the first meeting, you've got a problem.
X-Factor:
Tyler Polley. The senior tore his ACL exactly one year ago Sunday, and after taking a few games to get himself back on track, Polley seems to once again be the player he was a year ago. He wasn't a factor in the first game against DePaul, and because the Huskies weren't members of the Big East last year, that game is the only time in his career that he's faced the Blue Demons.
With Bouknight a question mark, Polley could become the main man for Connecticut if the past two games are any indication. Plus, the Blue Demons haven't seen Polley at his best outside of those two games, which might mean that DePaul isn't ready for what Polley brings to the table. If that's the case, it'll be difficult for the Blue Demons to keep pace.
Connecticut will Cover If:
The Huskies can get off to a fast start and establish either Polley or Bouknight early. When you face a team for the second time after winning the first meeting, especially when you do it on their home floor, the first few minutes are critical. If Connecticut gets off to a quick start, the Huskies will likely crush DePaul's hopes and control the rest of the contest. If DePaul can stay in the game, it'll probably be a fight from the first minute to the last. The Huskies are the better team and need to make sure the Demons know it.
DePaul will Cover If:
The Demons can get stronger play from their guards. The best way to beat a team that re-bounds well is to take good shots because there are no rebounds if you make all of your shots. Moore and Freeman-Liberty are good shooters when they get a chance to shoot, and they have to make their looks count.
Dan's Pick to Cover the Spread
This line is low because the assumption is that Connecticut is going to be without Bouknight. But the Huskies are playing defense so well that it might not matter, especially given the Demons' inability to stop anyone. Having Bouknight will help Connecticut's cause, but the reality is that UConn probably doesn't need Bouknight in order to beat this DePaul squad. I'm perfectly willing to lay 5.5 points here. Bet this week's college hoops picks FREE by taking advantage of a 100% real cash bonus offer on your first deposit of $100 to $300 at MyBookie! (Must use bonus code PREDICT100).