Duke Blue Devils Pick vs Indiana Hoosiers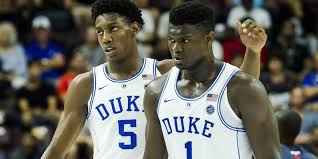 Indiana Hoosiers (4-2 SU, 3-3 ATS) vs. Duke Blue Devils (5-1 SU, 3-3 ATS)
When: Tuesday, November 27, 2018 – 9 p.m. ET
Where: Cameron Indoor Stadium, Durham, N.C.
TV: ESPN
By: Dan Jamison, College Basketball Handicapper, Predictem.com
Point Spread: IND +14.5/DUKE -14.5 (bonuses can essentially cancel out the vig!)
Total: O/U 157.5
Last Time Out: Indiana defeated California-Davis 76-62, Duke lost to Gonzaga 89-87.
Analyzing the Hoosiers:
Like Duke, Indiana relies on freshman talent, as Romeo Langford leads the Hoosiers in both minutes and points, averaging 18.5 points per game and playing roughly 80 percent of the contest in Indiana's first six games. But beyond Langford, senior Juwan Morgan is the Hoosiers' most important weapon. Against Cal-Davis, Morgan was dynamite, scoring 31 points to help Indiana avoid what would have been a surprising defeat at home. Indiana raised eyebrows earlier this year when it whipped Marquette by 23 points, but that win came mainly on the strength of 45 percent from behind the 3-point arc, which left the Golden Eagles unable to respond to the barrage of points. That's not likely to be the case against Duke, which ranks in the top 10 nationally in both offense and defense.
NBA Pick: Lakers vs Nuggets
Analyzing the Blue Devils:
Duke showed that it is human in Maui, playing a tight game against Auburn and falling to Gonzaga in a game that wasn't as close as the final score indicated. But those are both top 10 teams on a neutral court, which says that Duke is still an immensely talented squad that will likely be a major factor in both the ACC and the national title chase. The freshman trio of R.J. Barrett, Zion Williamson and Cam Reddish combine to average 58 points a game and have been able to do just about whatever they've wanted this season against everyone besides Gonzaga. What makes the Blue Devils so scary to face is that a run can come at any time and seemingly out of nowhere, taking a close game and turning it into a rout.
X-Factor:
Indiana forward Evan Fitzner. One of the biggest reasons that Gonzaga was able to take control of its win over Duke was the inside presence of Brandon Clarke. While there are no shot blockers of Clarke's caliber on the Indiana roster, Fitzner provides a tall body inside that could force Duke's shooters away from the pain. Fitzner doesn't have to block the Blue Devils' shots the way that Clarke did; he merely has to force Duke to change their shots and get out of their comfort zones.
Indiana Will Cover if:
The Hoosiers get hot from 3-point range. When Indiana has looked its best this season, it's been when the Hoosiers have been shooting the 3-pointer at above 40 percent. That's going to be a pretty tough ask against the Blue Devils, who rank eighth in the nation on defense and pride themselves on denying good looks at the basket. That said, Gonzaga was able to shoot over 50 percent from behind the arc against Duke, so it can be done, even if it is a daunting task.
Duke Will Cover if:
The Blue Devils force the Hoosiers into mistakes with the basketball. Two consistent truths have appeared with Indiana this season: it relies on the 3-point shot and it doesn't take very good care of the ball. In its past three contests, Indiana has averaged 17 turnovers a game, which is a great formula for finding yourself out of the game in the first half against an opponent like Duke. If Indiana couldn't take care of the ball against the likes of Texas-Arlington and Cal-Davis, the Hoosiers are likely in for a rough go against Duke at Cameron.
Dan's Pick to Cover the Spread:
Indiana has a fabulous freshman in Langford and some nice senior leadership, but there's little to suggest that the Hoosiers can compete with a team of Duke's caliber. First, there's the fact that the game is going to be played at Cameron Indoor Stadium. Duke has lost all of three non-conference games at Cameron since 1983 and hasn't lost a single non-conference game at home since a loss to St. John's in February of 2000. To put that in perspective, Langford was all of four months old the last time the Blue Devils walked out of Cameron as losers against anyone not in the ACC.
So Indiana's probably not going to win this game, but what about covering the 14.5 point spread and keeping the game close? Honestly, I don't see it. Indiana has actually shown more reasons for concern than reasons to suggest it's ready to play in the Big Ten as of late. The Hoosiers are far too dependent on the 3-pointer for success and give their opponents too many free possessions by making bad decisions with the basketball. When a fired-up home crowd in an atmosphere like Cameron Indoor Stadium is involved, you don't want to be backing a team that doesn't take care of the basketball. Throw in Duke's talent and its desire to prove something now that it's tasted adversity, and there's a real chance that this game could get out of hand.
There's no way I'm trusting Indiana in this environment. I'll lay the chalk with the Blue Devils here.