[et_pb_dcsbcm_divi_breadcrumbs_module hide_homebreadcrumb="off" homebreadcrumbtext="Home" separator="sep-raquo" hide_currentbreadcrumb="off" homebreadcrumborientation="left" _builder_version="3.8″ fontsbreadcrumbs_font="Lato||||||||" fontsbreadcrumbs_text_color="#000000″ fontsbreadcrumbs_font_size="15px" fontsbreadcrumbs_line_height="16px" fontsseperator_font="||||||||" fontsbreadcrumblinks_font="||||||||" fontsbreadcrumblinks_text_color="#2567cf" custom_margin="25px|||" custom_margin_phone="30px|||" custom_margin_last_edited="off|desktop" custom_css_main_element="font-family: Helvetica Regular;" disabled="on" global_module="3641″ saved_tabs="all"][/et_pb_dcsbcm_divi_breadcrumbs_module]
LA Lakers vs. Denver Nuggets Pick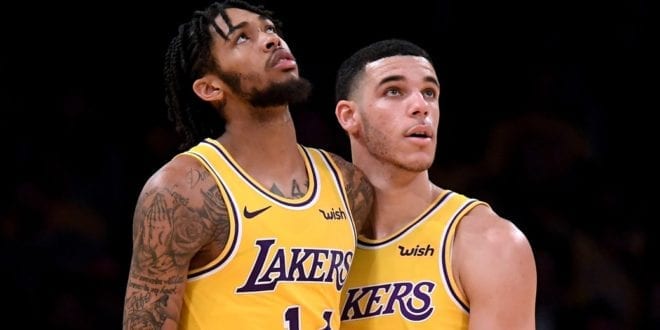 LA Lakers (11-8, 7-12 ATS) vs. Denver Nuggets (13-7, 11-9 ATS)
When: Tuesday, November 27th, 2018 – 9:00 pm ET
Where: Pepsi Center – Denver, CO
TV: NBATV
By: Kyle Cash, NBA Basketball Handicapper, Predictem.com
Point Spread: LAL +4/DEN -4 (GTbets)
Total: 215
Last Night in the NBA
Basketball is, to me, the most interesting game in the world. It's the best minute-to-minute sport that we have, especially if you're as truly fascinated by the minutiae of the play itself as I am. For example, James Harden finished last night's game with 54 points (7 3-pointers), 13 assists, 7 rebounds, and 3 steals – and he was undoubtedly the reason that they didn't win (and didn't cover). Eleven turnovers and poor shot selection unraveled the Rockets down the stretch, and Harden finished with 47 minutes played and one huge L. What a world.
Today's College Basketball Pick: Duke vs. Indiana
Let's drown our sorrows by driving from Washington, D.C. all the way out to Denver, Colorado, as the Los Angeles Lakers visit the Denver Nuggets. LeBron and his goons are coming off of a disappointing home loss and looking for revenge against a Nuggets team that has bounced back from a slide after their blistering start. Sportsbooks currently likes this one as a 4-point game in favor of the home team with a total set at 215 points. Hold on, lady – we're going for a ride.
Tragic vs. the Magic
Another year, another weird LeBron James-led basketball team. Apparently, leaving the Eastern conference didn't do anything for LeBron; if they played the Magic 82 times a year, the Lakers would be 0-82. The Lakers have to pop in to Denver real quick for a nightcap before heading back to the City of Angels for a four-game "get right" homestand: Pacers, Mavericks, Suns, and the plummeting Spurs. I honestly could care less about this stretch of crappy teams that the Lakers are about to roll through. My advent calendar is already prepped to count down the days until the Warriors destroy the Lakers on Jesus' birthday. Merry Christmas, ya filthy animal.
Until that time, I can at least find solace in the fact that the Denver Nuggets are a sneakily good basketball team. Pundits have been predicting a Nuggets turnaround every year since the George W. administration, but with their surprise draft hits coming through, they might have actually turned the corner this time.
The Lakers lineup looks a little bit different than in their meeting with the Nuggets earlier this year. Brandon Ingram was suspended last time, and it was Josh Hart and Kyle Kuzma filling in his minutes that made the difference in the game. The jury is still out on Brandon Ingram's potential, but he's not really a guy that Denver has an answer for defensively; he's too quick for Millsap and too long for Gary Harris. While everybody else is going to worry about stopping the kid from Akron, the rest of the Lakers roster can step up and win the game for them. In theory, at least.
Mining for Gold
A few short years ago, the Denver Nuggets were looking like a sneaky playoff contender in the Western Conference. They were all set to dispatch their first round playoff opponent and move on to face Tim Duncan's Spurs. The only problem was that their opponent was the Baby-Faced Warriors ft. Steph Curry and Klay Thompson. The Warriors won in six and ascended into one of the three best teams in basketball history. Denver ended up in the scrap heap, and have yet to reach anything near relevance since.
But now, all that has changed. Denver is getting back to their winning ways from the first two weeks of the season, and it's because of one man: Nikola Jokic aka the Dad-bod MVP. Jokic has been doing his best Young Sabonis/Young Bill Walton impression with his passing, and when he decides to shoot the ball, he's pretty good at that too. Jamal Murray and Gary Harris are a fun, athletic, sharp-shooting tandem, and the re-addition of Will Barton to this crowd is only going to make them even more fun.
Against the Lakers, the Nuggets only have one job: stop LeBron James. Easier said than done. In their first match-up, that didn't work so well: 28-11-11 for the King in a 7-point victory. But the Lakers roster shakes out a little differently now; Josh Hart is less of a contributor, and JaVale McGee has been placed back in his straight jacket where he belongs. Paul Millsap has had some success defending LeBron in his younger days, and it's on him to step up as the LeBron-stopper that Denver needs. Most importantly, Denver is 9-3 on their home court, including victories against the Golden State Warriors and the Boston Celtics. Shouldn't be a problem adding the Lakers to that trio.
Four Factors of Winning
Since we're all about finding the edge here at Predictem.com, let's take the time each day to dive into the stats that lead to winning basketball games. According to a theory posited by Dean Oliver, a win in basketball can be narrowed down to four factors: shooting, turnovers, rebounding and free throws. Each day, I will take a look at the areas that each team excels at or is susceptible to, and we will see if we can find a specific reason why Team A will beat Team B.
When analyzing the four factors, it's always more fun when teams have highs and lows. Both Denver and LA, however, settle mostly in the middle. Neither team is particularly good at drawing fouls, but they both do a good job of forcing opponents into missed field goals. Denver, however, is much better at securing the defensive rebound – the Lakers are not (23rd in the league).
Fortunately for the Lakers, the one thing that are good at is putting the ball in the hoop efficiently. Their lack of outside shooting forces them into more drives and mid-range shots i.e. higher percentage looks.
One thing to keep an eye on is the turnover battle. The Lakers cough the ball up at the 7th-highest mark in the league, and in the Mile High area, their mental focus might be lacking and lead to a deluge of live-ball turnovers. With superb athletes like Jamal Murray and Gary Harris running in the backcourt, don't be surprised to see an up-tempo, defense-into-offense type of atmosphere for the Nuggets.
NBA Pick
In my pre-season win totals predictions (for my enjoyment), I quickly went through the entire schedule of the NBA to try to handicap each team. I found myself winding up with a pretty fantastic record for the Denver Nuggets, and it was mostly due to their home-court advantage. People underestimate just how hard it is to play in the high altitude of mile-high city. It presents your body with a situation that brings it out of its comfort zone. LeBron himself has even called it a "tough place to play in" before, and he's a superhuman athlete the likes of which we've maybe never seen. In fact, in his lifetime, LeBron James is 7-7 in Denver's low altitude home arena. I like the coin flip aspect of it, and I like Denver's chances better. This one is going to be close, but I feel safe betting against one of the worst ATS teams we have right now in the LA Lakers. Do your worst, LeBron.
Final Score Prediction: Denver Nuggets 108 – LA Lakers 102
<h4 class="widgettitle">NFL Picks</h4><!-- [et_pb_line_break_holder] -->
<div style="width:340px; margin: 0 auto;"><!-- [et_pb_line_break_holder] --> <a class="twitter-timeline" data-width="340" data-height="500" data-link-color="#008156" href="https://twitter.com/PredictemPicks?ref_src=twsrc%5Etfw">Tweets by PredictemPicks</a> <script async src="https://platform.twitter.com/widgets.js" charset="utf-8"></script><!-- [et_pb_line_break_holder] --></div>