[et_pb_dcsbcm_divi_breadcrumbs_module hide_homebreadcrumb="off" homebreadcrumbtext="Home" separator="sep-raquo" hide_currentbreadcrumb="off" homebreadcrumborientation="left" _builder_version="3.8″ fontsbreadcrumbs_font="Lato||||||||" fontsbreadcrumbs_text_color="#000000″ fontsbreadcrumbs_font_size="15px" fontsbreadcrumbs_line_height="16px" fontsseperator_font="||||||||" fontsbreadcrumblinks_font="||||||||" fontsbreadcrumblinks_text_color="#2567cf" custom_margin="25px|||" custom_margin_phone="30px|||" custom_margin_last_edited="off|desktop" custom_css_main_element="font-family: Helvetica Regular;" disabled="on" global_module="3641″ saved_tabs="all"][/et_pb_dcsbcm_divi_breadcrumbs_module]
Duke Blue Devils vs. Notre Dame Fighting Irish Pick 1/28/19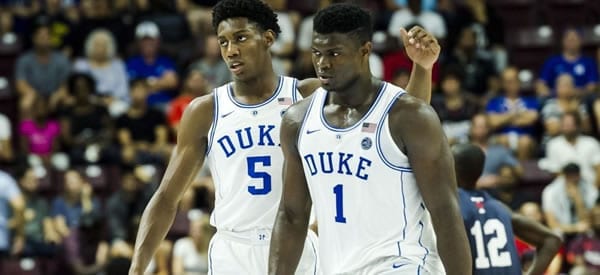 Duke Blue Devils (17-2, 11-8 ATS) vs. Notre Dame Fighting Irish (11-9, 7-13 ATS)
When: Monday, January 28th, 2019 – 7:00 pm ET
Where: Purcell Pavilion – South Bend, IN
TV: ESPN
Point Spread: DUKE -14/ND +14 (Bookmaker)
Total: 150.5
I apologize in advance for any, and all hot takes I fire off over this week of college basketball games. There are going to be more FBI jokes, pop culture references and "Zion is thicc, not fat" Reddit threads than you may care for but bear me with me and let's make some money.
Duke got back its spiritual leader Tre Jones during Saturday's takedown of Georgia Tech, and the number two team in the country has recovered nicely from an embarrassing home loss to Syracuse. Notre Dame, on the other hand, continued to be out of its depth in a 27-point drubbing at the hands of the Virginia Cavaliers. With the Blue Devils nearly back to full strength, they are two-touchdown favorites on the road with the total set to a measly 150.5 points. Let's watch Zion throw dirt on a struggling state of Indiana, shall we?
Duke's Domination
There comes a time in almost every athlete's life when they look around and think, "Wow, I am in way over my head on this one. I don't think I can hang with these guys." That moment has not ever happened for Zion Williamson. Long gone are the skepticisms about his dunk-centric game. The walking House of Highlights video was thought to be a glorified And-1 mix-tape player coming into the year, but now he is the far and away consensus to be the number one pick in the upcoming draft. Most importantly, we finally settled the debate over who will have the better career – Zion Williamson or Mac McClung. *Checks Georgetown's box scores* 25 points against Shamorie Ponds in MSG for Mac? LOTTERY, BABY!
While some "experts" would prefer Zion to sit out and wait for his real career to start, college basketball is for the real ones, and Zion is as real as they come. Please allow me to copy and paste "my line" that I have ready for all of my Duke previews: (Insert opposing team here) does not have anyone on their side to guard Zion Williamson. (Opposing team) Also will not be able to handle R.J. Barrett's dribble penetration, and (Opposing team's mascot name here to break up redundancy) aren't going to be able to handle Duke's multi-pronged attack. All of that is true tonight as well. According to KenPom, Notre Dame has the 110th ranked defense in all of NCAA Men's Division 1, while Duke's offense ranks 5th out of all teams. Most importantly, the Blue Devils have shown signs of improvement on the road, particularly against vastly inferior teams. It's hard to imagine that a team that has the two best offensive weapons in the country will slip up again, and barring another unforeseen injury, Notre Dame is going to offer little resistance to Duke's offensive flow.
No Redemption For Notre Dame
Far and away are the hay days of the Mike Brey Notre Dame powerhouses. Okay? Yay! Pat Connaughton is a solid towel-waver in Milwaukee, Demetrius Jackson just signed overseas, and you'll probably see Luke Harangody in a few weeks when you file your taxes at H&R Block. However, Notre Dame has a long and storied history of being thorns in other teams' sides, and it's sad to see them in a down year. Stick to football, Irish fans. This is an ugly one.
Despite a lackluster start to conference play, any team playing at home in the ACC has a puncher's chance of an upset. Senior guard Rex Pflueger's ACL tear earlier this season put a halt in any and all expectations they had, but taking down the Duke machine would be almost as big of a deal as winning a national championship. In order to stay close, they're going to need to do what they always have done best: protect the ball and control the pace. A 14-point spread is a lot in a college game without a ton of pace, and ND has the rebounding and basketball IQ chops to at least make Duke work for their points. Taking care of the basketball is the most important thing. The Devils attack at any and all fast break opportunities, and ball control will be key. If Brey really wants to get nuts, he's shown a willingness to play zone in the past, and throwing a knuckleball at a fastball-hitter like Zion may not be the worst thing in the world. If Notre Dame can keep Duke's offense off-balance long enough, it may be enough to stay within striking distance and, at a minimum, cover the number.
Best Bet
There was a time in the not-too-distant past that this would have been a patented trap game for the Duke Blue Devils. With a sneakily tough match-up versus St. John's on Saturday and a looming rematch against the Wahoos, this would be the perfect spot for a Notre Dame team to swoop in and catch Zion and company off guard. However, outside of a Mike Brey-Coach K wink-wink deal going on behind the scenes, I can't see the Fighting Irish being able to keep pace offensively. The Cameron Crazies average 87 points per game and Notre Dame has only topped the 70-threshold once since the start of the new year. Unless my finance degree has failed me, 87 is more than 14 points higher than 70, and I tend to side with basic math. March Madness is coming. Another Duke loss is not.
Final Score Prediction: Duke 90 – Notre Dame 71