Duke Blue Devils vs. Virginia Cavaliers Pick 2/29/20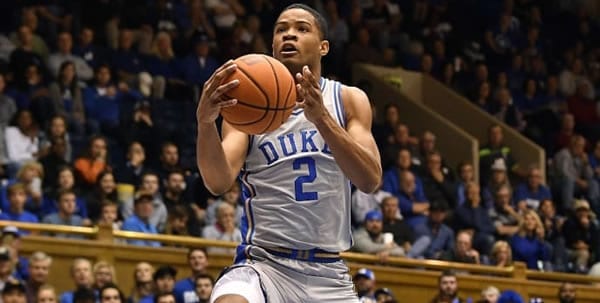 Duke Blue Devils (23-5 SU, 14-14 ATS) vs. Virginia Cavaliers (20-7 SU, 10-16-1 ATS)
When: Saturday, February 29, 6 p.m.
Where: John Paul Jones Arena, Charlottesville Va.
TV: ESPN
Point Spread: DUKE -3.5/UVA +3.5 (GTBets - Deposit $100 and get a FREE $100 Bet!)
Total: O/U 124.5
Last Time Out:
Duke lost 113-101 to Wake Forest in overtime; Virginia beat Virginia Tech 56-53.
Scouting the Blue Devils:
Well, at least Duke finally figured out how to score during one of its poor performances. The Blue Devils have swung back and forth between looking like a championship contender and looking like a bubble team over the past month, and usually, they tend to accompany the poor performances with a lack of scoring. That didn't happen against Wake Forest, in large part because the teams played two overtimes, but also because the Demon Deacons kept sending Duke to the free-throw line. The Blue Devils hit 91 percent of their foul shots in the loss, but otherwise, they scored just 70 points from the floor in 50 minutes of basketball.
That's usually not what Duke does, and it allowed Wake to stay in the game and find a way to win. Something else that generally doesn't happen to Duke is foul trouble. The Blue Devils lost three players to fouls and had another three carrying four personals at the end, which asphyxiated their depth and their defense. Duke has to avoid the whistle at Virginia if it plans to play its game.
Scouting the Cavaliers:
Virginia wasn't supposed to be here. The fact that the Cavaliers are actually in a position to get a double-bye at the ACC tournament is a testament to just how great a job Tony Bennett has done with an offensively-deficient squad. Bennett might be the only coach in America who could have pulled this off with this team, as Virginia's offense averages a mere 57 points game, but it's still won five straight because the Cavaliers take the air out of the ball and play great defense on the other end. Those are the signs of a well-coached squad, and it really has been critical in allowing Virginia to get away with having only one real scoring threat in Mamadi Diakite.
X-Factor:
Tempo. The way that Virginia likes to play is well known by now across the country. The Cavaliers will slow the game down and force you to be patient, and hardly anyone is able to speed this team-up. The last team that seemed to be able to do it was UMBC in the memorable upset, and that was because the Retrievers started hitting everything from behind the arc. Duke, on the other hand, tends to play fast, and it remains to be seen what wins out between Mike Krzyzewski's knowledge and the Duke players' complete lack of experience.
Krzyzewski has faced Bennett enough by now that he knows how to deal with facing Virginia, but none of the Blue Devil freshmen have faced off against Bennett Ball before, and it's a real question as to whether Duke has the patience to deal with playing this kind of game. If Duke does, it should cruise to a win based on the talent advantage, but youth can be a dangerous thing against this Virginia squad.
Duke will Cover if:
The Blue Devils can execute Krzyzewski's game plan. Duke managed to average 76.5 points against the Cavaliers in two meetings last season, and that's because of excellent preparation on the part of their leader. (Zion Williamson might have also been a factor.) Virginia is not built to come back against a team that can score, so if the Blue Devils can stay focused and get things rolling early, this will be the Blue Devils' game to control.
Virginia will Cover if:
The Cavaliers can put their desperation to good use. Virginia is probably in the NCAA tournament at this point, as the Bracket Matrix has Virginia slotted somewhere between an eight and ten seed. But a win over Duke would take the word "probably" out of the equation. As long as Virginia didn't follow up with a loss at Miami on Wednesday or lose its first game in the ACC tournament, beating Duke would take all the guesswork out of the equation. Virginia's going to be a desperate team, and desperate teams can do big things.
Dan's Pick to Cover the Spread:
Virginia is a desperate team, but Duke is not the team that the Cavaliers need to play right now. The Blue Devils are coming in ticked off about how they lost to Wake Forest, and if you've been following Duke for the past few weeks, you know by now that the Duke pendulum swings back and forth between dominant and beatable game by game. The pendulum is on the "dominant" setting for this game, and if the pattern continues the way that it has, this is going to be a rather easy win for the Blue Devils.
The simple reality is that Virginia cannot score with Duke, and the Blue Devils are the one team in the ACC that has shown an ability to handle Virginia's otherwise championship-level defense. As great as a win would be for the Cavaliers, I don't see it happening here. Give me the Blue Devils. Where do you bet on games? If you're bookie isn't giving you -105 odds (and we know he's not!) you're overpaying! Dump that overpriced racket today and start betting smarter at 5Dimes Sportsbook! You'll be SO glad you took the 3 minutes to make the switch!
STOP LOSING TODAY! START WINNING WITH DOC'S TEAM OF PROFESSIONALS! GET A FREE NO STRINGS ATTACHED $60 FOR THIS WEEKEND'S GAMES!