Florida State Seminoles vs. Duke Blue Devils Pick 2/10/20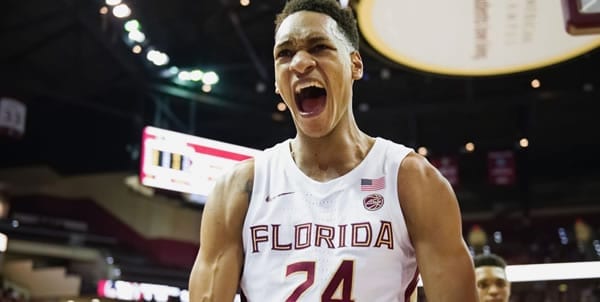 Florida State Seminoles (20-3 SU, 11-12 ATS) vs. Duke Blue Devils (20-3 SU, 12-11 ATS)
When: Sunday, February 10, 7 p.m
Where: Cameron Indoor Stadium, Durham, N.C.
TV: ESPN
Point Spread: FSU +8.5/DUKE -8.5 (BetNow - Deposit $100 and get a FREE $50 Bet!)
Total: O/U 148.5
Last Time Out:
Florida State routed Miami 99-81; Duke edged North Carolina 98-96 in overtime.
Scouting the Seminoles:
Florida State's not the slow it down, grind it out team that it's traditionally been under Leonard Hamilton. The Seminoles can play that way and still very much prefer to lead with their defense, but they have no problem playing a faster game that leads to opponents making mistakes and handing them extra possessions. The question is, will they choose to play fast against a Duke team that has been putting up points like nobody's business throughout much of the ACC schedule? The Seminoles can play this game in multiple ways, and Duke has proven susceptible to tough defenses at times. On the other side of the coin, M.J. Walker and Trent Forrest didn't over-exert themselves against Miami and could be ready to put up some big numbers if the Seminoles choose to play a high-scoring game. How Florida State approaches this will affect the over/under, which is either way too high or about right based on whether the Seminoles choose to make this a defensive game or are willing to play a fast game.
More Picks: Baylor at Texas Pick ATS >>>
Scouting the Blue Devils:
What does Duke have left after overcoming a 13-point deficit in North Carolina? The Blue Devils caught the best shot of their inspired archrival and managed to survive thanks to Tre Jones leading them back with two buzzer-beaters in both regulation and overtime. But can they bring the same energy level to a matchup with Florida State less than 48 hours later? That's going to be a tough ask for a team that is not deep by any stretch of the imagination. Duke got almost all of its contributions from four players against Carolina, as the Blue Devils got 85 of their 98 points from four of their starters and played Tre Jones 42 minutes.
That sets up a tough situation for the Blue Devils against a hungry Florida State team that had a much easier time against Miami. It's quite likely that after so little time between games, Duke doesn't have enough to go 40 minutes with this Seminole squad. If Duke is going to find a way to cover here, it's going to need to get more out of its bench, specifically Matthew Hurt.
X-Factor:
Mental blocks. Specifically, Florida State's mental block in Durham. The Seminoles have been tortured at Cameron ever since joining the ACC, owning a record of 2-20 against Duke in Durham. Granted, Florida State has had major problems with Duke no matter where the game has been played, as the Blue Devils are 40-10 all-time against the Seminoles, including a buzzer-beater last year in Tallahassee by Cam Reddish.
The question is, what will that do for Florida State's mindset? The Seminoles can approach this in one of two ways: they're either going to come out ticked off and looking to prove a point, or they'll have this game and this building in their heads.
Florida State will Cover if:
The Seminoles can use their depth to wear down the Blue Devils. Florida State is one of the toughest teams in the nation to face in the final 10 minutes because the Seminoles use ten different players in their rotation and never get worn down. When the Seminoles played Carolina, nine players got significant minutes in the flow of the game. That doesn't happen with Duke, which is not deep and relies on its players going 30 minutes or more. If the Seminoles can asphyxiate Duke, the final minutes will be theirs.
Duke will Cover if:
The Blue Devils can use Vernon Carey on the interior. What the Seminoles have in "depth", they don't have in size. Florida State is not a good rebounding team and does not have the ability to keep the Blue Devils off the glass with size alone. The Seminoles worked over Miami inside, but Miami is the worst rebounding team in the ACC by a wide margin and gets destroyed on the glass by everyone. Duke rebounds a heck of a lot better than the Hurricanes and just faced the best rebounding team in the league. The Blue Devils can and have to make themselves monsters on the glass.
Dan's Pick to Cover the Spread:
This line seems to be far too high, as Duke has tended to follow its big games with a letdown over the past few weeks. When the Blue Devils have scored 89 or more in a game, they've followed it up with a game in the 70s in every instance, but one, and that was when the opponent was Central Arkansas, an 8-16 squad that's one of the weakest defensive teams in the nation.
Florida State is not Central Arkansas and is a heck of a lot more likely to be able to hold Duke in the 70s, like Boston College, Pittsburgh, Georgia Tech, Clemson, and Georgia State did. I liake the Seminoles to cover the 8.5 points, and I think there's a chance they could win this game outright. Where are you betting your college basketball picks? If you're bookie isn't giving you -105 odds, you're overpaying! Making the switch from -110 to -105 will save you HUGE money over the long run and is MUCH better than any bonus that you can get! Start wagering smart TODAY by making the switch to reduced odds wagering -105 at BetAnySports!
STOP LOSING TODAY! START WINNING WITH DOC'S TEAM OF PROFESSIONALS! GET A FREE NO STRINGS ATTACHED $60 FOR THIS WEEKEND'S GAMES!